8 Cool Things the Apple Watch 4 Can Do
Here are 8 Cool things the Apple Watch 4 can do, including a few you might not know. The new Apple Watch 4 packs in a ton of exclusive new features that you won't find on the Apple Watch 3 or older models, even with the free WatchOS 5 upgrade.
You'll love the big new displays and upgraded watch faces, but that's not all you get. Apple packs in a ton of exciting tech into the new Apple Watch that may surprise you.
Read: Which Apple Watch Should I Buy in 2018?
After several years of the same design, Apple upgrades the new Apple Watch with a massive screen upgrade, better battery life when you are working out with GPS and epic new heart health features that you'll want to use. There's even a potentially life saving feature that may make you run out and buy any elderly person in your life a new Apple Watch 4.
8 Cool Things the Apple Watch 4 Can Do (That the Series 3 Can't)
Apple Watch 4 buyers will want to make use of all the cool Apple Watch 4 features we list below so that you can get the most out of your device. These features are all new to the Apple Watch 4. You can check out this massive list of things the Apple Watch can do to learn about everything you can do with the device on watchOS 5.
Take an ECG Anytime
Deliver Better Phone Calls & Siri
Detect a Fall and Call 911 if Needed
Give Haptic Feedback From Digital Crown
Show Off Screen With Epic New Watch Faces
Last Longer When Tracking Outdoor Workouts
Use Up to Eight Complications at Once
Run Apps and Respond Faster Than the Apple Watch 3
The Apple Watch 4 starts at $399 for the smaller size and $499 for the smaller size with LTE connectivity. Apple still sells the Apple Watch 3, which is more affordable, but can't do all the things that the newest model can. The features are the same for the aluminum Apple Watch and the stainless steel Apple Watch and for both sizes. The only difference between the GPS and GPS + LTE models is that you can use the LTE models without your iPhone for most features. You still need an iPhone to share the phone number and to manage other features.
Here are the best new things the Apple Watch Series 4 can do. Use this to get more out of your watch, decide which Apple Watch to buy and decide if you should upgrade to the Apple Watch 4. The Apple Watch includes all of the great upgrades from the Apple Watch 3, in addition to these new features.
Also be sure to check out 50 cool things the Apple Watch can do, You should also look into our list of the best Apple Watch bands and best Apple Watch Accessories.
Take an ECG Anytime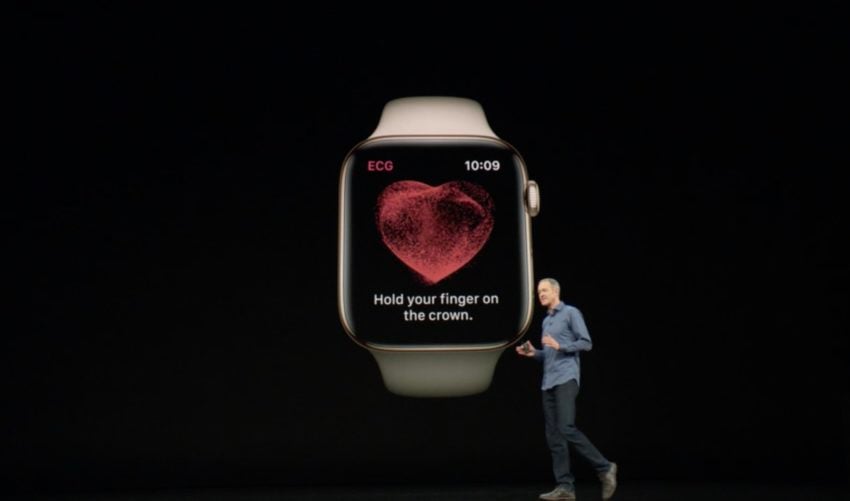 The Apple Watch 4 packs a new heart rate sensor and it also includes the ability to take an Electrocardiogram right on your wrist at any time.
Typically you need to go to a doctor to get an ECG, and it might not capture the heart issues that happen throughout the day.
With the Apple Watch 4, you can take an ECG by placing your finger on the digital crown and the Apple Watch does the rest. This is an FDA Approved mobile ECG, and it is potentially life saving.
This joins a host of other Apple Watch heart features that are available on other models including low heart rate alert, afib alert and more heart health record keeping and tracking. You can easily share the health information to your doctor from the Health app on your iPhone.

This article may contain affiliate links. Click here for more details.