9 Ways the iPhone 6 Beats the iPhone 5S
There is no doubt that the iPhone 6 is a big improvement over the iPhone 5s, but is it worth paying $100 more than an iPhone 5s on contract? That's a question that a lot of our readers, friends and family ask. After using the iPhone 5s for a year and the iPhone 6 for three months, we'll share nine ways the iPhone 6 beats the iPhone 5s, to help you decide if the iPhone 6 is worth the extra $100.
Apple announced a new iPhone 6 with a larger 4.7-inch display and a iPhone 6 Plus with a 5.5-inch display in September. We'll stick to comparing the iPhone 5s vs iPhone 6 in this article, which will look at how the iPhone 6 beats the iPhone 5s in areas that actually matter. This is not just a spec comparison, but a comparison of how we are using the iPhone 6 now, in ways that we didn't use the iPhone 5s or what is now better on the iPhone 6.
Read: iPhone 6 Review
The iPhone 6 is $199 on contract for a 16GB model while the iPhone 5s is $99 on contract for a 16GB model. With a $100 price difference it is tempting to just stick with the iPhone 5s so you can pocket that cash or spend it on iPhone 6 cases and accessories, but there are plenty of reasons to invest that in the smartphone you'll carry for the next two years or longer.
Here's what the iPhone 6 does better than the iPhone 5s, so you can decide which one you should buy. There are nine ways the iPhone 6 beats the iPhone 5s, which means each one is essentially worth about $11. Instead of looking at this as a $100 expense, you can see what you get for the price.
Bigger Screen
The iPhone 6 features a 4.7-inch display with a higher resolution. This is a noticeable jump from the iPhone 5s, but it is not obscenely large. While the iPhone 6 Plus may be too big for many users, we typically hear from new iPhone owners who upgrade that, despite fears over the size, the iPhone 6 is not too big to hold.
You can install a one-handed keyboard if you need to and you can also double tap on the home button to slide the top of the screen down to easily tap on the home button twice.
This larger screen is better for watching movies or TV shows and even for watching sports on the go with various apps. If you are in to gaming, the larger screen also offers a bigger area to play on.
Slimmer Design
The iPhone 6 design is a completely new look, which is thinner and curvier than the iPhone 5s. The iPhone 6 is 6.9mm thick, a big drop from the 7.6mm thick iPhone 5s.
It is tough to hold on to the curvy design at times, but with curves and a thin body you can enjoy the larger screen without hauling around a giant phone that doesn't fit in pockets and in your hand.
Apple Pay
The iPhone 6 includes new technology that lets you use the iPhone as a mobile wallet. You can use Touch ID and the NFC chip inside to hold the phone next to a credit card reader and make a payment. This is not possible on the iPhone 5s, even though it also uses Touch ID.
You need a supported bank and the store must support Touch ID for this to work. Check out more information on Apple Pay to see if it is something you could use.
Better Camera
The iPhone 6 features a better camera than the iPhone 5s. Both phones include a 8MP camera, but there are several improvements that are worth the upgrade. If you take photos of your kids, pets or exotic vacations you'll enjoy the improved camera.
Faster Focusing Technology
60 FPS Video
Super Slow Motion Video
Cinematic Video Stabilization
Continuous Autofocus During Videos
Better Face Detection
You can see some of these features in the playlist above, and in our iPhone 6 tips and tricks guide.
Speed & Performance
Apple includes a new and improved Apple A8 processor and a M8 co-processor that combine to deliver stunningly fast performance. Everything feels faster on the iPhone 6. That's not to say the iPhone 5s is slow, but the iPhone 6 is simply faster.
Apple also includes a new Barometer sensor that the iPhone 6 can use to measure when you climb a flight of stairs, which adds to the overall fitness tracking of the new iPhone.
Talk and Surf with VoLTE
The iPhone 6 finally brings the ability to talk and still use the Internet while on Verizon. The iPhone 6 supports VoLTE, which allows users to finally make calls and keep using their data connection. Here's how to set up talk and data on the Verizon iPhone 6 or iPhone 6 Plus.
Longer Support
The iPhone 5s is already a year old, and while Apple will deliver updates for at least two more years based on previous update cycles it will not get as many new features or updates as the iPhone 6. If you upgrade to a new iPhone every two years this isn't a huge deal, but if you keep your phone for a long time you need to keep in mind that software updates on older phones can slow down performance with the initial update and older phones don't get as many features.
Better Speaker & Sound
Apple managed to pack a louder speaker in the iPhone 6 without damaging the sound quality. I still need headphones and a Bluetooth speaker for many activities, but the iPhone 6 is louder than the iPhone 5s and that means I can get by without those accessories for most around the house activities. The iPhone 5s was not loud enough to use to listen to music or audio books while showering, but the iPhone 6 is just loud enough to make this work. A small use case, but one that is important to me.
Better Battery Life
The iPhone 6 is thinner and features a bigger screen, but it delivers better battery life than the iPhone 5s. There isn't a huge difference like jumping to the iPhone 6 Plus, but I can use the iPhone 6 longer than the iPhone 5s without looking for a place to recharge. This is very important as I rely on the iPhone more for calls and video chat than in earlier years.
13 Awesome iPhone 6 Cases
Apple Leather iPhone 6 Cases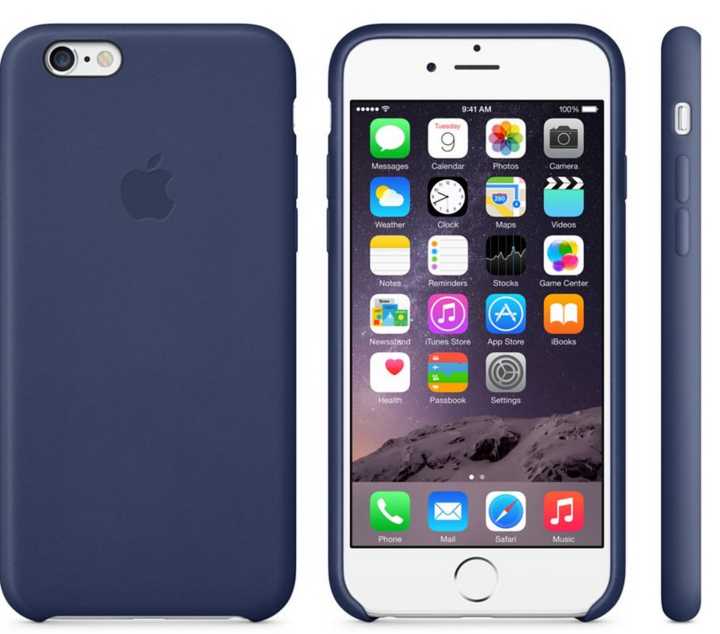 One of the most popular iPhone 6 cases is the leather iPhone 6 case from Apple. This case is one that you can find in any Apple Store on release day and is also listed with many carriers.
Apple designs the leather iPhone 6 case with premium leather in a small form factor that adds minimal bulk to the new iPhone. You can find the leather iPhone 6 case in five color options that match the white and black front of the iPhone 6.
Watch out if you buy the red iPhone 6 case as the leather model for the iPhone 5s wore very fast and looked dirty and grey soon after purchasing.
$45 at Apple

This article may contain affiliate links. Click here for more details.