Amazon Black Friday 2015 Deal Has PS4 & Xbox One Cuts
Online retailer Amazon has some modest Black Friday 2015 deals for anyone looking to save on Microsoft's Xbox One or Sony's PS4 gaming consoles. The company is teasing instant savings on both devices during its massive Black Friday 2015 promotion beginning November 20th.
Amazon teased Black Friday 2015 deals on the Xbox One, PS4 and other items this morning in a press release. Black Friday marks the official start of the holiday shopping season for many. Each year, Amazon and other retailers retool their approach, each hoping to attract the most sales from budget conscious gift givers. Amazon hopes that a weeklong Black Friday sales extravaganza will have shoppers opening their wallets and reaching for their credit instead of waiting in line at a store on Thanksgiving.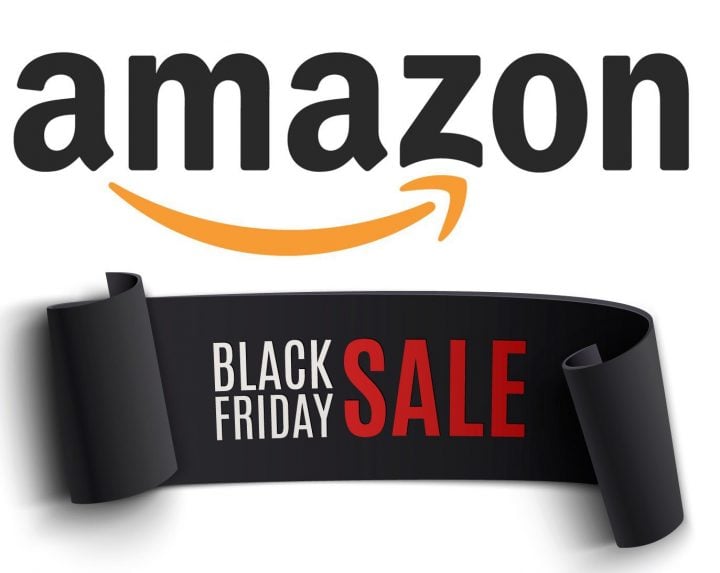 The outlet is only teasing its deals for now. The full reveal won't come until they start on Friday, November 20th. From the press release we know that Microsoft's Xbox One console will get a $50 price cut, no matter what the bundle. The outlet is also cutting the price of the PS4 Uncharted: The Nathan Drake Collection bundle by $50. That's some pretty big savings considering how far these consoles have come down in price already.
Read: Black Friday 2015 Deals & Ads
The Xbox One started at $499 back in 2013. Today the Xbox One sells for $349 without a Kinect sensor and just 500GB of storage for games and apps. Microsoft has a $399 bundle that includes a Kinect sensor and some family friendly games. There are other bundles that include Madden NFL 16, Lego Movie, Halo 5, Gears of War Ultimate Edition, Fallout 4 and FIFA 16. All should get the $50 in savings too.
Sony recently gave the PS4 a price cut, bringing its base price to $349. There are a few different PS4 Bundles too. Star Wars: Battle Front comes in a Limited Edition console bundle and a standard edition console bundle. Uncharted: The Nathan Drake Collection comes with a regular 500GB PS4. There's also the Call of Duty Black Ops 3 Limited Edition 1TB Bundle. Unfortunately, it appears that users will only save on that Uncharted bundle, which normally costs $349.99.
Need for Speed, the online street-racing game that just arrived on Xbox One and PS4 some weeks back, is getting a price for Black Friday 2015 too. It'll sell for $39.99 instead of the $59.99 new games usually sell for unopened. It's only available on Windows PCs, Xbox One and PS4. Metal Gear Solid V is $25 off its normal price. The Rock Band 4 Wireless Guitar Bundle sells for $129.99. Amazon's Black Friday 2015 deals includes a $30 in savings for the rhythm game and accessory. That brings the total price down to $100.
Digital PC Games, which Amazon sells directly from its stores, will see huge price cuts too. Unfortunately, Amazon doesn't go into much details about that savings other than promising "70% off" some times for Black Friday 2015.
Amazon is promising 10 different daily deals beginning Thanksgiving night, with another 10 more on Black Friday. Users with an Amazon Prime subscription stand the most likely chance of getting in on the deep Black Friday 2015 discounts. That's because they get access to the company's Lightning Deals 30 minutes before anyone else does. In addition to all of this, the Amazon app for iPhone, Android and Fire OS will have exclusive deals that users can pick up between 3PM and 11PM Pacific time starting on Thanksgiving night and running until December 9th.
All told, the Black Friday 2015 savings here is pretty extensive. Certainly, Amazon is worth checking out before heading into a store on Thanksgiving night or the Friday after. Again, we won't know the full extent of Amazon's Black Friday 2015 deals until they begin to arrive this Friday and beyond.
Best Black Friday 2015 Deals & Ads
Walmart Black Friday 2015 Ad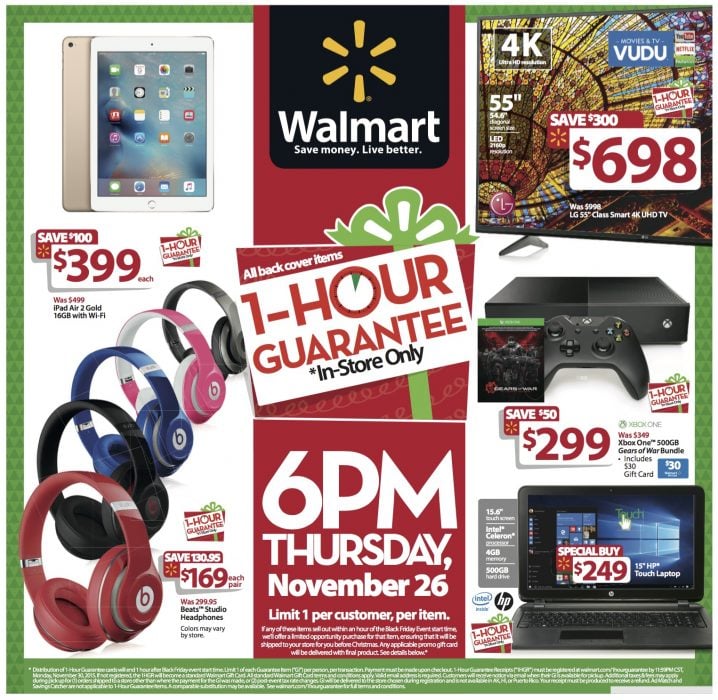 The Walmart Black Friday 2015 hours start online at 12:01 AM Pacific on Thanksgiving Day and in store at 6 PM local time on Thanksgiving. Make sure you check out the online Walmart Black Friday 2015 deals.
Today we are able to see the Walmart Black Friday 2015 ad, and it is available on the iPhone or Android before the general web. The ad includes over 300 Black Friday 2015 deals across a variety of categories.
Read: Are 1 Hour Guarantee Black Friday 2015 Deals Worth Buying?
Walmart confirmed the return of the 1 Hour Guarantee that promises availability of five big deals in the Walmart Black Friday 2015 ad. If Walmart runs out, shoppers who are in line at the right time will get an option to buy these items for delivery by Christmas. These deals include;

iPad Air 2 Gold 16GB Wi-Fi for $399 ($100 savings)
Beats Studio Headphones for $169 ($130.95 savings)
LG 55" Class Smart 4K UHD TV for $698 ($300 savings)
Xbox One 500GB Gears of War Bundle with a $30 Walmart Gift Card for $299 ($50 savings)
15" HP Touch Laptop for $249 (special buy)

Check out more about the Walmart Black Friday 2015 ad to see the deals.

As an Amazon Associate I earn from qualifying purchases.