5 Amazon Prime Day Tips & Tricks
Amazon's fourth annual Prime Day is about to kickoff with huge savings and good deals on thousands of items. With that in mind, to help you save as much money as possible here are five Amazon Prime Day tips tricks and secrets.
From Monday, July 16th to July 18th, Amazon will have "more deals than Black Friday".  We'll help you make sure you don't get ripped off and that you get what you're looking for before it's too late, or sold out.
Some deals will last the entire week, while others only last for a few hours or minutes. So, sign up for a free trial and keep your eyes on the Amazon Prime Day landing page. Before you start looking for deals though, here are some helpful tips.
Use Amazon Alexa
All of the deals start at 3:00 PM ET on July 16th, but you can get big savings early if you use your Amazon Alexa device to make purchases.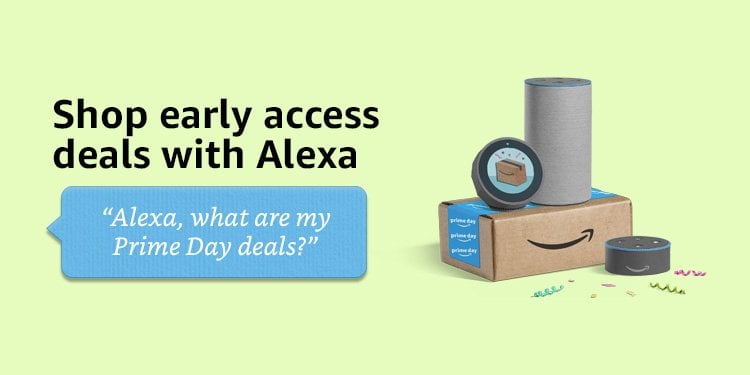 Basically, before all the crazy deals officially start Amazon will let Prime members buy stuff using Amazon Alexa. So, if you have an Echo, Echo Dot, Echo Show or any other device with Amazon Alexa built-in, just talk to your virtual assistant and buy stuff.
If you say, " Alexa, order a Fire tablet for the kids" you'll save 30% on the Amazon Fire Tablet Kids edition. Here's how it works for those interested.
Use Amazon Prime Day Coupons, Codes & Discounts
When you are taking advantage of deals, make sure to keep your eye out for Amazon Prime Day coupon codes that you need to enter. Or, ones that you just need to click apply on to get all the savings.
Look at the product page before you add to cart and be sure to check out the Subscribe and Save Coupons for Prime day to see where you can save up to 50% on some items. We also recommend checking out the dedicated Slickdeals Prime Day promo code section. They have a running list of all the coupons and codes available.
As an example, AmazonFresh customers get $30 off orders over $100, and if you spend $10 at Whole Foods you get a $10 Prime Day coupon. You can stack the two together and save $40 on a $100 order of groceries from Whole Foods. Save big with coupons and promos.
Add Prime Day Deals to Your Cart ASAP
If you see an item you think you want, add it to your cart ASAP and then research it. If this is a Lightning deal you only have 30 minutes or less to decide if you want to buy it. If you Google around comparable prices or to read reviews, then try adding it to your cart after, it might no longer be available. Deals go fast, so add them to your cart before you do anything else.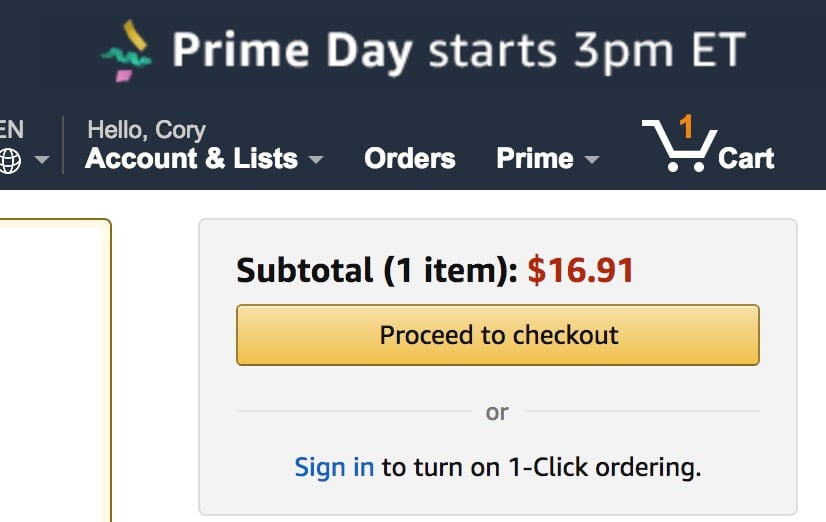 If you buy something that isn't as good as you thought, don't worry, you get the standard Amazon return policy. That way you can easily return anything you don't like.
Oh, and don't forget to turn on 1-click ordering so you can buy stuff as fast as possible. That way you don't miss out on a hot Amazon deal.
Join Waitlists
On the Amazon Prime Day landing page you can click on Upcoming Deals and Sort by Category to see when items you want will start. Once you know when something starts you'll want to add it to your saved or waitlists. This way you're already in line and it's easier to find.
For some of the hot ticket items (or super good deals) you must be among the first to the page, and first to add it to your cart, otherwise, you'll miss out. Basically, you'll want to plan ahead and add special items to your lists.
Schedules and deals are only shown a few hours ahead, so we don't know what's coming later tonight or tomorrow. You'll want to check back often, keep adding items to your list and be ready to buy at a moments notice.
Make Sure You're Getting a Good Prime Day Deal
Not everything you see and find on Amazon Prime Day is a good deal or even a deal at all. In fact, if you're not careful you could end up overpaying or getting ripped off. Retailers or online shops add in "fluff" products to make up some of the difference. And while Amazon does a good job offering great deals, other stores try to take advantage of the excitement.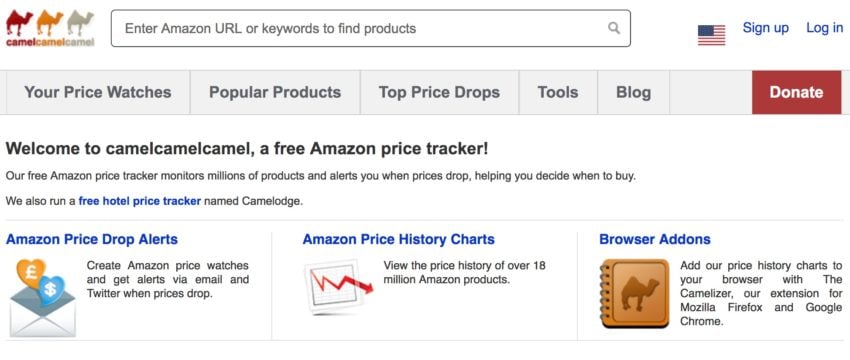 Make sure you research the price you're paying and the product. You'll want to use convenient and amazing tools like CamelCamelCamel to track the price, history, and deal on any particular product. Camel will show you if you're actually getting a good deal or not.
They'll give you the price history for any particular item, price drop alerts, and even have an add-on for your browser.
A Few More Thoughts
In closing, follow the official Amazon Deals Twitter account to see all the exciting deals as they're announced. Then, keep an eye on both Wal-Mart and eBay, as they're both trying to capitalize on this event at the same time. They're having deals throughout the entire week.
Use Amazon Alexa to get deals before everyone else, take advantage of coupons and promo codes, add items to your carts and lists so you don't miss out, and stay vigilant as you shop. Good luck and have fun.
15 Surprising Things You Can Buy from Amazon Basics
Amazon Basics Dog Diapers
If your dog is getting up there in years, you don't need to spend big money on a male dog wrap, you can get Amazon Basics dog diapers in four sizes.
Each 30 pack of male dog wraps delivers leak proof protection and a wetness indicator that changes color.
This has 4.5 star reviews and comes with a one year warranty in case they aren't up to your dog's standards.

As an Amazon Associate I earn from qualifying purchases.