Android 10: Everything That's New
It's finally official. Android 10 is here and it replaced the Android Q beta Google spent six months testing. In this guide we'll go over everything we know about Android 10, what's new, and what changed so owners know exactly what to expect. Plus, we'll detail a few new features that are still missing.
With a renewed focus on privacy, security, and screen-time awareness, Android 10 is faster, better and smarter than ever before. There are plenty of new features, too, which you'll really enjoy.
Android 10 Release Date & Betas
Google finally released Android 10 on September 3rd, which is a little later than some previous releases. It came after a long 6-month beta period where the company released six versions of Android Q for testing, and so manufacturers and developers could prepare for it.
And they have, too, because Essential already released Android 10 for the Essential PH-1, and we're already seeing official Android 10 beta tests from OnePlus and even Samsung.
Read: When Will My Phone Get Android 10?
For those that don't know, Android P debuted in March of 2018 and was later released as Android 9 Pie in August. And a similar beta program kicked off in 2016 and 2017 for Android 7.0 Nougat and Android 8.0 Oreo.
Android 10 Name
For the first time ever, this version will simply be known as Android 10. Google decided to ditch the dessert theme for the name, which they've done since the original Android 1.5 Cupcake release several years ago. This is for several reasons, including the fact that the name of a dessert in the US, like Pie, isn't a dessert in other areas of the world, or a food item at all.
Internally, each new Android release will still have a fun name by the developers, and likely get integrated into hidden software easter eggs, but the naming will follow a traditional number path moving forward.
Important Android 10 Links
If you're a developer you'll want to go to the Android 10 Developer page. Google also released an overview page showing all the nitty-gritty details. Then, don't forget to submit feedback to help improve the software moving forward.
What's New in Android 10?
So here's the thing. While Google shared more information during the first and second betas, more at Google I/O during the third beta, and wrapped everything up in August, a few things are still missing. That said, this is still a big release in terms of behind the scenes tweaks that sets the stage for Android as a whole moving forward. Not just for Pixel smartphones.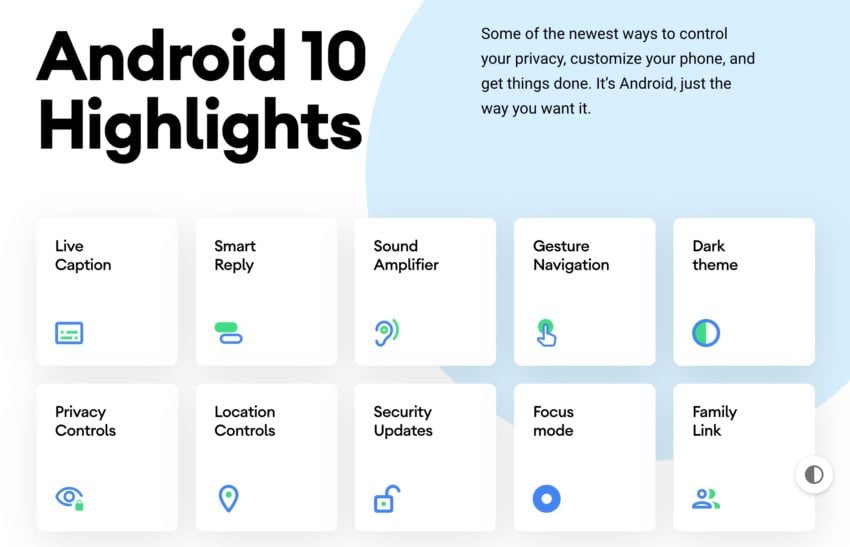 There are some obvious changes like improved security and privacy controls, support for folding phones, Dark Theme, and a few other things, so here's a more detailed list.
Improved Privacy Protection & Controls –  Google made major changes in Android 10 that focus on privacy protection. Additionally, users have a deeper level over privacy controls too, which was expected.
Dark Theme – A new system-wide dark theme is available by going to Settings > Display. This will improve battery life and offers several usage benefits.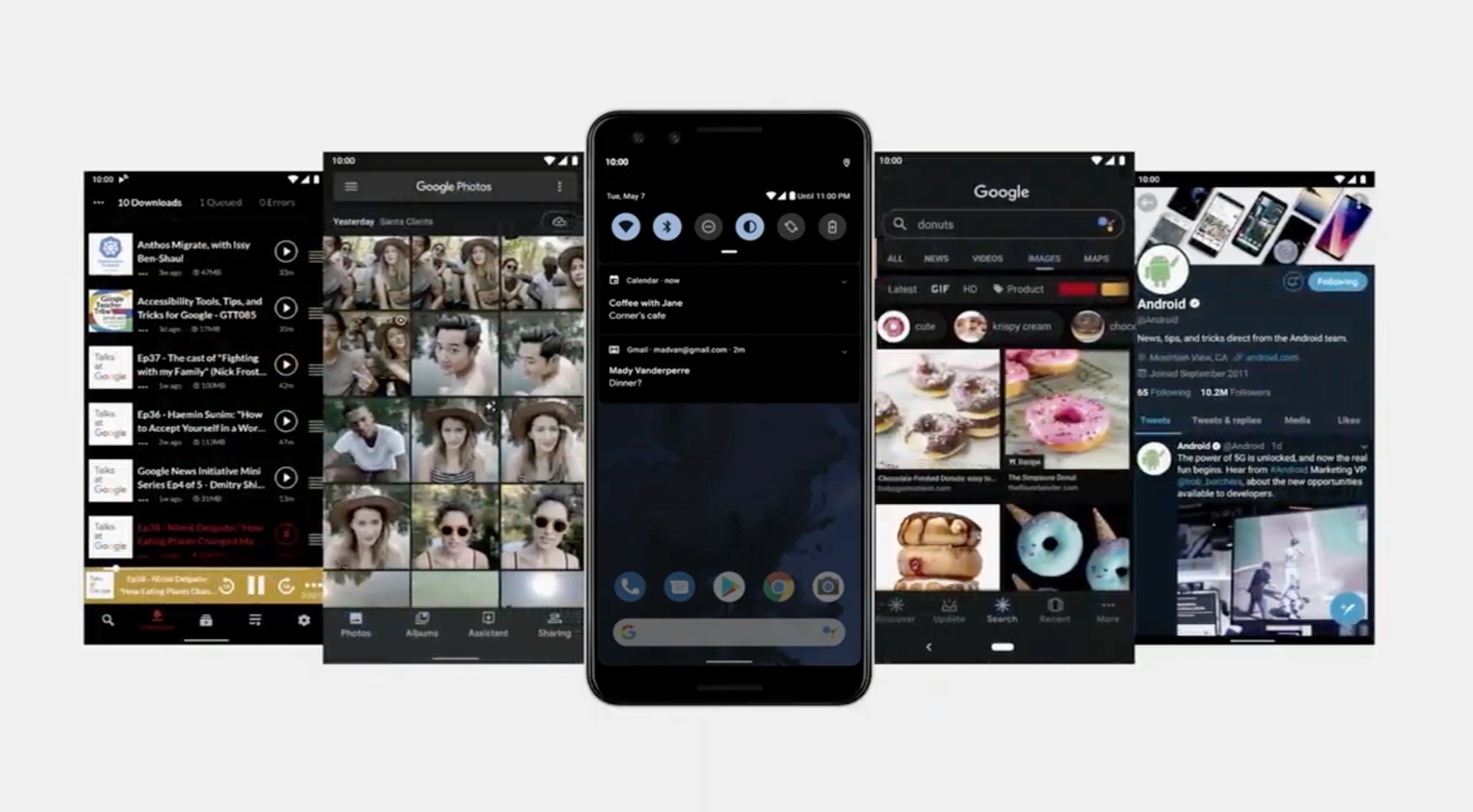 Dark Theme Everywhere – That dark theme we just mentioned was added to the boot screen (so phones don't blind you during a reboot) and in several apps throughout Android.
Privacy Manager – There's a new "Privacy Manager" menu in settings where all the app privacy controls are simplified under one unified area.
Expanded Location Controls – Similar to the new privacy controls and options, Google is taking a huge new approach to location controls, location data, and user tracking in Android 10.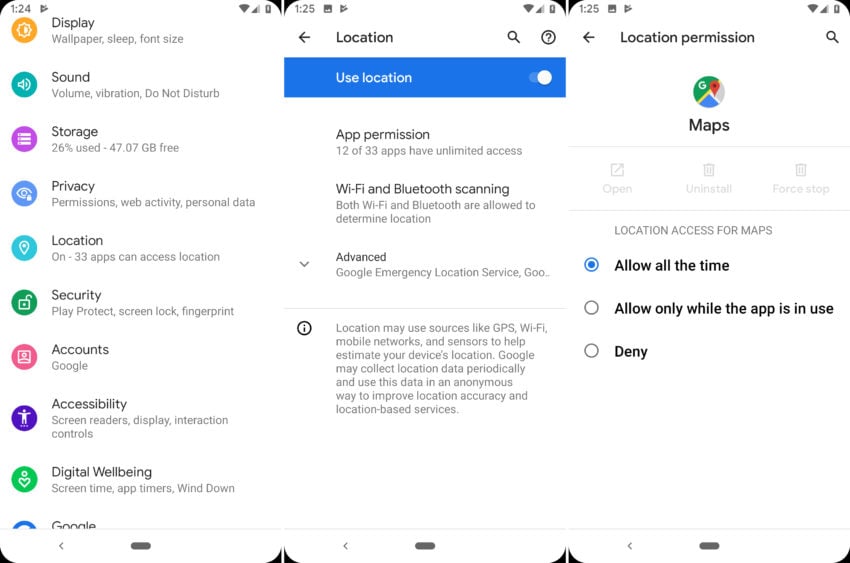 As you can see, in Android 10 users can see exactly what devices have access to their location. Furthermore, you can control WiFi and Bluetooth location scanning, grant or revoke permission to each app one at a time, or even only grant access to your location while the app is in use. It's no longer a system where you grant access once and you're done. You have more control than ever before.
Multi-tasking Bubbles – We saw hints and leaks of the new "Bubbles" in Android Q earlier this year, and they arrived in the 2nd beta. Bubbles are little circles that go anywhere, float over other apps, and help you multi-task with ease. Think Facebook  Messenger "chat heads" where you can quickly open or minimize a conversation, but for entire apps. We're unsure how this will work, but it's exciting. Hopefully it's not only for messenger applications.
It's no secret that "big tech" like Google, Facebook and Apple have been under a ton of scrutiny lately for how much information it collects about its users. Then, in turn, how that information gets used for ads and such. A big part of that focuses on location data, device tracking, or user tracking. As a result, Android 10 has some strict privacy and location controls unlike any version of Android we've ever seen.
Support for foldable displays – With exciting new phones like the Samsung Galaxy Fold, Huawei's folding phone, the Moto RAZR and more all coming soon, Google is building Android to work better with screens that fold or bend. If a device has a folding or innovative new design, Android 10 will adapt to the shape in an effort to deliver a great experience, and that includes a neat new split-screen multitasking system.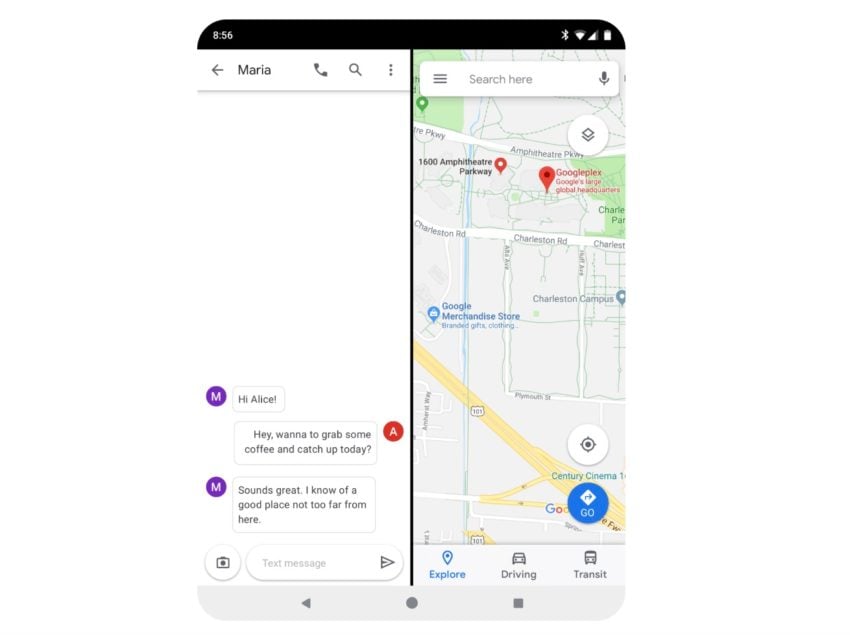 Sharing Shortcuts in Android 10 – Another thing we're seeing is a change to the "share" menu in Android 10. Google is making this quicker and easier with Sharing Shortcuts, which let users jump directly into another app to share content.
Smart Reply, Suggested Actions – Smart Reply isn't completely new, but with Andy 10 Google enabled system-provided smart replies and actions that are inserted directly into notifications by default. Similar to smart reply options in Gmail. You'll be able to thumbs up a message from the notification bar, open a link directly to maps, YouTube, and much more. It's just "smarter".
Live Caption – One of the most exciting new features from Google I/O is live caption. This feature will automatically caption media that's playing audio on your phone. The feature works with videos, podcasts and audio messages, videos you've recorded with the camera and more. It's a complete system-wide caption system that works even when you're offline. Very powerful, but won't arrive until this fall.
Settings Panels – In Android 10 app developers will be able to show key system settings directly inside of their app. Including WiFi, Bluetooth, mobile data, or even sound settings. A prime example is the Ultimate Ears app having a "settings panel" where users can instantly access BT settings, sound controls and more without leaving the application.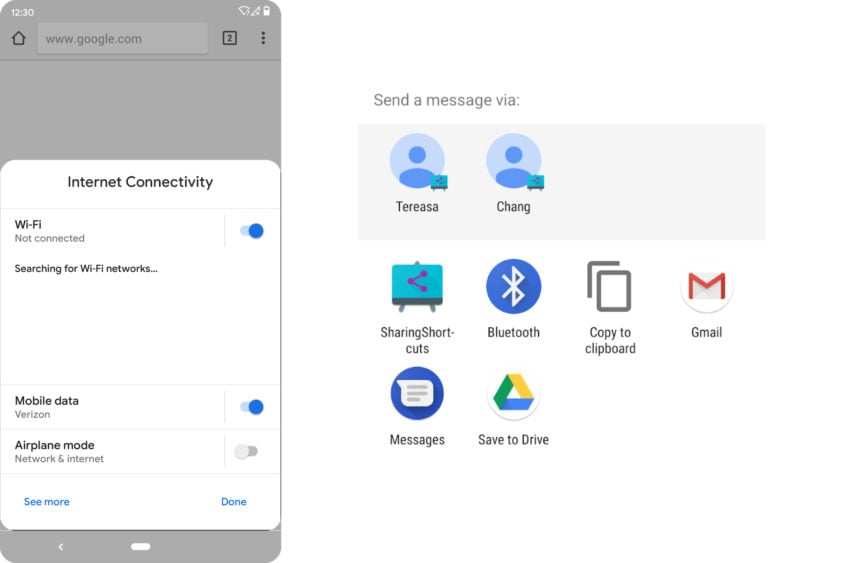 Connectivity permissions, privacy, and security
Theme Controls or Dark Mode – We know we already mentioned the Dark Theme, but digging through developer options we're seeing full "theme controls" where users can change fonts, colors, accent fonts and colors, icon shapes and more. There's a chance a future Android 10.1 release could offer broad theming options for manufacturers and developers.
Gestural Navigation – Well, Google returned the old on-screen keys with the 3rd beta of Android Q, even for the Pixel 3. Plus, they debuted a new "Gestural nav system" you can enable under Settings > System > Gestures. Then, both the 5th and 6th betas changed it even more. It's safe to say Google has no clue what they want to offer in terms of gestures. There's a new system for Android 10 though, so go give it a try.
Focus Mode – Another powerful new feature is Focus Mode. Available in Android 9 Pie and 10, it's like a Do-not-disturb mode for your entire phone, not just sounds. You can silence and block (temporarily) apps, messages, people, services and more that will interrupt you, letting users "focus" on getting work done. We know what is our biggest distraction, so now you can turn off individual things to "focus" without killing entire feature-sets of your device.
Additionally, there's an all-new parental controls system in 10 designed to let parents monitor and limit kids using phones. You can see focus mode below.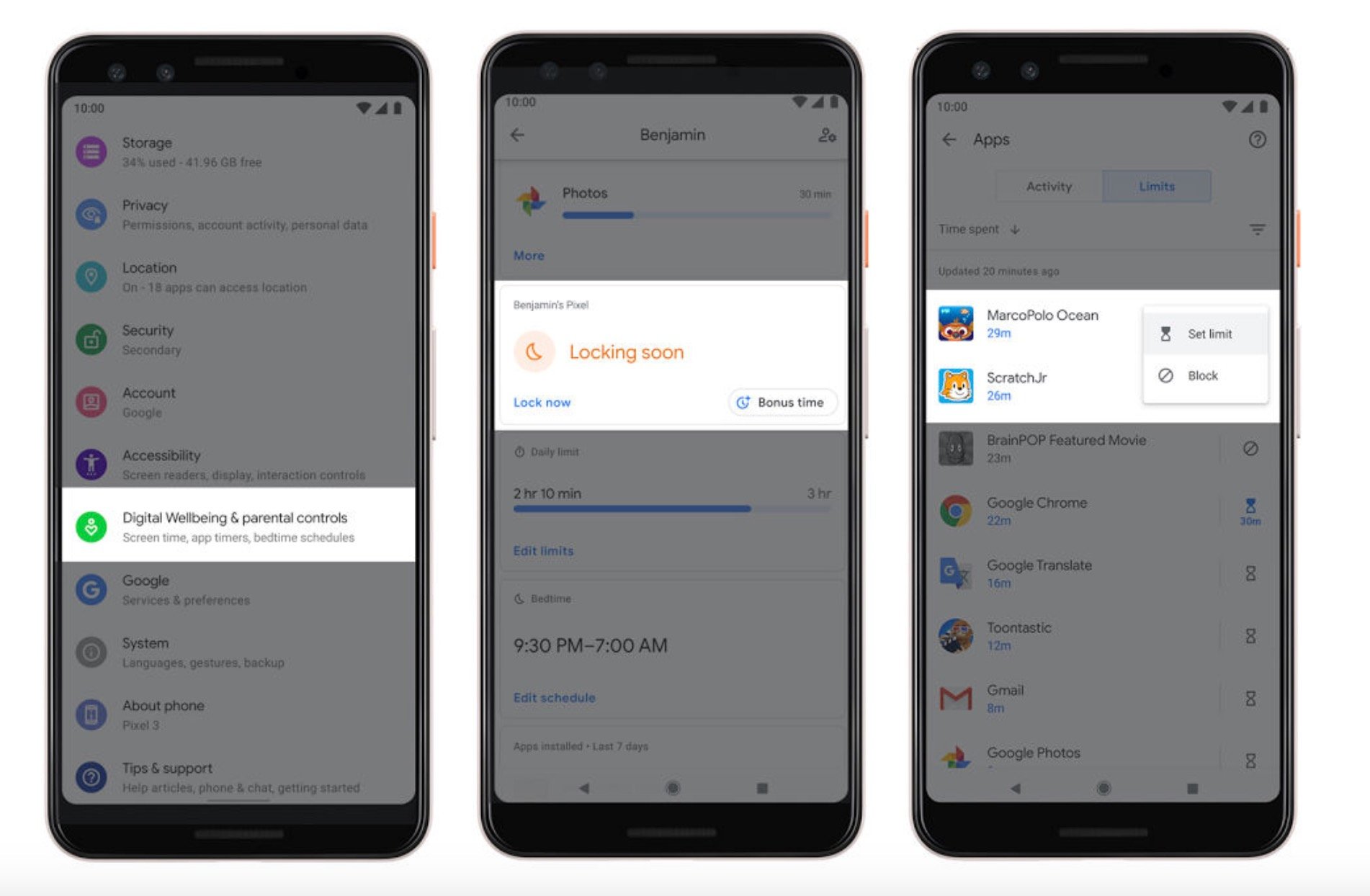 Notification Assistant – In the Android Q beta 2 release we're seeing a new "Notification Assistant" and we have no clue what it does. That said, the description on my Pixel 3 is rather scary. Maybe this will let the Google Assistant see, read, and use our notifications to better serve each user. Who knows? This isn't in the final version of Android 10 yet.
Screen Continuity (Foldables) – A big part of Android 10, at least behind the scenes at Google, was an effort on making the software work for future devices like foldable displays. Like we've seen from Samsung, Huawei, and likely Motorola. Plus, the device below could be a teaser of some sort of upcoming Google folding phone. Basically, this feature improves the way content gets displayed on the front, back, fold, or any screen on an Android device.
Improved Peer-to-Peer and Internet Connectivity
WiFi Performance Mode
Dynamic Depth Formats for photos
New Audio and Video Codecs
Native MIDI APIs
Improved Vulkan Graphics, Neural Network APIs, and much more
Then, we added a few more noteworthy things to the list above. This isn't everything, but it's the majority of the important user-facing stuff. As you can see, Android 10 makes a big effort to improve performance, battery life, security, privacy, location data and more, along with obviously making the software experience better for everyone. Not mentioned here are improved camera features and controls, software improvements, better gaming support, and new codecs to keep Android future-proof. Then, expect more information as we continue to dig through the 10th version of Android.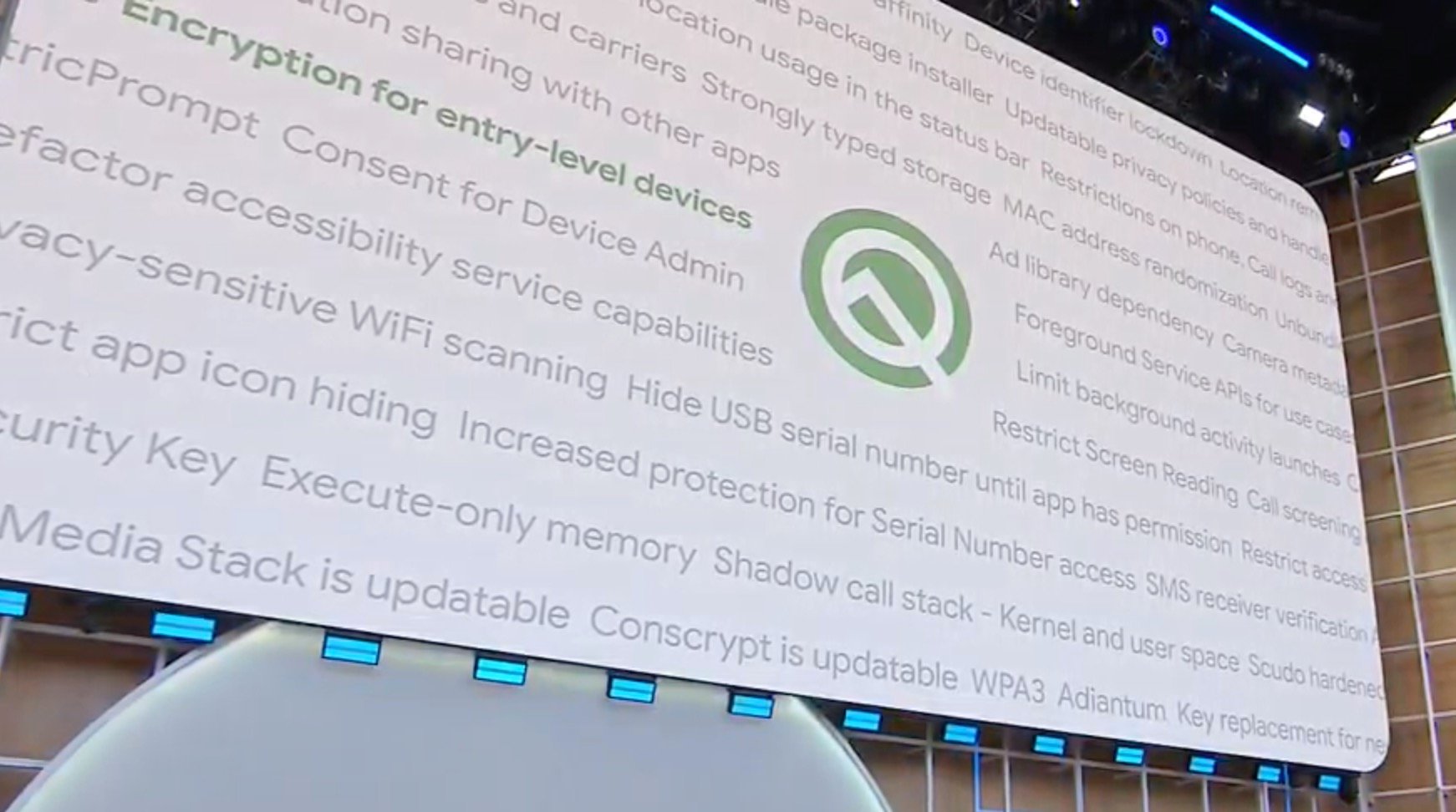 Final Thoughts & What's Next?
What's next though? Well, now that Android 10 is official and on almost all Pixel devices, the next logical step is to improve the overall experience. Even after a long 6-month beta program, now that millions of people are running Android 10 Google will find new issues, bugs, or small problems they'll need to fix.
Unlike the earlier years and unlike Apple, Google doesn't really release .1 and .2 versions of software anymore. Instead, they simply improve things with monthly updates, which they can even do through Google Play Now, instead of with big software updates to the phone specifically. So while we might get an Android 10.1 release with bug fixes within the next few months, don't be surprised if we don't get one either.
Plus, now other manufacturers like Samsung, Sony, OnePlus, Nokia, LG, Oppo, Essential, Xiaomi and more can start preparing updates, continue their beta testing, and send this new software to their customers. Google and phone makers will work together to make this the best version of Android yet.
Either way, this is the next version of Android and it's finally here for select users. If you have a phone that's not a Pixel, you'll have to wait for your phone manufacturer to deliver it specifically for your device. Stay tuned for more details. And don't forget that the Android R beta will begin in March of 2020.

As an Amazon Associate I earn from qualifying purchases.