Battlefield Hardline Beta Release: 7 Things to Know
The Battlefield Hardline beta release arrives this week, offering a full week of play inside this new cops and robbers version of Battlefield for the Xbox One, PS4, PS3, Xbox 360 and PC.
With the Battlefield Hardline beta anyone can play the game a month before the Battlefield Hardline release date in mid-march. This is an important offer from the Battlefield Hardline team as the Battlefield 4 release arrived with a number of problems and the last six months have been rocky for almost any blockbuster game on the Xbox One and PS4. Hopefully the open Battlefield Hardline beta will deliver what the team needs to prepare for the full Battlefield Hardline release on March 17th.
This is an open beta so you don't need a special invitation to play and you don't need to pre-order Battlefield Hardline to play. All you need to do is download the game and start playing. On consoles you need to be able to play online games, so make sure your console is connected and you have access to Xbox Live on Xbox consoles.
You can [easyazon_link asin="B00KME8K7O" locale="US" new_window="default" nofollow="default" tag="gbm-ea-20″ add_to_cart="default" cloaking="default" localization="default" popups="default"]pre-order Battlefield Hardline for Xbox One, PS4, PS3, Xbox 360 and PC[/easyazon_link] at Amazon and other retailers for $59.99. There is a $69.99 Deluxe edition with three Battlepacks including weapons and gear.
Here is what you need to know about the Battlefield Hardline beta release that arrives in just a few days.
Battlefield Hardline Beta Release & Start Time
The Battlefield Hardline release is on February 3rd. Right now we still don't know the exact Battlefield Hardline start time, but we do know that it will vary from one region to the next and that it will also vary by platform.
We expect to hear more details about the Battlefield Hardline start time on each console on Monday February 2nd.
BattleField Hardline Beta Size
Even after the Battlefield Hardline beta starts, you will need to complete a lengthy download before you can play. On new consoles and on PC, you will need to settling in for a huge download and on the Xbox 360 and PS3 one about half the size. This will still take some time and you cannot play until it is downloaded. .
PC, Xbox One & PS4 – 10-11 GB
PS3 & Xbox 360 – Under 4GB
Hopefully you can find the beta in the Xbox Store or PSN and start the download to a connected console while you are at work.
Battlefield Hardline Beta Pre-Load
Some users can perform a Battlefield Hardline pre-load so that the game is ready to play as soon as the Battlefield Hardline beta starts. Unfortunately, we only know about details on one platform.
If you plan to play the Battlefield Hardline PC beta, you can pre-load Battlefield Hardline on February 2nd at 10 AM PST. You will need to do this through Origins.
Hopefully we will learn more about options to pre-load Battlefield Hardline on Xbox One and PS4 before Tuesday.
Watch the Battlefield Hardline Beta Video
If you want to know more about the Battlefield Hardline beta, you need to watch this five-minute video below. This walks through the premise of the game, introduces some of the weapons and modes and shows you what to expect. This is best viewed in 1080P at 60 FPS if you want to see what the game will look like.
Battlefield Hardline Beta Maps & Modes
There are three different Battlefield Hardline modes and maps included in the open beta. In all these modes you can play as the police or as the criminals. There are options that support up to 64 players on a map, which should lead to a frenzied experience.
Hotwire is basically a Gone in 60 Seconds mode where the criminals need to steal a list of cars and escape before the police catch them. This is available on the Downtown and Dust Bowl Battlefield Hardline maps.
In the Dust Bowl map users can also play Conquest with up to 64 players. This mode is similar to other Battlefield Conquest modes.
There is also a Heist mode in the Battlefield Hardline beta that pits criminals who are trying to crack open a safe against police who want to stop the team. This takes place on the Bank Job map.
Gamers can play on both sides of the law in these modes. There is also a hacker mode that allows one player on each team to control cameras, spot enemies and direct the rest of the team.
Battlefield Hardline Beta Stats Don't Carry Over
You can play the Battlefield Hardline beta as much as you want during this period, but no matter how high you take your rank it will not carry over to the full game.
There is no level cap, so you can go through a complete progression if you have the time and dedication to do so, but you will start over when the game arrives in March.
There is an early release of Battlefield Hardline planned for the week before the Battlefield Hardline release date for EA Access members on Xbox One. Those stats typically do carry over to the full game.
When Does the Battlefield Hardline Beta End
Like all good things the free Battlefield Hardline open beta ends well ahead of the release date. You can play the Battlefield Hardline beta for six days with no time limit during those specific days.
The Battlefield Hardline beta ends on February 8th. The specific time  will vary from region to region and platform to platform.
15 Exciting 2015 PS4 Games
MLB 15 The Show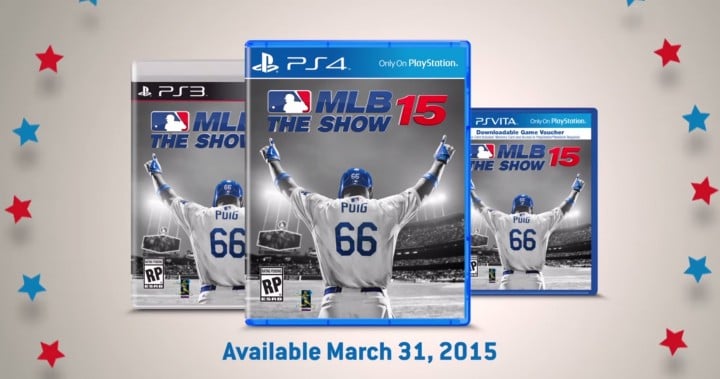 MLB 15 The Show Release Date - March 31st Confirmed
Sony is the undisputed king of baseball games with MLB The Show and we know that MLB 15 The Show is coming in early 2015. Sony just shared five key details about MLB 15 the Show and gamers are excited.
MLB 15 The Show is a PlayStation Exclusive, that is coming to the PS4, PS3 and PS Vita. There is a chance that this will be one of the first big hits among the 2015 PS4 game releases. I
Watch the MLB 15 The Show teaser video above for a glimpse at what's new.

As an Amazon Associate I earn from qualifying purchases.