Best Apple Watch Deals: September 2019
The best Apple Watch deals let you buy an Apple Watch for up to $79 off in September. Many deals ended on Labor Day, but you can expect to see more deals later this month.
Here are the best Apple Watch deals in September, which cover the Apple Watch 3 and Apple Watch 4.
Apple is hosting an event on September 10th, which will likely include an Apple Watch 5. You may want to wait for the Apple Watch 5 to buy. While the deals on September 1st included at least $50 off the Apple Watch 4, and the Apple Watch 3 for $199, these deals ended, so you may want to wait for the event before you buy as the current deals aren't that great.
Read: Which Apple Watch Should I Buy in 2019?
Best Apple Watch Deals
You won't find any Apple Watch deals from Apple, but you can save when you buy at other retailers and carriers. If you want to save more, wait for bigger Apple Watch 4 deals in November during Black Friday. At that point, you'll see some Apple Watch 5 deals start to show up.
$20 to $80 Off Apple Watch 4
You can save $50 to $80 on the Apple Watch at many retailers in August 2019, including the GPS and the GPS+LTE models.
The deals at Amazon and B&H Photo don't require any added purchases and are valid on both GPS and the Cellular models.
$50 Off with iPhone Purchase at Verizon
If you want the Apple Watch 4 with GPS + LTE, you can score a great deal at Verizon. This deal lets you get the Apple Watch 4 for $50 off when you buy a new iPhone, plus you get your first month of service free.
This is only for the LTE models, so you will pay more than just the GPS. You need to do the monthly payments option and you will get up to $50 credited to your account over the next 24 months. This is only a good deal if you plan to keep LTE service with Verizon on both Apple Watches.
Once you score a great deal, check out 50 cool things the Apple Watch can do, and the things that only the Apple Watch 4 can do below. You should also look into our list of the best Apple Watch bands and best Apple Watch Accessories.
8 Cool Things the Apple Watch 4 Can Do
Take an ECG Anytime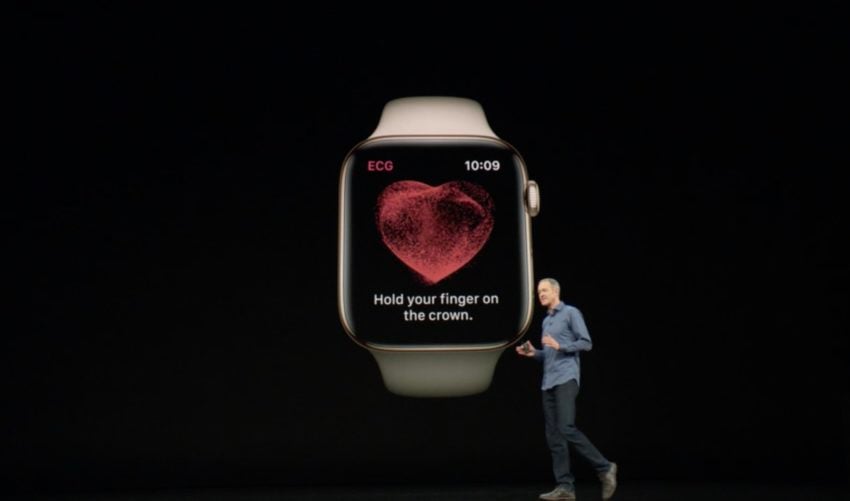 The Apple Watch 4 packs a new heart rate sensor and it also includes the ability to take an Electrocardiogram right on your wrist at any time.
Typically you need to go to a doctor to get an ECG, and it might not capture the heart issues that happen throughout the day.
With the Apple Watch 4, you can take an ECG by placing your finger on the digital crown and the Apple Watch does the rest. This is an FDA Approved mobile ECG, and it is potentially life saving.
This joins a host of other Apple Watch heart features that are available on other models including low heart rate alert, afib alert and more heart health record keeping and tracking. You can easily share the health information to your doctor from the Health app on your iPhone.

As an Amazon Associate I earn from qualifying purchases.