7 Reasons to Wait for the Apple Watch 5 & 5 Reasons Not To
Should you wait for the Apple Watch 5 or buy the Apple Watch 4 today? The Apple Watch 4 is almost a year old and the Apple Watch 5 event is less than a week away. With that in mind, almost everyone should be waiting, but there are a few reasons you may still want to jump on the Apple Watch 4. There are also a few reasons to wait and hold off for the 2020 Apple Watch.
While Apple Watch 5 leaks and rumors weren't as frenzied as for previous models, we know a good deal about what you can expect from the 2019 Apple Watch and from watchOS 6 which will arrive for the Apple Watch 4 in a few weeks.
The Apple Watch 4 is easy to find at most retailers, and we've even seen a few deals on it over the last couple of months including $50 off right now at Amazon. It packs in a ton of new features and we like our upgrade, but there are a few reasons to wait for the Apple Watch 5, or the 2019 Apple Watch.
Apple won't talk publicly about the Apple Watch Series 5 until September 10th, but they are definitely working on the next Apple Watch right now. We've already seen some of the new watchOS 6 features coming this fall, but we don't know a ton about specific Apple Watch 5 features yet.
If you don't want to wait, this guide will help you decide which Apple Watch to buy in 2019, and you can use this list of Apple Watch deals to make sure you don't pay too much.https://www.youtube.com/watch?v=ZGjMH5XjM2A
It's not a long wait for the Apple Watch 5, and if you aren't replacing a broken Apple Watch, you should probably wait. This is what you need to know as you think about buying the Apple Watch or waiting for the 2019 Apple Watch.
Here are the Reasons to Wait for the Apple Watch 5;
Wait for New Features
Wait to See How Sleep Tracking Works
Wait for New Apple Watch Materials
Wait if You Have the Apple Watch 3
Wait to See What watchOS 6 Brings
Wait for New Health Tracking
Wait If You Can Wait A Week
Here's Why You Shouldn't Wait for the Apple Watch 5;
Don't Wait for a New Apple Watch Design
Don't Wait for New Screen Tech
Don't Wait for Deals
Don't Wait for Apple Watch Android Support
Don't Wait if You Find a Great Apple Watch Alternative
Read through each of the reasons below to help figure out if you should wait for the Apple Watch 5 or not. As we learn more about this upcoming model we will fill in more of the Apple Watch 5 rumors below.
Apple Watch 5 Rumors
The Apple Watch 5, or Apple Watch Series 5, is not announced yet. After a relatively quiet summer, we heard a major Apple Watch 5 rumor in August that points to the screen tech.
In a note shared with Chinese media, Ming-Chi Kou reports that Japan Display will fill more of the OLED display orders for the 2019 Apple Watch. This report sounds like it will be the same screen tech as the Apple Watch 4, which isn't a surprise.
Kou suggests that the 2020 Apple Watch will use a MicroLED display, which is a feature that is also rumored for a new MacBook Pro model.
Apple is hosting an event in September to show us the 2019 iPhones. The takes place on September 10th. This is the event where we expect to see an Apple Watch 5 announced. Apple already showed us watchOS 6 in June, and the release date is set for this fall. Apple typically releases a new update a few days before new hardware.
While the overall design is likely staying the same, a new report suggests that Apple will announce a Ceramic and Titanium models.
Apple is reportedly adding in sleep tracking to the Apple Watch this fall. 9to5Mac shares a report on what this means, including what it could do and how it might work with multiple Apple Watch models.
Keep reading each of the sections below for more information about the Apple Watch 5 release date and potential features.
Wait for New Apple Watch 5 Features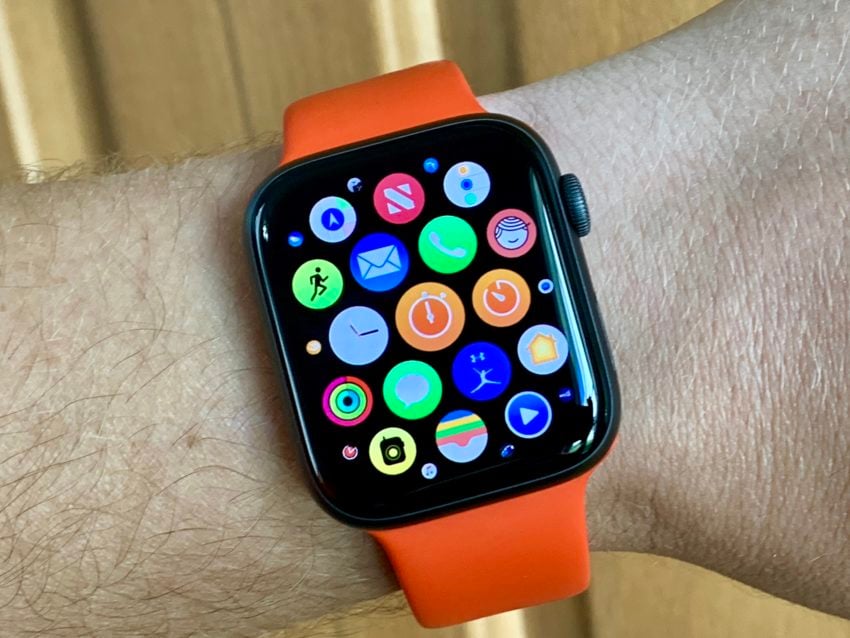 Apple packs in a lot of important upgrades for the Apple Watch 4, but if you don't see a feature you wanted then you may want to hold off for the Apple Watch 5.
We're still not seeing a ton of Apple Watch 5 features leak out, but we should see some new features come to this model.
The Series 4 is a major upgrade, so the 2019 Apple Watch may be more of an "S" style upgrade like the current iPhone models. This means noticeable new features, but not world-changing upgrades.
If you aren't fully satisfied with the Apple Watch Series 4, wait to see if the 2019 Apple Watch delivers something you've been waiting for.

As an Amazon Associate I earn from qualifying purchases.