Best Buy Black Friday 2015 Deals Live Now for Elite Members
The Best Buy Black Friday 2015 deals are live online for My Best Buy Rewards members who spend $1,500 or more each year. Elite and Elite Plus members can shop the Best Buy Black Friday 2015 ad online right now.
The pre Black Friday 2015 deals at Best Buy are live online right now across a range of devices including the Best Buy HDTV deals, computers, tablets, video games, drones, cameras, home theater, smart home and more.
Not every item in the Best Buy Black Friday 2015 ad is online today, but there are hundreds of items on sale early. With this option you can buy many of the top deals online now, through 11:59 PM Central on November 23, 2015.
Go to the pre Black Friday 2015 Best Buy early access page to start shopping with these deals right now. You can browse a range of categories and search for items using the search box.
When browsing Best Buy you will see My Best Buy Early Access listed above the sale price of these items in general search results.
We are seeing many 4K TV deals as part of this sale including a 60-inch Samsung 4K deal for $799, a 65-inch 4K Vizio for $999 and many other options.
Madden 16 and other EA sports games are on sale for $29.99 and gaming headphones from Astro and Turtle Beach are on sale.
The Nest learning thermostat now includes a $50 gift card and other connected home devices are on sale. Bose headphones are also on sale.
Shoppers can pick up a $299 Dell 15.6-inch Touch laptop with Core i3, 8GB and a 1TB hard drive. There are also deals on Apple computers with $200 off the MacBook Pro, $120 off the MacBook Air and $200 off the iMac 21.5-inch model. There are also other MacBook and Windows notebook deals available right now.
If the Best Buy Black Friday 2015 ad includes anything you are thinking about buying, this is the best way to shop the Best Buy Black Friday 2015 deals. You can only buy these online, and only if you are an Elite or Elite Plus member.
You cannot do in-store pickup on these deals, but you can get most of them with free delivery and expect to get them in the very near future as well. Delivery may take place after Black Friday 2015, for bigger items but you don't need to wait in line on Thanksgiving Day.
Check out the rest of our Black Friday 2015 coverage below to see what you can save on at a variety of retailers and across other items.
Best Black Friday 2015 Deals & Ads
Walmart Black Friday 2015 Ad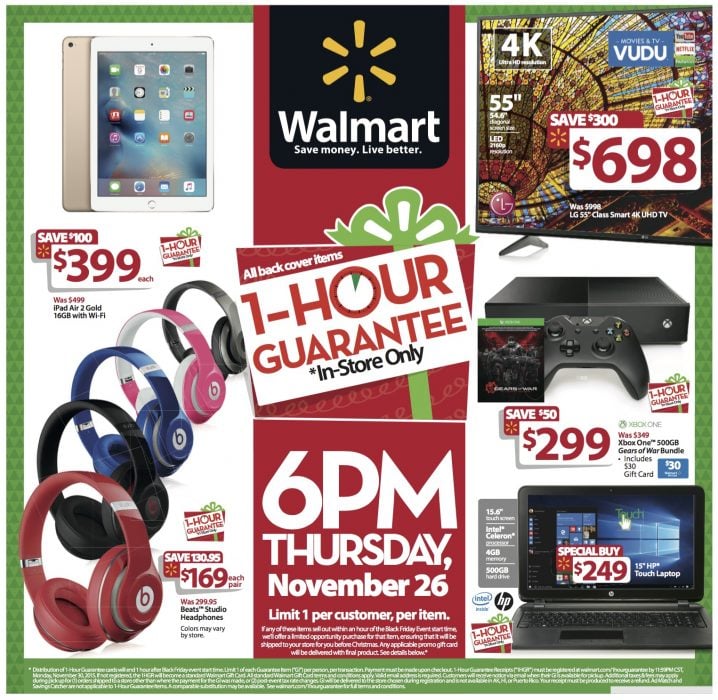 The Walmart Black Friday 2015 hours start online at 12:01 AM Pacific on Thanksgiving Day and in store at 6 PM local time on Thanksgiving. Make sure you check out the online Walmart Black Friday 2015 deals.
Today we are able to see the Walmart Black Friday 2015 ad, and it is available on the iPhone or Android before the general web. The ad includes over 300 Black Friday 2015 deals across a variety of categories.
Read: Are 1 Hour Guarantee Black Friday 2015 Deals Worth Buying?
Walmart confirmed the return of the 1 Hour Guarantee that promises availability of five big deals in the Walmart Black Friday 2015 ad. If Walmart runs out, shoppers who are in line at the right time will get an option to buy these items for delivery by Christmas. These deals include;

iPad Air 2 Gold 16GB Wi-Fi for $399 ($100 savings)
Beats Studio Headphones for $169 ($130.95 savings)
LG 55" Class Smart 4K UHD TV for $698 ($300 savings)
Xbox One 500GB Gears of War Bundle with a $30 Walmart Gift Card for $299 ($50 savings)
15" HP Touch Laptop for $249 (special buy)

Check out more about the Walmart Black Friday 2015 ad to see the deals.

As an Amazon Associate I earn from qualifying purchases.