Best Buy Bolsters Black Friday 2015 Ad with Gaming Deals
With Black Friday 2015 roughly a week away, one electronics retailer is hoping huge discounts on individual games will be enough to get shoppers in their stores as early as possible. Best Buy's Black Friday 2015 deals include big savings on Xbox One and PS4 games like Batman: Arkham Knight, Need for Speed and Madden 16.
Days ago, Best Buy added its Black Friday 2015 ad online, letting users better plot their shopping trips for the day after Thanksgiving. Black Friday is a huge shopping event in the United States, retailers take the opportunity to offer steep discounts on just about anything and everything. BFAds reports that Best Buy added a full 23 pages of new deals to their Black Friday ad, then took those additional pages down for some reason or another. Luckily, the site was able to note what was on those additional pages before they disappeared.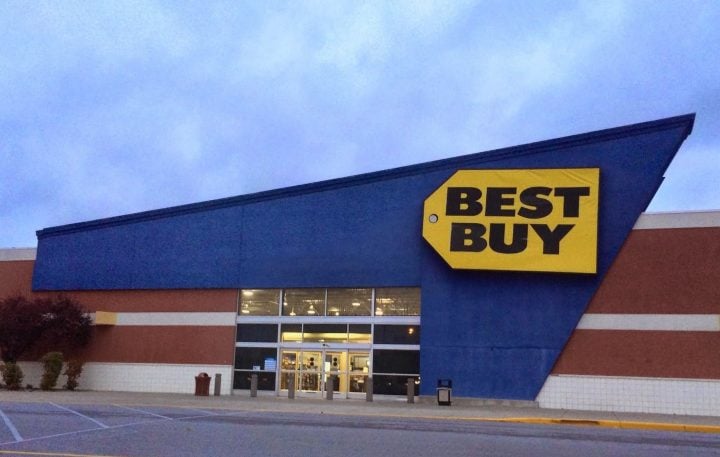 Read: Black Friday 2015 Deals & Ads
Now shoppers can expect Call of Duty: Ghosts to be $6.39 for Xbox One and PS4. Wolfenstein: The New Order, The Evil Within, Evolve, Watch Dogs and Far Cry 4 will all cost $11.99, if these newly added pages to the ad are an accurate indication of the retail chain's plans. $15.99 gets shoppers copies of Bloodborne, Final Fantasy Type 0 HD, Until Dawn, God of War 4 Remastered, Final Fantasy X/X Part 2, and Hasbro Family Fun Pack. Nintendo's Super Smash Bros is just $27.99.  Call of Duty Black Ops 3 for PS3 and Xbox 360 is $31.90. Destiny: The Taken King Legendary Edition is $31.99 for Xbox One and PS4 players.
These deals join the extensive savings that users could already get when they shop at Best Buy this Black Friday.
The best of these Best Buy Black Friday 2015 deals is a 500GB PlayStation 4 Star Wars Battlefront Bundle. Normally, that bundle costs $399, but for Black Friday, Best Buy is offering console and a game bundle for $349.99. Best Buy will slash the Xbox One Gears of War Ultimate Edition bundle to $299, down from $349.99. Anyone willing to spend $499 gets an Xbox One bundle and a Samsung 40-inch television set. Additionally, it'll slash the cost of the Disney Infinity 3.0 Starter Pack to $39.99. That's $25 off its regular price.
Gears of War Ultimate Edition, MLB 15: The Show, Dark Souls 2, Rare Replay, Project Cars and Diablo 3 for the Xbox One and PS4 are all $15.99. GTA 5 and Call of Duty Black Ops Combo Pack for the PS3 and Xbox 360 are $15.99 too.
$19.99 each gets shoppers a physical copy of The Elder Scrolls Online: Tamriel Unlimited, Just Dance 2016, Batman: Arkham Knight, The Witcher 3, Mad Max, Mortal Kombat X, Tony Hawk's Pro Skater 5 and Borderlands: The Handsome Collection. Sports games can get pretty expensive if you purchase them year after year. For $23.99 there's Madden 16, NBA 2K16, FIFA 16 and WWE 2K16. All four are for the Xbox One, PS4, PS3 and Xbox 360. Splatoon for Wii U, GTA 5, Need for Speed, Assassin's Creed Syndicate and Metal Gear Solid V: Phantom Pain are $27.99 each on their respective systems.
All told, these are some pretty good deals on Xbox One & PS4 games. Unfortunately, to take advantage of it all shoppers will need to give up part of their holiday weekend. The Xbox One and television bundle isn't something that shoppers can order online.
Best Buy will open its store on Thanksgiving night at 5PM to begin Black Friday sales. It'll then close its stores at 1AM before reopening again on Friday at 8AM. It isn't yet clear what deals the company will offer for online shoppers on Cyber Monday.
Best Black Friday 2015 Deals & Ads
Walmart Black Friday 2015 Ad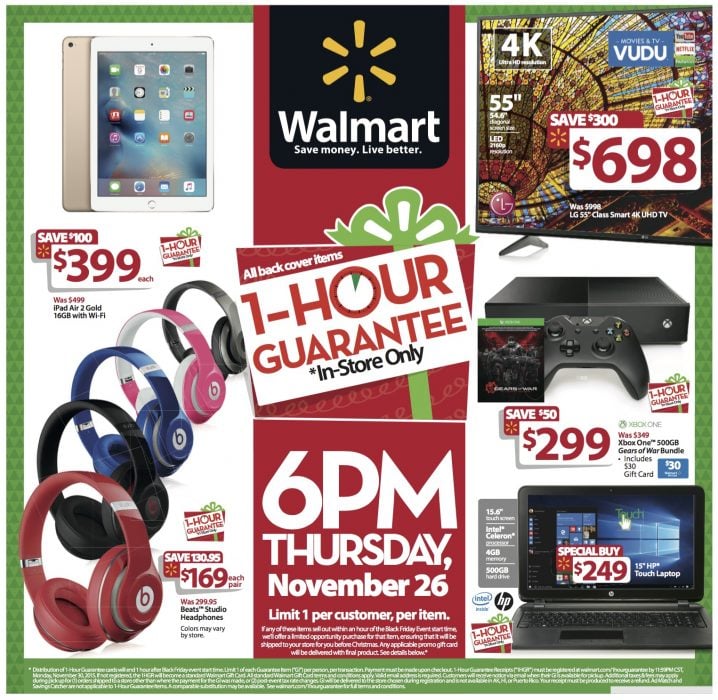 The Walmart Black Friday 2015 hours start online at 12:01 AM Pacific on Thanksgiving Day and in store at 6 PM local time on Thanksgiving. Make sure you check out the online Walmart Black Friday 2015 deals.
Today we are able to see the Walmart Black Friday 2015 ad, and it is available on the iPhone or Android before the general web. The ad includes over 300 Black Friday 2015 deals across a variety of categories.
Read: Are 1 Hour Guarantee Black Friday 2015 Deals Worth Buying?
Walmart confirmed the return of the 1 Hour Guarantee that promises availability of five big deals in the Walmart Black Friday 2015 ad. If Walmart runs out, shoppers who are in line at the right time will get an option to buy these items for delivery by Christmas. These deals include;

iPad Air 2 Gold 16GB Wi-Fi for $399 ($100 savings)
Beats Studio Headphones for $169 ($130.95 savings)
LG 55" Class Smart 4K UHD TV for $698 ($300 savings)
Xbox One 500GB Gears of War Bundle with a $30 Walmart Gift Card for $299 ($50 savings)
15" HP Touch Laptop for $249 (special buy)

Check out more about the Walmart Black Friday 2015 ad to see the deals.