20 Best Galaxy Note 5 Accessories
After using the Samsung Galaxy Note 5 for nearly a month we've tried tons of different chargers, cases, and accessories. Those looking for some of the best Note 5 accessories to deliver more value and productivity without breaking the bank will want to check out our list of 20 great options below.
The impressive Galaxy Note 5 comes with a beautiful 5.7-inch display and one of the best cameras inside of any smartphone. Owners will want to protect it with a case, get additional features like a wallet or kickstand, great headphones, screen protectors, speakers, and even fast car chargers to get the same quick speeds in the car as you get from the charger in the box.
Read: 45 Galaxy Note 5 Tips & Tricks
Samsung's Note 5 is available from all major carriers and is currently one of the best smartphones on the planet. It has tons of options thanks to the S-Pen, and the link above will show users all they need to know about the Note 5. After reading that, check out the 20 accessories below to help get the most from this new smartphone.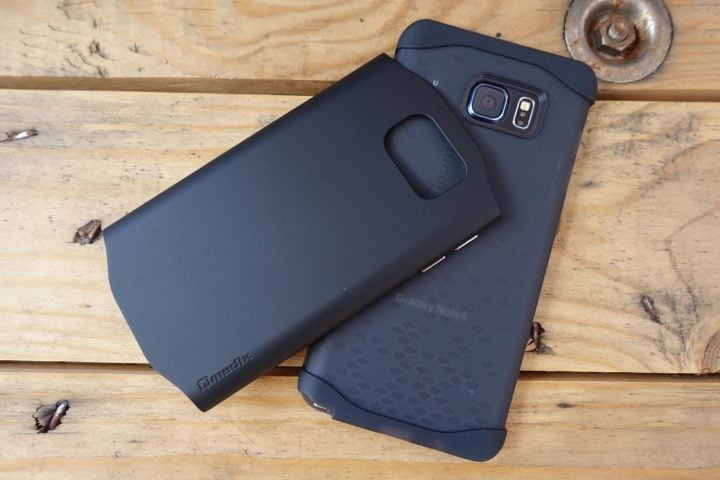 While we've already detailed 10 official accessories that Samsung will be selling themselves, being such a popular smartphone thousands of 3rd party manufacturers have great products as well. Many Samsung official accessories made our list below, but they aren't the only ones delivering great options to get more from the Note 5.
Heading over to Amazon or even Best Buy owners or future buyers will see countless accessories of all shapes, sizes, prices, and quality for the Galaxy Note 5. Most of these are relatively low in cost and won't break the bank, but will add things like a kickstand built into a case, improved sound with Bluetooth speakers, car docks for safe driving or easier navigation.
After spending a lot of money on the new Galaxy Note 5 buyers are probably hesitant to spend even more on some accessories. That said, a case is a great investment to protect the phone, as is a screen protector. And being able to use the phone to the fullest requires a full battery, loud speakers, and more. Below we cover a little of everything for owners to enjoy. This is our list of 20 great accessories for the Galaxy Note 5.
Note 5 S-View Flip Case
The popular S-View case has been released for each Galaxy as of late, and is also available for the Galaxy Note 5. Available in Black, White, Gold & Silver. The S-View has been popular for years, and protects your device while letting you interact with it without ever opening the case. Basically offering full protection even while you answer calls, take pictures and more.
When closed, the S-View cover offers instant access to critical features through a unique window interface, thanks to the Samsung ID chip. View the home screen to check the time, weather and other status items. Accept or reject incoming calls with just a swipe, or reject calls with a preset message. Control your music playback directly on the S-View screen. If you miss anything, notifications are shown in the recent activity menu of your S-View cover.