We don't know what the iPhone 6 will look like, but that doesn't mean there aren't plenty of great iPhone 6 concepts that show us how Apple could design an iPhone 6.
Users shouldn't plan on learning about this device at an iPhone 6 summer release — as rumors point to an iPhone 5S arriving this summer or early fall, and the iPhone 6 release taking place sometime in 2014.
The iPhone 6 is the next iPhone we expect with a new design, as all signs point to a similar look for the iPhone 5S. Apple routinely uses a design for two years, before offering up a new user experience and a new iPhone design.
It's early in the iPhone 6 life-cycle, even for rumors, but we are already seeing and hearing about possible features for the next phone.  Steve Jobs reportedly played a role in the iPhone 6 blueprint. With Apple patents, acquisitions and analyst notes we start to get a glimpse of what Apple may be planning for the iPhone 6.
Read: iPhone 6: Will Apple Deliver a 1080P HD Retina+ iPhone?
When talented designers combine what we think we know about the iPhone 6 with trends towards larger screens, new control methods and tougher materials we are able to see what the iPhone 6 might look like.While looking for the best iPhone 6 concepts we discovered a collection of realistic iPhone 6 concepts that deserve special attention. There are no laser keyboards or hidden projectors, but these iPhone 6 mock ups show us what an iPhone 6 could actually look like on a store shelf or in your hand.
These are just a few of the iPhone 6 concepts we expect to see as we move past the iPhone 5S and towards what will likely be a completely new iPhone.
Read: iPhone 6 Coverage
Some of these concepts borrow features and designs from popular devices like the Samsung Galaxy Note 2 and the Sony Xperia Z, and others are based on rumors of an Apple iPhone 6 prototype, hidden away behind closed doors.
Here are the best iPhone 6 concepts to date, a list we will update as other designers show us what the iPhone 6 might look like and possible iPhone 6 features come to light through rumors and leaks.
iPhone 6 Concept Brings Large Screen Prototype to Life
The iPhone 6 could be the next iPhone to get a screen size bump, and this concept is based off a reported iPhone 6 prototype that uses a larger 4.8-inch display and no home button.
By removing the home button, this iPhone 6 concept offers a larger display without a much larger iPhone. This iPhone 6 concept comes from Martin Hajek and Nowhereelse.fr.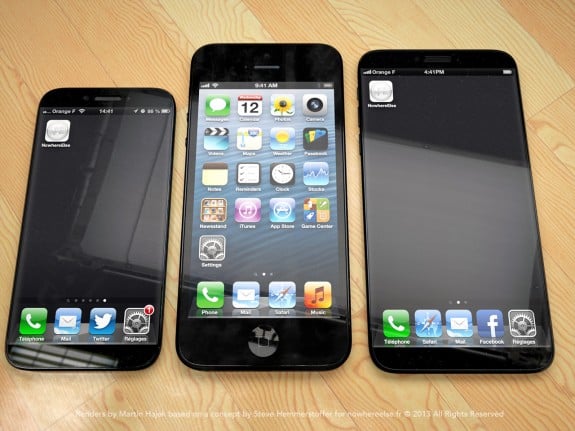 Rather than force users to upgrade to a larger screen, the iPhone 6 concept offers up an iPhone 6 experience in multiple sizes. The iPhone 6 with a 4-inch screen is smaller than an iPhone 5 and the iPhone 6 with a 4.8-inch display is about the same size as the iPhone 5 in many pockets around the world.
Read: iPhone 6 Concept Brings 4.8-inch, No Home Button Prototype to Life
Without a traditional home button, this concept adds a clickable screen. Based on the description it sounds more like an Apple Magic trackpad than the ill-fated BlackBerry Storm. This concept allows users to push on the bottom of the phone to activate a home button gesture, or further up on the screen. This could allow easier one handed operation, without the need to hit a specific home button target.
The overall design of Hajek's iPhone 6 concept borrows from the anodized aluminum of the iPad mini and iPod touch 5th generation, offering rounded corners and edges with the chamfered top edge we see on the iPhone 5.

As an Amazon Associate I earn from qualifying purchases.