Best iOS 10 Themes for iPhone: Cydia Themes for Winterboard & Anemone
The iOS 10 jailbreak allows you to install iPhone themes for iOS 10 using Winterboard or Anemone to completely change the look of your iPhone without voiding your warranty.
After sifting through dozens of iPhone themes on Cydia we discovered the best-looking and best-performing iOS 10 themes for iPhone that work on iOS 10 through iOS 10.2 on the iPhone 6s, iPhone SE, iPhone 6s Plus, iPhone 7 and iPhone 7 Plus.
Do not upgrade to iOS 10.2.1 as you cannot use the jailbreak to install Cydia and use iOS 10 themes. We are in the process of testing our favorite iOS themes with the new jailbreak. You can check the compatibility as you go, but keep in mind some of these may need a slightly newer version.
Read: Best iOS 10 Cydia Tweaks
You can use the iOS 10 or iOS 10.2 jailbreak tool to open up new features and install Cydia on your device, paving the way to installing the best iPhone themes you can find. These iOS 10 themes should work on the latest jailbreak up to iOS 10.2 and work on the iPhone SE up to the iPhone 7 Plus.
Now that users can jailbreak iOS 10.2 all the way back to iOS 10, there is more reason than ever to try out a new iOS 10 theme. The Winterboard app works on 10 now that it is updated and the Anemone app is already updated iOS 10 and iOS 10.2.
Anemone and Winterboard themes let you change the look of your icons, add replacement icons, change the look of the statusbar, Control Center, the Settings menu and other parts of the iPhone experience. Many of these new iPhone themes include new wallpapers that allow users to complete the experience.
For most of these iPhone themes we include a link to the iOS 10 theme on Cydia, but for others you will need to search Cydia to find the theme and download it to your device. You will also need to download Winterboard, IconBundles and Anemone to use these themes.
We include several free iPhone themes for iOS 10, but many of the best iPhone themes for Winterboard and Anemone are ones that you need to pay for. Most of these cost less than $3.99 and while you can find pirated versions the high-quality and low cost make these well worth paying for.
Aeyris Theme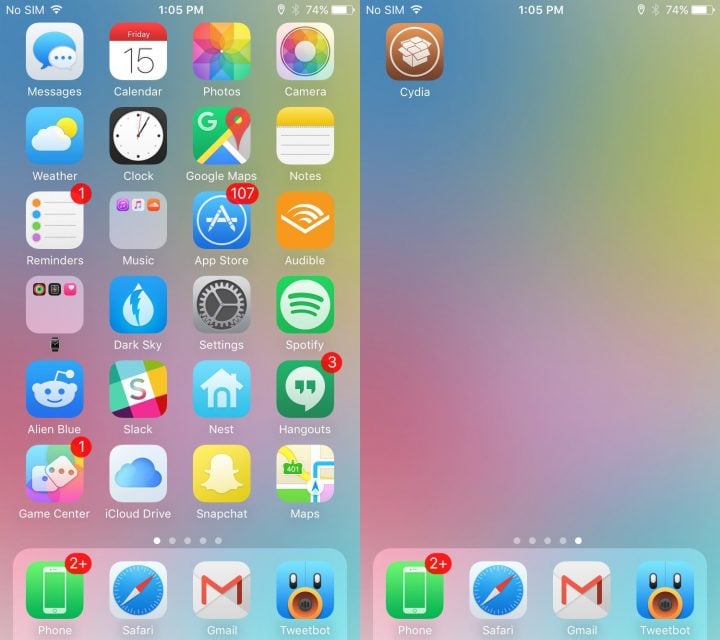 Ayeris is a stunning iPhone theme that looks great on the iPhone and the larger iPhone 6s Plus as well as older iPhones. The theme is one that we've used for several years, and it still looks great on the slightly tweaked look of iOS 9. There are 300 icons included, system-wide user interface skins, status bar icons and different dock modes.
Ayeris for iOS is $2.99 on Cydia