With a new LG V30 coming soon popular other devices like the LG G6 and LG V20 are seeing heavy discounts. Lately, we've seen plenty of LG G6 deals, and if you're still interested in getting one these are all the deals you need to know about. Including a buy one get one free discount. We'll update this list as new deals arrive.
With a sleek 5.7-inch display, three cameras, water-resistance and a great design many are considering the G6 over the Galaxy S8. With big savings available, the choice gets even more difficult.
Read: LG G6 Release Date Breakdown & Pricing
The LG G6 starts at $650 or $26 a month from T-Mobile and nearly $700 from other carriers. It's an expensive phone. That said, we've gathered up a list of the best deals around for those interested. More recently, T-Mobile has slashed the price making it a far more enticing offer.
For 2017 the company completely ditched the modular design we saw with the LG G5. Now, they're taking an approach similar to Samsung or Apple. The LG G6 is a premium all-metal and glass phone. With a huge screen, tiny bezels so it's easy to hold, great cameras, Android 7.0 Nougat and a micro-SD slot. There's a lot to like when compared to Samsung's latest and greatest.
LG G6 Deals
First off, anyone who bought the LG G6 received a free Google Home. This deal was only supposed to be available for the first month, but went until the end of May. For those unaware, Google Home is a voice-controlled virtual assistant and speaker similar to Amazon Alexa. This deal is now over, but we have others worth considering below.
Simply buy an LG G6 and save your receipt. Then head to this LG promo website and fill it out to receive a free Google Home. That's a $129 value absolutely free. It doesn't matter which carrier, as any purchase applies.
When you get it, say this command: "OK Google, I'm Feeling Lucky" and enjoy the results.
Verizon LG G6 Deals
Early on Verizon had a free 43-inch TV, but now they're simply giving buyers a big discount on the phone itself. With a qualifying, trade-in get the LG G6 for only $7.50 a month. Making it under $300 outright once you're done paying for it.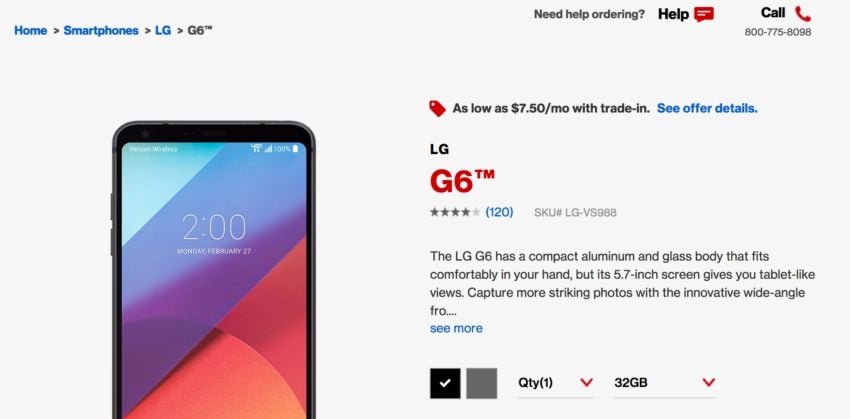 Additionally, Verizon lowered the retail price of the LG G6 to only $480. That equals out to $20 a month for 24 months. Not a bad price for a flagship smartphone.
AT&T LG G6 Deals
AT&T ended its buy one get one free deal, and as of right now only T-Mobile is offering those types of savings. However, AT&T did lower the price to $580. That means you'll pay $19.50 for 30 months at the link below.
AT&T will also cut the price in half at just $360 with a finance agreement. Similar to getting a credit card, but through a finance group with AT&T. Coming out at $12 a month for 24 months or $15 a month for 24 months. This is also available on the LG V20 from AT&T.
In closing, the carrier is offering the LG Watch Sport with Android Wear 2.0 for just $49.99 outright. As long as you sign a 2-year contract to have data on the watch and buy the G6. Saving buyers $10 a month while delivering phone and data access to the watch. Get LG's latest phone and watch all at a great price.
T-Mobile LG G6 Deal
Over at T-Mobile, you have the choice between two impressive smartphones. Buy the LG G6 or LG V20 (from 2016) and get one free only at T-Mobile. As long as you're on an equipment installment pla (EIP) and get either phone, you'll get a second one free.
However, the deal isn't a straight up free phone from T-Mobile. Instead, the carrier will send you a $500 Visa gift card once you fill out the required forms. This is essentially enough to completely pay off the second smartphone. Get started at the T-Mobile Promotion website.
Sprint LG G6 Deals
If you're interested in getting an LG G6 from Sprint, head to a nearby Best Buy store. The giant retailer has the phone for only $4.99 a month for 24 months. That's potentially the lowest price we've seen for LG's latest smartphone. Going through Best Buy essentially saves for $360 off the already discounted phone.
While you're here, take a look at these 20 Best LG G6 cases below, or wait for the LG V30 next month.
20 Best LG G6 Cases
Spigen Rugged Armor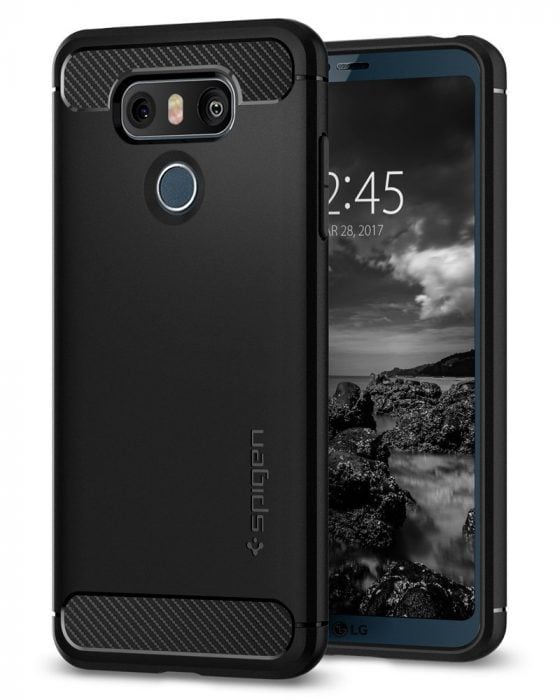 Spigen is a brand that needs no introduction as they offer cases for every phone released. One of my favorites is the Spigen Rugged Armor. It has a sleek design, two-tone finish with a textured grip on the top and bottom, and fits like a glove.
The company makes a wide assortment of cases, so we recommend choosing one that's right for you. They also come in a slew of colors, sizes, and with varying levels of protection.
With the Spigen Rugged Armor, you'll have a case that isn't too thick, but not too thin. They've added a resilient shock absorbing material to the inside edges for added drop protection. Additionally, the outside has a neat carbon fiber finish and glossy accents. This is one of Spigen's most popular cases.

As an Amazon Associate I earn from qualifying purchases.