LG G6 Release Date Breakdown
The all-new LG G6 has finally been released in the US and it could be one of the best phones of the year. LG is taking the Galaxy S8 head on with a premium new design, water-resistance, and a huge screen with tiny bezels. Here, in an effort to help those looking to buy this stunner, we breakdown the LG G6 release date in the US and abroad. Including pre-orders shipping early as we speak.
After months of leaks and rumors on February 26th the LG G6 was unveiled in Spain. Completely replacing last years model with something bigger, better, faster and water-resistant. It has a huge 5.7-inch display, some of the smallest bezels we've ever seen, and a beautiful premium metal design. LG ditched the modular design from last year, for something more well-rounded.
Read: LG G6 Features: 7 You'll Love & 2 You'll Hate
Pre-orders began in the US from March 17th from select US carriers, and we're already seeing LG G6 deals. It will retail for $650 and up. Our initial hands-on with the phone had us very impressed, and you can get yours today. So when is it coming, when can you pre-order and for how much? Read on for more details.
Last year the LG G5 was announced at Mobile World Congress in Spain, too, but released well over a month later in April. For 2017 with the stunning new LG G6, the company is doing something similar. It went on sale in South Korea on March 10th, but everywhere else has a little longer to wait.
During the announcement LG wasn't able to share full details and carrier pricing, but we now know everything. Verizon gets it first on March 30th in stores, but T-Mobile is the first to actually deliver. Multiple reports have confirmed the LG G6 from T-Mobile is shipping now, with many getting the phone early on March 24th. Well ahead of the April 7th release date.
LG G6 Release Date
The LG G6 release was officially March 10th, in select regions. While US carriers had to wait another month or so. This is an excellent phone that is worth the wait. Again, it will be available on March 30th from Verizon, and all other carriers April 7th. Although like usual, T-Mobile is doing their own thing and sending pre-orders out early.
Read: Why You Shouldn't Buy the LG G5 or V20 Right Now
You'll be able to officially buy the LG G6 from Verizon in stores and online starting March 30th, with pre-orders being even earlier. Then AT&T, T-Mobile, Sprint and locations like Best Buy will have it from April 7th. Similar dates are being mentioned for other regions outside the US.
The LG G6 was released in LG's home country of South Korea first on March 10th. All said and done, it will be on sale for US buyers in just a few days. It's officially LG G6 time, while we sit and wait for the delayed Galaxy S8 launch.
U.S. Carriers
All major carriers in the United States will carry the LG G6, as well as many smaller regional operators such as US Cellular. All of them have made announcements too, with pricing and pre-order pages. For more details head to Verizon, AT&T.com or T-Mobile's website. Sprint does have a landing page.
We can even expect bundled deals and lots of discounts. In fact, everyone who buys the LG G6 will get a free Google Home with the Google Assistant. Verizon is giving away a free TV and AT&T has a buy one get one free promo.
Formal announcements have been made by AT&T, Verizon, T-Mobile, Sprint, and more will surely follow. Even Google is excited about it, giving it the Google Assistant and talking about the G6 on Twitter.
Yep – it's official!! The @LGUSAMobile G6 is coming to @TMobile!! Ready?! I am!! Can't wait!!! https://t.co/9ssa7vKuIM

— John Legere (@JohnLegere) February 26, 2017
Simply follow us on Twitter or watch the official @LGUSAMobile for more details as they are announced. Or, read on for additional details about the pre-order dates and pricing.
LG G6 Pre-Orders
The G6 was officially released "globally" on March 10th, but in the US that date is misleading. Instead, pre-orders began very late on March 16th and March 17th for all major carriers.
Just know that you can pre-order it right now, but it won't be available for another week or two. Unless you get it from Verizon or get lucky and have one from T-Mobile shipped early. Those who chose 1-day delivery already have the LG G6.
LG G6 Pre-Order Dates & Times
AT&T and Verizon: March 17th at Midnight
T-Mobile: March 17th (no exact time given)
Sprint: March 17th like the others.
Just as expected, T-Mobile beat everyone to the punch here. But as far as general availability, Verizon will have it first both in stores and online.
LG G6 Color Options
In case you missed leaks from earlier, these are the colors that the LG G6 will be available in. The phone features a premium all metal and glass design. The front and back are covered in glass, with a smooth yet textured brushed metal finish on back. It's a sealed design, so the battery isn't removable, but it's big coming in at 3,300 mAh. Not to mention wireless charging and a water-resistance design is the result of that change.
The LG G6 will be released in Astro Black, Ice Platinum (Silver), and Mystic White. Although the White model will not be available in the United States. Sadly all carriers in the US to only offer Black or Silver, with potentially some special colors coming at a later date.
LG G6 Price
Last but certainly not least, how much will this stunning and sleek new smartphone cost? Well, after a long wait we now finally have all the details. You'll want to pay attention to the pricing below. Some carriers are charging more than others, the monthly payment plans all differ, and each carrier has a different deal worth considering. That free TV from Verizon is enticing.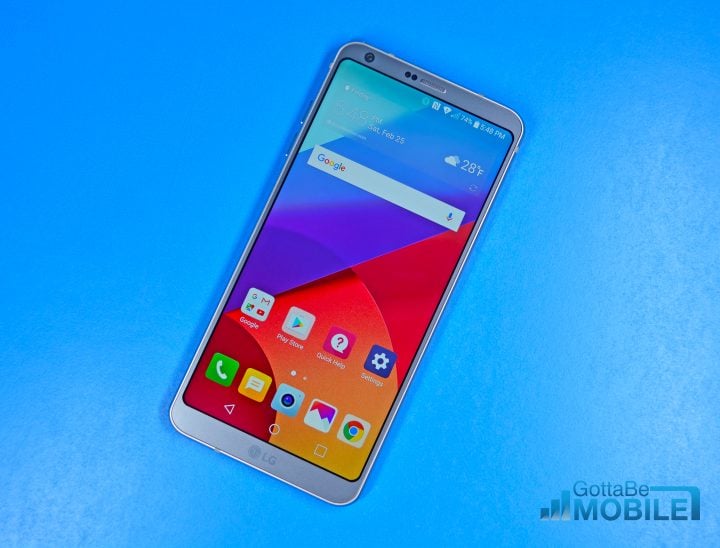 LG G6 Price by Carrier
Verizon: $28 per month for 24 months – $672 full price
AT&T: $24 per month for 30 months on AT&T Next – $30 per month for 24 months on AT&T Next Every Year ($2 more a month than Verizon)
T-Mobile: $26 down and $26 per month for 24 months; $650 full price
Sprint: $29.50 per month for 24 months – $708 full price
As you can see, Sprint is charging the most across the board. Although, pre-orders with Sprint get a free 49-inch LG HDTV. For a limited time only.
Other Details
This new phone is their best device yet. It has a huge screen, two stunning 13 megapixel cameras on the back, water-resistance, a 3.5mm headphone jack and more. It's also better priced than many expected. Not to mention cheaper than the upcoming Galaxy S8 by almost $200 if rumors are accurate.
Carrier monthly payment plans will keep the price wallet-friendly and affordable, and deals are everywhere to be found. Order a new LG G6 right now, and stay tuned for more details and deals. Our sideshow below are the 15 best LG G6 cases available right now too. Buy one of those while you're at it.
20 Best LG G6 Cases
Spigen Rugged Armor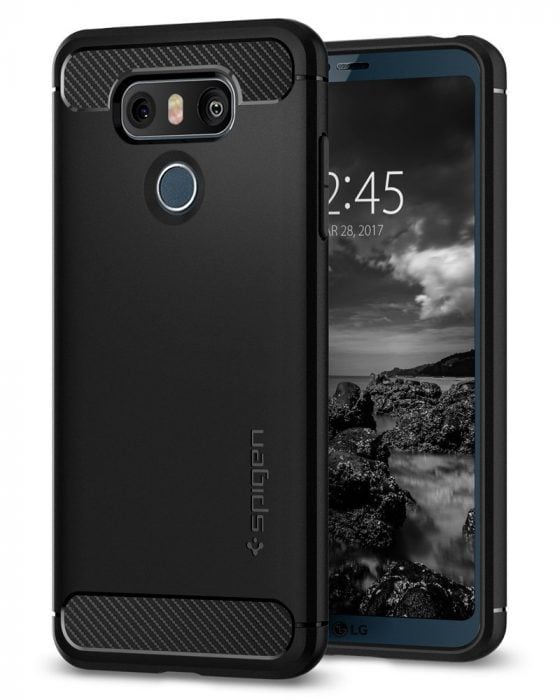 Spigen is a brand that needs no introduction as they offer cases for every phone released. One of my favorites is the Spigen Rugged Armor. It has a sleek design, two-tone finish with a textured grip on the top and bottom, and fits like a glove.
The company makes a wide assortment of cases, so we recommend choosing one that's right for you. They also come in a slew of colors, sizes, and with varying levels of protection.
With the Spigen Rugged Armor, you'll have a case that isn't too thick, but not too thin. They've added a resilient shock absorbing material to the inside edges for added drop protection. Additionally, the outside has a neat carbon fiber finish and glossy accents. This is one of Spigen's most popular cases.

As an Amazon Associate I earn from qualifying purchases.