The best NBA 2K20 deals of 2019 won't arrive until later in the year, but you'll want to keep your eyes peeled for price drops as we approach the game's release date in September.
NBA 2K20 is set to bring some big changes to the long-running series. The latest installment features the WNBA, upgrades to the Motion Engine, MyGM 2.0, lots of off-ball improvements, and much more.
There are three ways to buy NBA 2K20 right now. There's a $60 standard edition, an $80 Digital Deluxe Edition, and the $100 Legend Edition which comes with an assortment of extras. All three editions arrive on September 6th.
If you aren't looking to pay full price, you'll need to hunt around for deals ahead of the game's launch date. We've seen a few price drops, but the biggest price drops will likely come this fall and in 2020 once the hype from the release has died down.
In this guide we'll take you through the current state of NBA 2K20 deals. We'll also tell you when you can expect to save the most money in 2019.
If you do decide to buy a copy of the game right now, you can find it at retailers like Amazon, Best Buy, GameStop, NewEgg, and Walmart.
Best NBA 2K20 Deals
As we approach the game's release date, there are only a few NBA 2K20 deals. The list could grow so you'll want to stay vigilant as we push toward September 6th.
If you plan on playing the game on Windows PC, you can save 12% on the standard edition, Digital Deluxe Edition, or Legend Edition if you pre-order at Green Man Gaming.
In order to get the discount you must input the code "August12" before you checkout.
Best Buy isn't taking any money off the final price of the game, but it is offering a nice deal to those enrolled in the free My Best Buy program.
If you pre-order a copy of the standard edition, Digital Deluxe Edition, or Legend Edition through Best Buy, and you're a My Best Buy member, you'll receive $10 in reward certificates that you can put toward something else from the retailer. This is an excellent deal if you do a lot of your shopping at Best Buy.
NBA 2K19 players have also seen an occasional 10% discount popup while playing the game, but the deal appears to be sporadic. We saw 2K Games offer a similar discount to legacy players last year so keep an eye out for discounts as we approach the game's release.
We also tend to see retailers like NewEgg offer occasional pre-release deals so make sure you check in a few times a week. These discounts are typically modest.
When to Expect Bigger NBA 2K20 Deals
You can expect bigger NBA 2K20 deals to emerge in the fall in and around Black Friday, Cyber Monday, and the holiday shopping season. This is when the game will likely drop by $15 to $30 at popular retailers in the United States.
You can also expect to see random and deep discounts emerge early-to-mid 2020, particularly once we get closer to the inevitable release of NBA 2K21.
3 Reasons to Pre-Order NBA 2K20 & 5 Reasons to Wait
Pre-Order NBA 2K20 for These Bonuses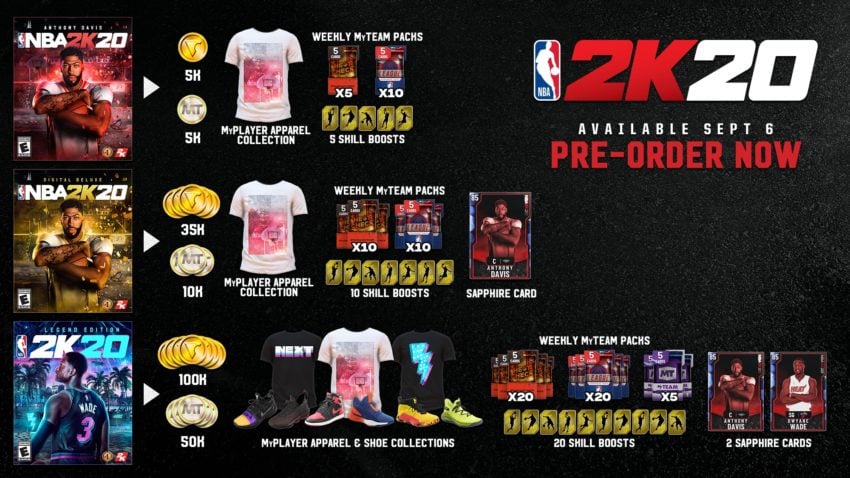 If you plan to invest quite a bit of time into some of NBA 2K20's game modes, you might want to pre-order a copy for the bonuses.
If you pre-order a copy of the standard version of the game, you'll get some nice bonuses with your copy in September.
These include:



5,000 Virtual Currency;
5,000 MyTEAM Points;
5 MyCAREER Skill Boosts;
MyPLAYER Clothing Capsule;
10 MyTEAM League packs (delivered one per week);
5 Heat Check packs (delivered one per week beginning at the start of the NBA season).
Those are all free with a pre-order and they'll give you a pretty good head start in the NBA 2K20's popular game modes.

This article may contain affiliate links. Click here for more details.