NBA 2K20 Release Date & Features: 10 Things to Know
2K Games has confirmed NBA 2K20 and here's what you need to know right now about the game based on traditions, rumors, confirmed information, and what we expect from the release.
NBA 2K19 is still the flagship game, but that will change later this year when 2K Sports and Visual Dynamics release a new entry in the long-running 2K series.
As we approach the game's release, 2K Games has revealed a ton of information about player ratings, gameplay, the demo, and more.
Visual Dynamics made an assortment of tweaks to the game in 2019 and you can expect the developer to build on that foundation for 2020.
With that in mind, here's a closer look at what you can expect from NBA 2K20's features, release date, editions, demo, and more.
NBA 2K20 Consoles
NBA 2K20 is confirmed for Windows PC, PlayStation 4, Windows PC, and Nintendo Switch. The game is also confirmed for Google's new Stadia platform which is set to arrive in November of this year.
We do not expect a surprise release for legacy consoles like the Xbox 360 or PS3 so if you want to play the latest game you'll need to upgrade to a newer console.
NBA 2K20 Cover Athlete
Last year, there were multiple NBA 2K19 cover athletes. Bucks star Giannis Antetokounmpo graced the cover of the standard edition in North America while Sixers point guard Ben Simmons starred on the standard edition in Australia and New Zealand. Lebron James featured on the 20th Anniversary Edition.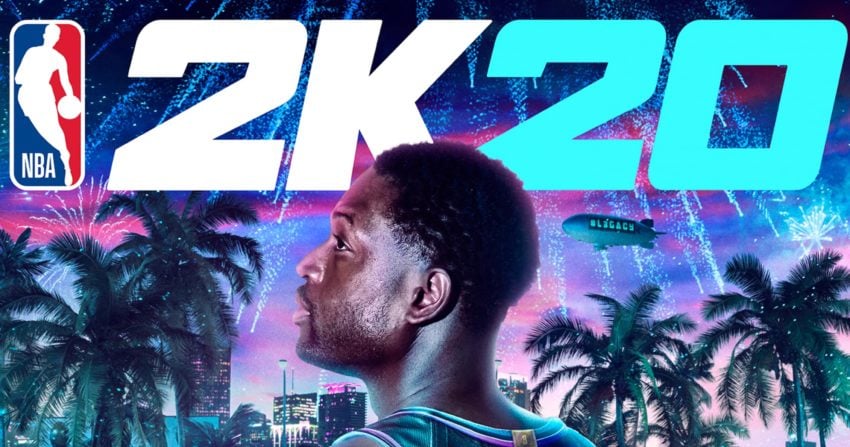 This year, Laker Anthony Davis appears on the cover of the standard edition and the Digital Deluxe edition while Dwyane Wade appears on the cover of the Legend Edition.
NBA 2K20 Release Date
As expected, the NBA 2K20 release date lands in September ahead of Black Friday and the holiday shopping season.
The global NBA 2K20 release date is September 6th. This is the release date for Xbox One, PlayStation 4, Windows PC, and Nintendo Switch and it's the date for all three versions of the game.
Again, Google Stadia launches in November so the game won't be available on that platform until then.
We expect Best Buy and GameStop to host midnight NBA 2K20 launch events giving those who pre-order a chance to pickup their game on the night of the release date so keep an eye out for those details as we push toward September 6th.
NBA 2K20 Editions
There were only two versions of NBA 2K19, but there are three versions of NBA 2K20.
There's a no-frills standard edition, a Digital Deluxe Edition that comes with some bonuses, and a Legend Edition that comes with the most additional content. The Digital Deluxe Version includes:
35,000 Virtual Currency;
10,000 MyTEAM Points;
10 MyCAREER Skill Boosts;
MyPLAYER Clothing Capsule;
10 MyTEAM League Packs (delivered one per week);
10 MyTEAM Heat Check Packs (delivered one per week beginning at the start of the NBA season);
1 Sapphire MyTEAM Cover Athlete Card.
The Digital Deluxe Edition is available at retailers like Best Buy and GameStop. Like the name implies, it comes in digital format only.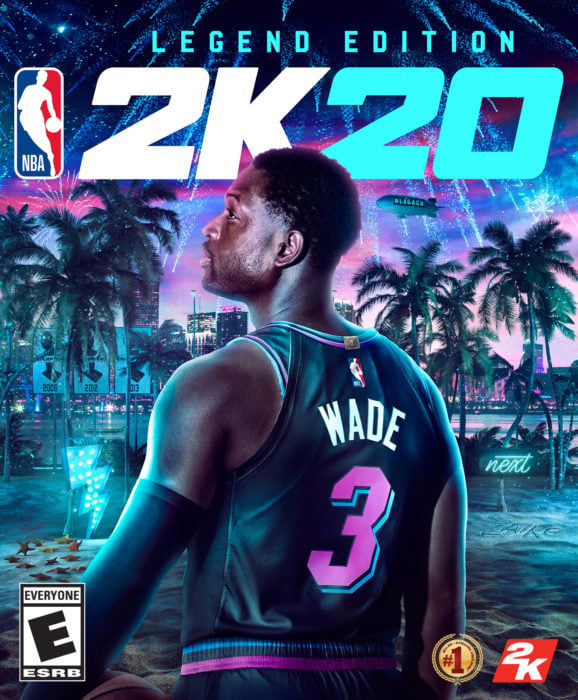 The Legend Edition features even more content and is aimed at hardcore fans of the 2K series. This bundle includes:
100,000 Virtual Currency;
50,000 MyTEAM Points;
20 MyCAREER Skill Boosts;
MyPLAYER Clothing Capsule;
MyPLAYER Apparel Collection;
MyPLAYER Shoe Collection;
20 MyTEAM League Packs (delivered one per week);
20 MyTEAM Heat Check Packs (delivered one per week beginning at the start of the NBA season);
5 MyTEAM Theme Packs (one per theme release across the next five releases);
2 Sapphire MyTEAM Cover Athlete Cards.
You can snag the NBA 2K20 Legend Edition at retailers like Amazon, Best Buy or GameStop.
The standard version of NBA 2K20 starts at $59.99 without a deal while the Digital Deluxe Edition starts at $79.99. The Legend Edition is even more expensive and retails for $99.99.
We might see a few deals emerge before the game's release date. Retailers like NewEgg often shave a few dollars off pre-orders so make sure you keep an eye out.
The bulk of NBA 2K20 deals will likely arrive around Black Friday in November, the holidays in December, and in 2020.
That said, My Best Buy members who pre-order any copy of the game will get $10 in rewards certificates. This offer is worth a look if you tend to spend your money at Best Buy.
NBA 2K20 Pre-Order Bonus
If you pre-order a copy of the standard edition you get a nice pre-order bonus.
The NBA 2K20 pre-order bonus includes:
5,000 Virtual Currency
5,000 MyTEAM Points
5 MyCAREER Skill Boosts
MyPLAYER Clothing Capsule
10 MyTEAM League packs (delivered one a week)
5 Heat Check packs (delivered one a week beginning at the start of the NBA season)
If you buy the game after September 6th you won't get any of these items with your purchase.
NBA 2K20 Features
Last year, it took several months for 2K Sports and Visual Dynamics to run down NBA 2K19's features. We were hoping for a little more transparency this year and the company's made some big announcements in the weeks since the initial announcement.
Rumors about the WNBA being included in the game were spot on. The first NBA 2K20 trailer confirmed the WNBA's presence in NBA 2K20 and the developer's run down some of the key WNBA features in the game.
They include accurate hairstyles, face scans, new players, new teams, new play styles, player strengths and weaknesses, new animations,  as well as specific AI, playbooks, and defensive schemes for every WNBA team.
The game also includes a WNBA Season mode where you can play as any or all of the 12 WNBA teams through the 2019 season.
2K Games has run down some of the key gameplay enhancements which include upgrades to the Motion Engine, improved ball handling, better reactions on defense, enhanced rim protection, lots of off-ball improvements including better screens, Badges, new Takeover content and features, and some big upgrades to the game's AI.
As for other NBA 2K20 features, here's what we've heard thus far:
An all new Story mode that's stars Idris Elba and Rosario Dawson, produced by LeBron James' company, Springhill Entertainment.
https://twitter.com/NBA2K/status/1163481876826214400
All new Legendary teams
Ronnie 2K will apparently have scenes in the game's MyCareer mode.
MyGM 2.0 which includes new features like Action Points, score and leaderboards, Skills featuring a skill tree and an updated leveling structure, a completely new task system, revamped relationships, sponsorships and branding.
We've also seen some NBA 2K20 player ratings confirmed with Lebron James and Kawhi Leonard topping the list of stars and Zion Williamson and Ja Morant topping the list of rookies. Here's how the ratings breakdown:
Top 20 NBA 2K20 Player Ratings
LeBron James: 97
Kawhi Leonard: 97
Giannis Antetokounmpo: 96
Kevin Durant: 96
James Harden: 96
Stephen Curry: 95
Anthony Davis: 94
Paul George: 93
Damian Lillard: 92
Joel Embiid: 91
Kyrie Irving: 91
Nikola Jokic: 90
Russell Westbrook: 90
Klay Thompson: 89
Karl-Anthony Towns: 89
Jimmy Butler: 88
Kemba Walker: 88
Donovan Mitchell: 88
Rudy Gobert: 88
Blake Griffin: 88
Top NBA 2K20 Rookie Ratings
Zion Williamson: 81 Overall
Ja Morant: 79
R.J. Barrett: 78
De'Andre Hunter: 77
Darius Garland: 77
NBA 2K20 Soundtrack
2K Games has also announced the NBA 2K20 soundtrack and says that it will be updated during the year. Here are acts that will be in the game at the very beginning.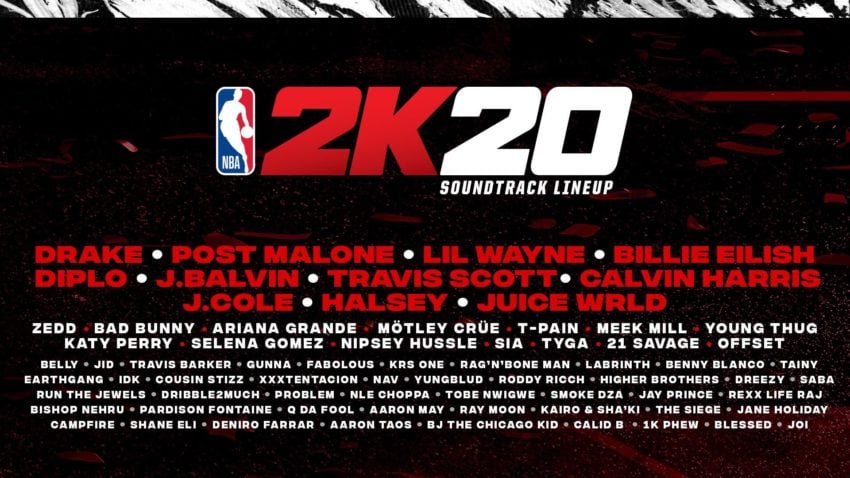 NBA 2K20 Gear
The company also says new gear is coming to NBA 2K20 and it has confirmed 12 companies that will be supply the in-game items. They include: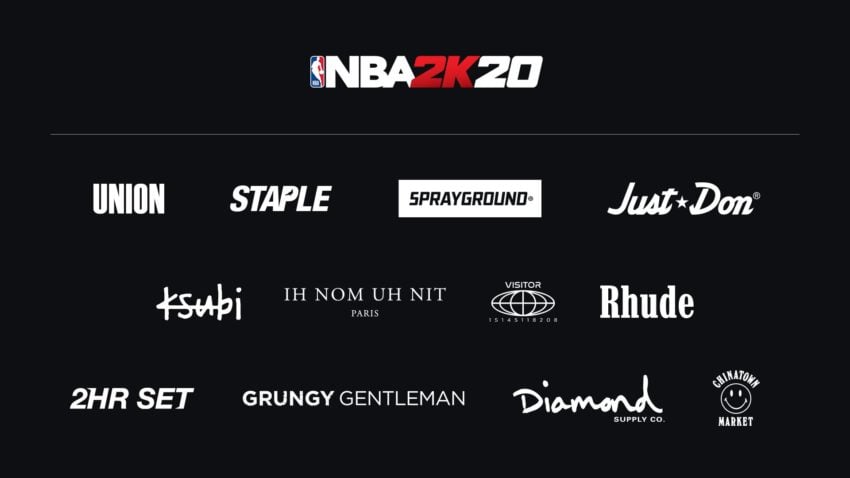 NBA 2K20 Demo
2K Sports has released a free NBA 2K20 demo for select platforms that lets you try a portion of the game ahead of its release in September.
The NBA 2K20 demo is available for Xbox One, PlayStation 4, and Nintendo Switch. Windows PC isn't supported and we don't expect a release.
The demo allows you to get an early start on the MyCAREER career mode which includes the game's all new MyPLAYER builder.
The character you create in the demo will be carried over to the full version of NBA 2K20 when it launches two weeks later on September 6th.
For more on the NBA 2K20 Demo, have a look at our download guide.
NBA 2K20 Microtransactions
While it would be great to see 2K Games do away with the game's annoying micro-transactions, known as VC, they're a cash cow. Virtual Currency will return in NBA 2K20.
2K made some adjustments in NBA 2K19 (haircuts went back to being free and there were more opportunities to earn extra VC after games and via daily activities) so there's a chance we get some improvements in this year's entry.
However, don't be surprised when the predatory, pay-to-win model, rears its ugly head.
NBA 2K20 Mobile
You can expect a version of NBA 2K20 for iPhone, iPad, and Android and you can expect a release for these platforms in and around the release date for consoles.
The mobile version of NBA 2K is typically a stripped down version of the game. It comes with some elements from the consoles, but the devices obviously can't match the graphical power their counterparts bring to the table.
The Android version of NBA 2K19 was also missing sounds and a multiplayer mode which led to a bunch of complaints from Android phone and tablet owners.
You can expect the mobile version of NBA 2K20 to retail for $7.99 with an assortment of in-app purchases.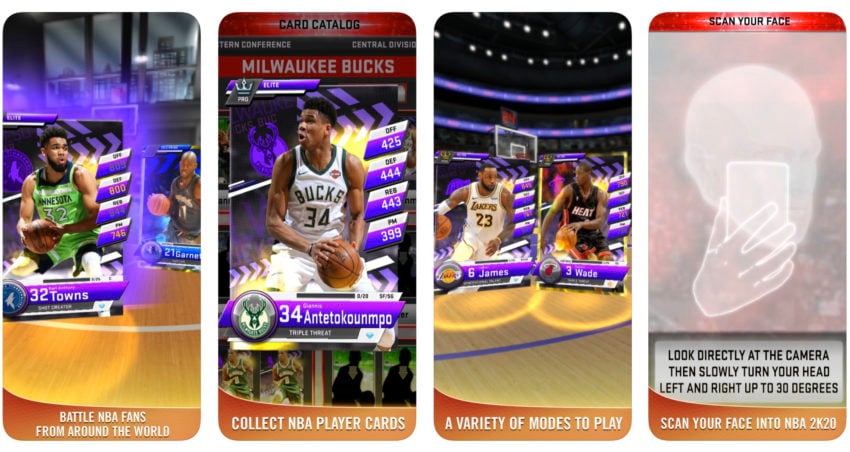 2K Games has also released a companion app for NBA 2K20 called My NBA2K20. Like its predecessor, it's free for both iOS and Android.
The app includes the following features:
Integration with NBA 2K20
Scan yourself into NBA 2K20 on Xbox One and PS4 using your mobile device.
Daily opportunities to earn Virtual Currency for NBA 2K20 on Xbox One, PS4, Nintendo Switch, and Steam.
View the daily schedule and upcoming event posters for NBA 2K20.
Card Battle Modes
Collect your favorite NBA superstars from the past and present and challenge other gamers across the globe in a variety of modes.
Many ways to play with Quick Game, PVP, Reigning Threes, and the returning Champions game modes.
Daily & Weekly Events
Complete daily missions for in-game rewards.
Compete for top cards in weekly events including King of the Court, Gauntlet, and Rivals Clash.
Uncover the secret draft board pattern for extra rewards.
NBA 2K20 PC Requirements
No word on the minimum or recommended spec requirements for Windows PC. We expect those details to emerge much closer to the game's release date in September.
3 Reasons to Pre-Order NBA 2K20 & 5 Reasons to Wait
Pre-Order NBA 2K20 for These Bonuses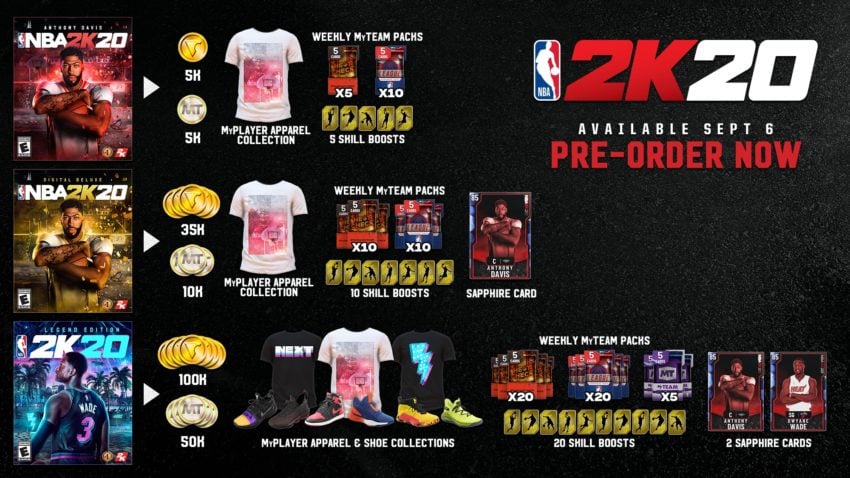 If you plan to invest quite a bit of time into some of NBA 2K20's game modes, you might want to pre-order a copy for the bonuses.
If you pre-order a copy of the standard version of the game, you'll get some nice bonuses with your copy in September.
These include:



5,000 Virtual Currency;
5,000 MyTEAM Points;
5 MyCAREER Skill Boosts;
MyPLAYER Clothing Capsule;
10 MyTEAM League packs (delivered one per week);
5 Heat Check packs (delivered one per week beginning at the start of the NBA season).
Those are all free with a pre-order and they'll give you a pretty good head start in the NBA 2K20's popular game modes.