Best Pumpkin Spice iPhone Cases
The Pumpkin Spice Latte is back at Starbucks FINALLY and if you want to fully embrace your favorite fall flavors, you need to do it with an iPhone case that tells people what your blood type favorite latte, is.
We've found the best Pumpkin Spice iPhone cases that will allow you to devote your waking fall hours to the magical concoction that is the Pumpkin Spice Latte. There's no confirmation that this phone case will get you a free Pumpkin Spice latte, but if you use your iPhone to pay for your drinks enough — some barista is going to break down and give you a free drink sometime.
Here are the best Pumpkin Spice iPhone cases and a few other handy accessories that you can use to supercharge your Pumpkin spice fueled fall. We'll even show you how to put your own Pumpkin Spice photo on a case so that you can double dip on Instagram likes. Although there is no scientific proof, we've heard putting a Pumpkin Spice latte in your Tinder profile is guaranteed to increase likes.
PSL iPhone Case with Glitter
The Casetify PSL iPhone case combines a Pumpkin Spice Latte illustration with PSL and "happiest girl ever" on a Starbucks Pumpkin Spice Latte. This case includes glitter inside the case that floats around behind the illustration, adding to the bling and it's clear so you can show off your rose gold or gold iPhone as well. $45 at Casetify for the iPhone SE, iPhone 5, iPhone 6, iPhone 6s, iPhone 6s Plus, iPhone 7, iPhone 7 Plus, iPhone 8, iPhone 8 Plus and iPhone X.
Pumpkin Spice Blood Type iPhone Case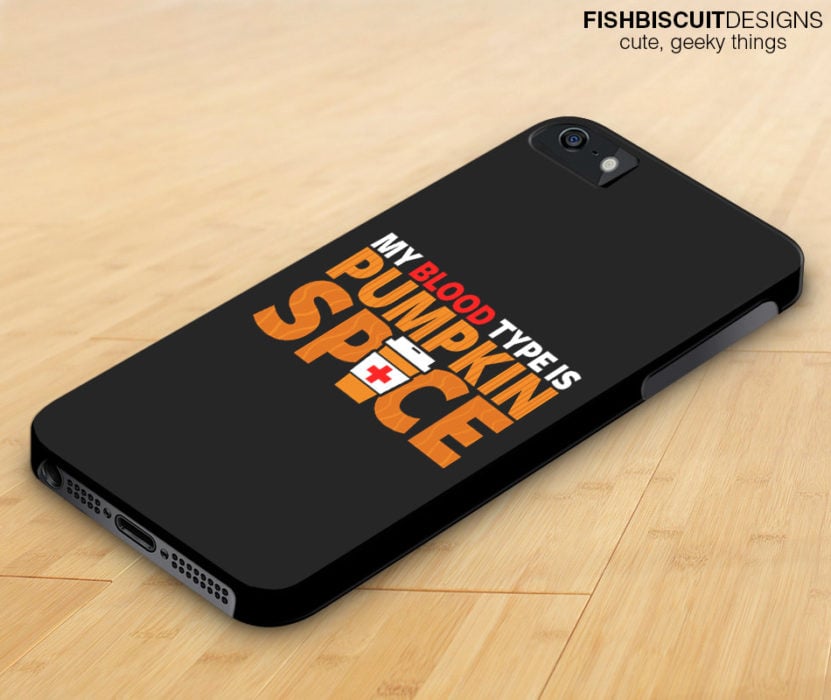 The Pumpkin Spice Blood Type case is $22.95 and available for the iPhone 5, iPhone 6, iPhone 6 Plus, iPhone 6s, iPhone 6s Plus and for a variety of Android phones. This is available on Etsy from Fishbiscuit Designs and ships from the U.S.
Custom Pumpkin Spice Latte iPhone Case
Are you Instagram fabulous? If you've already taken your first picture of a Pumpkin Spice Latte at Starbucks and racked up the Instagram likes, you can upload that photo to Skinit to make your own Pumpkin Spice Latte iPhone case in either a hard case, a skin or a folio wallet that can hold your Starbucks card. If you need help, check out the best Selfie apps to get yourself in the photo too. $29.99 to $44.99 at Skinit available for iPhone 6, iPhone 6s, iPhone 6s Plus, iPhone 7, iPhone 7 Plus and many Android phones.
Pumpkin Spice Latter iPhone Charging Cable
You'll need to keep your phone charged up this fall, and what better way to do it than a orange PSL lightning cable that will let you charge up in pumpkin fueled colors. The Nexcon nylon braided iPhone charging cable looks and feels nice with a nylon braid that looks way more expensive than $9.99. Pick this Apple certified cable up at Amazon and your phone will be as charged as you are.
For more cases, check out the best iPhone 8 cases, best iPhone 8 Plus cases and best iPhone X cases.
21 Best iPhone 8 Cases You Can Buy
Speck Presidio Ultra iPhone 8 Case
Generally when you have to pick an iPhone 8 case you have to choose between style and durability or thickness and protection. Speck already did a great job of delivering just enough protection and a lot of style, and the new Presidio Ultra for iPhone 8 takes this to another level.
This is a multi-part iPhone 8 case that allows you to carry a Speck Slim Presidio case on your phone at all times. This slim case includes a raised bezel a great amount of protection and easy clickable buttons. There is a large opening for charging and lear access to the speakers.
When you need more protection -- like when working out, going outdoors or being more active -- you can snap on the include Impactium Ultra Bumper. This adds another layer of shock protection from drops, added screen protection on the front of your iPhone 8 and also keeps dust and debris out of the charging port.
It's a slim iPhone 8 case all the time and a rugged iPhone 8 case when you need it, without the need for two cases. There's even a holster included to secure it to you or to use as a kickstand.