Big Clash Royale December Update: What to Know
Following a pretty large update back in October, Clash Royale is finally getting some much-needed balance changes, new arenas, new troops for battles and more. Here's everything you need to know about the big Clash Royale December update.
Balancing out gameplay is a big priority, and it always is. The last round of changes was back in October, so players have patiently been waiting for some finer adjustments. They arrived on December 11th, and now tons of new content quickly followed.
Read: Clash Royale: 7 Changes We Want Next
We know exciting new Gold Rush and Gem Rush modes are coming soon, but in the meantime, players have a new arena and two new troops to enjoy. Additionally, Supercell brought back Special Offers, in the shape of three new chests offering tons of value for those willing to spend a few dollars on the game.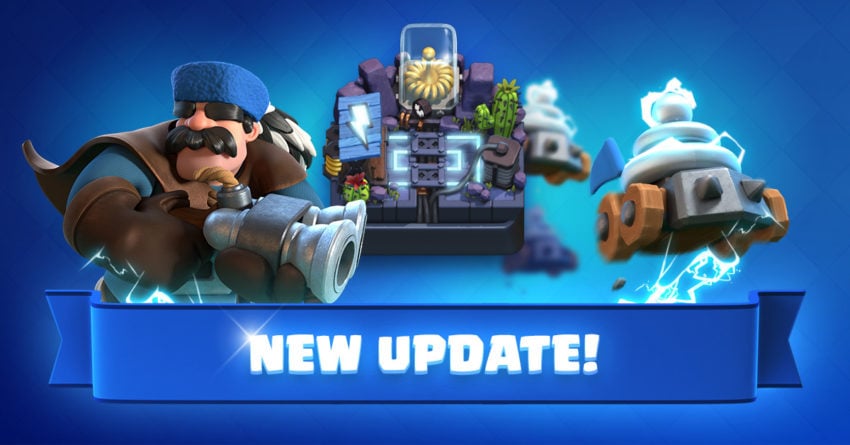 The December Clash Royale update arrived on the 12th and is available now from your app store. You'll need to update first before enjoying the new content, or getting the two new troops in the game. That said, here's what's new, then continue reading for a full breakdown of the latest balance changes.
Clash Royale December Update: What's New
New Arena
Electro Valley: Reach this new Arena at 3400 Trophies
Legendary Arena: Now Arena 12 with rewards (chests, Victory Gold, etc.) increased accordingly
Two New Cards (Troops)
Zappies: Spawns a pack of miniature Zap machines. Who controls them…? Only the Master Builder knows.
Hunter: He deals BIG damage up close – not so much at range. What he lacks in accuracy, he makes up for with his impressively bushy eyebrows.
Get them both today in the shop or chests
Three Valuable New Chests
Chests are a great way to earn gold, gems, new troops, or level up cards. However, these three brand new chests are something entirely different.
Lightning Chest: Replace card stacks of your choice with up to 5 "Strikes"
Fortune Chest: Get a glimpse of the future and see what your chest might contain…
King's Chest / Legendary King's Chest: Big chests with a focus on Epic and Legendary Cards
Pick up these new chests from Quests and the Shop
As you can see, the new Lightning Chest lets you replace card stacks five times, then buy whatever you want from the shop. The Fortune chest isn't really worth it but will let you see what's in upcoming chests. Personally, the new King's Chest and Legendary chest are the only ones worth buying. They give you a little of everything, including a Legendary card. The King's Chest rotates what you'll earn, so check for it often.
General Game Improvements
The "Daily Gifts" Quest is now always active
Epic and Legendary Cards now appear in the Shop more often at 4000+ Trophies
Cards at max level are less likely to appear in the Shop and Fortune Chest
Support for iPhone X, Samsung Galaxy S8/S8+ and Note8
Additionally, Supercell confirmed the Gem and Gold Rush modes will both make an appearance in December. We've had a Gold Rush before, but never a Gem Rush. Players will be able to earn tons of Gems to use in the shop to help them level up. Learn more about these modes right here.
Clash Royale December Balance Changes
Then, as expected, tons of balance changes will drastically change how you play the game. This time around Supercell made some big changes players have wanted for over a year. Most notably, slowing down the Hog Rider. We also see a boost to the Prince, Giant Skeleton, and a few others. Here's the full breakdown.
Hog Rider: Hit speed to 1.6sec (from 1.5sec), first attack comes 0.1sec slower
Knight: Hit speed to 1.2sec (from 1.1sec)
Prince: Hitpoints +5%, hit speed to 1.4sec (from 1.5sec)
Damage Spells (Fireball, Lightning, Zap, Log, Poison, Rocket, Arrows): Crown Tower Damage to 35% (from 40%)
Ice Golem: Death Damage slow effect duration to 1sec (from 2sec)
Skeleton Barrel: Added Death Damage
Giant Skeleton: Hitpoints +5%
Guards: Damage +5%, hitpoints +5%, hit speed to 1.1sec (from 1.2sec)
Goblins (affects Goblins, Goblin Gang, Goblin Barrel): Damage -6%
Elixir Collector: Hitpoints -13%
In case you didn't notice, the nerf to the Ice Golem is likely an effort to slow down Hog Riders inside the game too. Supercell also fixed a problem with the Mortar, where it didn't hit targets in range. Along with making sure the Inferno Tower and Dragon continue to heat up through shields. Before, they'd reset the damage being dealt, which wasn't how it's supposed to work. We're also seeing improved support for new aspect ratio on phones like the Galaxy S8, Note 8, and iPhone X.
Again, all of this is available in Clash Royale right now. Get the latest version from the Google Play Store, or the App Store, and enjoy.
While you're here, learn how to fix some common Clash Royale problems, or check out these tips to play for busy people.