Clash Royale Tips for Busy People
Whether you work 45 hours or week or have kids, devoting time to play Clash Royale can sometimes be a challenge. As a result it's hard to level up and progress through the game. If you don't have all night to battle and try new decks read on for our Clash Royale tips for busy people.
Saving gold for upgrades can take weeks and weeks of free chests. Especially when you aren't battling 25 times a day like some. Not to mention monthly updates mean you need to rework your deck for battles. Changes happen often, and keeping up with everything can be hard for some.
Read: Clash Royale: 10 Tips for Beginners
Clash Royale is a massive game that takes forever to max out. There are currently 70 cards or troops, and four more coming. Some can be upgraded to level 13, while Epics or Legendary cards only go so high. Either way, many will play for over two years and still not have maxed troops. It takes time, and most some cases money, to continue progress in Clash Royale. If your too busy we have a few tips that could help.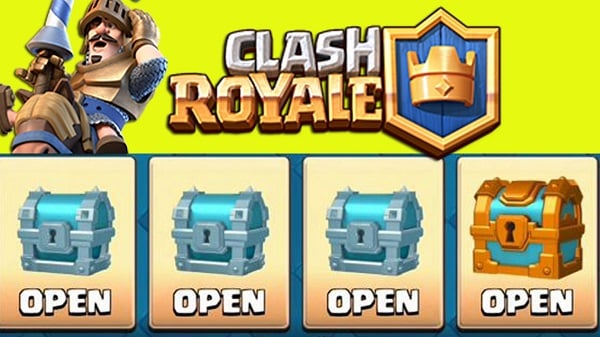 Just like all games, there's no wrong way to play Clash Royale. Some will focus on the same deck and upgrade it non-stop to get it as powerful as possible. Others will use new and different decks every few weeks. Furthermore, millions spend real money in the game to upgrade faster. As a result, they have stronger cards and win more battles.
It's a never ending cycle, but there are a few tips to maximize your time, earn more gold, and keep enjoying the game. Not to mention the latest March update now lets us earn double the gold from multiplayer battles. That should help with gold shortages, but most will still run out of in-game currency way too early.
Read: Common Clash Royale Problems & How to Fix Them
As a level 11 I have over 25 cards that need to be upgraded, but no gold to upgrade them. And I play every day. I'm still months and months away from upgrading cards to level 12, and I can only imagine how long it will take to earn enough to max cards to level 13. Clash Royale can feel like a never-ending hamster wheel at times, but it's also extremely fun and addicting. That's why we continue to play, battle, win and go on losing streaks. It's all for fun and entertainment.
Whether you spend real money, play daily, or only battle on the weekends at nights when you have free time, it doesn't matter. Everyone can play at their own pace, and you don't actually have to spend money to win. It really helps though. If you don't have money to blow or time to spare, these tips should help you level up faster and get the most out of your time playing Clash Royale.
Keep Track of Free Chests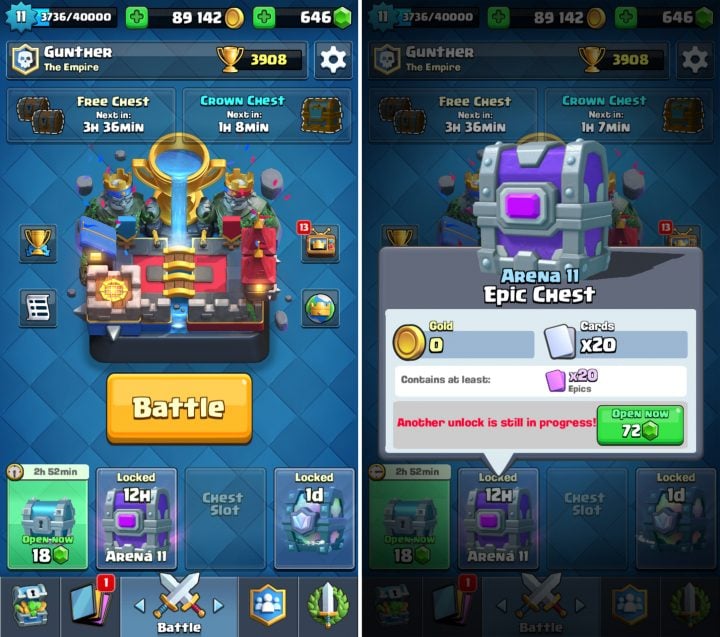 Clash Royale is built around collecting cards and earning chests. Those cards are troops or spells we can use for battle, and chests can be earned from battles that reward us more gold, gems and cards. Chests are the single most important aspect of the game.
As I'm sure many of you know, the game gives out free chests every four hours. These are in the top left, and usually two are waiting to be opened each and every morning. It's crucial that you login to Clash Royale at least a few times a day to clear these, otherwise you're literally throwing away gold, gems and upgrades.
Free chests are available every four hours, and the game will stack up two for you. If they aren't open, the clock doesn't start and a third one doesn't become available. Meaning you have to clear one or both, for a third to appear each day. Waiting until lunch or after work to launch the game, means you've wasted two free chests and 4-8 hours of chest brews. Quickly open Clash Royale every morning, even if for just 10 seconds, and clear the free chests and get the earnings. Then by time time you get home from work or get a free moment, 1-2 more are available.
It might not seem like a lot, but free chests really add up and if you aren't playing daily, game progression will slow by over 50%. That's because most days gamers get at least three before they go to bed. Basically this is common sense. Open the game often and get the free rewards. Just now that they don't regenerate if they haven't been cleared, so keep on it.