Black Friday 2015 Ads: Beware of Inflated Savings
The Black Friday 2015 ads are available online and we are already seeing a lot of Black Friday 2015 deals listed and some available for sale. Shoppers need to be on the lookout for inflated savings — that make it look like they are getting a better deal.
Every year we see some Black Friday ad make use of the reputation of the shopping event to promise amazing savings, and sometimes they inflate the amount you will save.
There are some bad Black Friday 2015 deals out there, but today we want to highlight retailers listing more savings than you actually get.
Most often the inflated savings comes from retailers using an older retail price. While this price isn't made-up, it is not what most retailers are currently charging for the item.
We've already spotted one inflated Black Friday 2015 deal and it's not likely to be the last we see with one week to go.
Once again the iPad is the object we see one retailer listing with inflated savings. The iPad Mini 2 is normally $269 from Apple and most retailers. The best iPad Black Friday 2015 deals drop the price of the iPad mini 2 to $199.
That's $70 in savings — and nothing to scoff at. You can even buy the iPad mini 2 for $199 at Walmart right now as part of the pre Black Friday 2015 deals.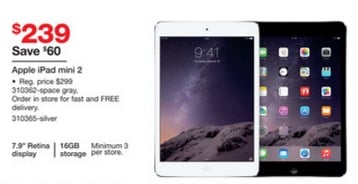 The Staples Black Friday 2015 ad features the iPad mini 2 of $239 which they claim is $60 in savings with a regular price of $299. To their credit, that is the price that Staples charges for the iPad mini 2 today. However it is $30 more than Apple charges.
When you compare the $60 discount Staples claims to the $69 discount that Walmart offers and the $80 discount that Target delivers with a gift card it there is a significant difference in the amount you save compared to buying the iPad mini 2 direct from Apple today.
We'll see other retailers highlight similar deals on laptops, HDTVs, smartphones and other gadgets during Black Friday 2015. Shoppers need to research the products they plan to buy to make sure the savings listed in an ad are really the savings that you get from buying it at a store like Walmart or Amazon any day of the week.
We often see special models of HDTVs and laptops for Black Friday. Sometimes these models come with a specific SKU or model number and the item is only sold on Black Friday. Retailers may list the item at an astronomical price for a few days before Thanksgiving and then claim huge discounts.
Over the last two years this practice has slowed, but it is still something that shoppers need to be on the lookout for.
Before you buy a deal, you should look at that model number and similar model numbers to make sure that you are getting a good deal.
Best Black Friday 2015 Deals & Ads
Walmart Black Friday 2015 Ad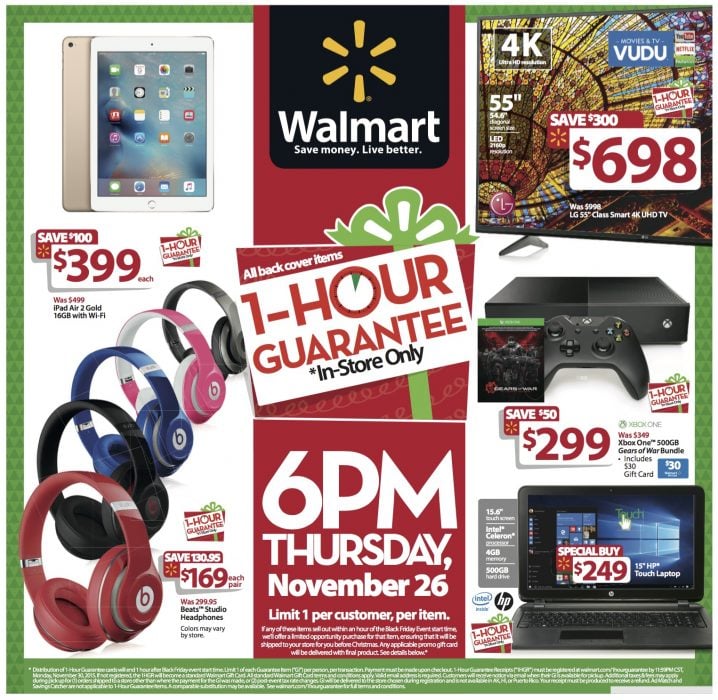 The Walmart Black Friday 2015 hours start online at 12:01 AM Pacific on Thanksgiving Day and in store at 6 PM local time on Thanksgiving. Make sure you check out the online Walmart Black Friday 2015 deals.
Today we are able to see the Walmart Black Friday 2015 ad, and it is available on the iPhone or Android before the general web. The ad includes over 300 Black Friday 2015 deals across a variety of categories.
Read: Are 1 Hour Guarantee Black Friday 2015 Deals Worth Buying?
Walmart confirmed the return of the 1 Hour Guarantee that promises availability of five big deals in the Walmart Black Friday 2015 ad. If Walmart runs out, shoppers who are in line at the right time will get an option to buy these items for delivery by Christmas. These deals include;

iPad Air 2 Gold 16GB Wi-Fi for $399 ($100 savings)
Beats Studio Headphones for $169 ($130.95 savings)
LG 55" Class Smart 4K UHD TV for $698 ($300 savings)
Xbox One 500GB Gears of War Bundle with a $30 Walmart Gift Card for $299 ($50 savings)
15" HP Touch Laptop for $249 (special buy)

Check out more about the Walmart Black Friday 2015 ad to see the deals.

As an Amazon Associate I earn from qualifying purchases.