Bloodborne Release: 5 Details for Buyers
The Bloodborne release date is here and if you are eager to play or still deciding to buy the game, there are a few things you need to know before you stop on your way home to pick it up.
With a fast look at new Bloodborne details for buyers, you can catch up on the new information that came out since the midnight release that many players jump started with a digital download. We'll also help you with Bloodborne tips for beginners and the key information you need to know about an upcoming Bloodborne patch to fix a big complaint of early players.
This is what you need to know about the Bloodborne release, now that the day is here and you can finally play the game on your PS4.
Bloodborne Release
[easyazon_block add_to_cart="default" align="right" asin="B00KVR4HEC" cloaking="default" layout="top" localization="default" locale="US" nofollow="default" new_window="default" tag="gbm-ea-20″]pick up a copy of Bloodborne[/easyazon_block]The Bloodborne release arrived without as much excitement as a Call of Duty: Advanced Warfare release, but for gamers who waited past one big delay it couldn't come soon enough. There are no major Bloodborne problems, but without major online problems at this time.
You can stop in to any store that sells games and [easyazon_link asin="B00KVR4HEC" locale="US" new_window="default" nofollow="default" tag="gbm-ea-20″ add_to_cart="default" cloaking="default" localization="default" popups="default"]pick up a copy of Bloodborne[/easyazon_link] today. You might have a slightly tougher time finding a collector's edition, but that's not uncommon with special editions. You can also order Bloodborne on the PlayStation Store if you want a digital copy.
Bloodborne is a PS4 Exclusive, but Amazon France lists a Bloodborne PC version that is not available to buy at this time.
Bloodborne Deals
So far there aren't a lot of Bloodborne deals, but you can score a few deals if you know where to look. If you go to Target you can buy Bloodborne for $59.99 and add a $20 PSN card to net a $15 off discount.
Best Buy also offers a 20% discount for Gamers Club Unlocked members knocking the price down to $48, but you need a Gamers Club Unlocked membership.
One leak suggests that Target will offer a Buy One Get One 50% off deal on all games next week.
Bloodborne Reviews
The Bloodborne reviews are very positive with 9/10 and 4.5 out of 5 ratings from two major publications and a Metacritic score of 93. In short the critics love this game and so do the gamers who overwhelming leave positive reviews on Metacritic.
GamesRadar delivers another excellent Bloodborne review that walks you through what the game does well and why you may want to stop and pick up the game.
GameSpot delivers a detailed Bloodborne review that you need to read if you want to figure out if you should buy this game. The publications rates it 9/10 "Superb" with only two complaints, one of which should be fixed in an update.
For gamers that want to make up their own mind, you can watch the first hour of Bloodborne gameplay including a boss battle, to see what the game looks like on the PS4 in the video above.
Bloodborne Load Time Problems & Patch
The biggest complaint so far is that it takes a really long time to load after a death. In a game where you will die, and perhaps die often, this is a valid complaint, but it is something Bloodborne plans to fix.
GamePur reports that developers are working on a second Bloodborne patch to fix the load time issues. The statement is below,
"The development team is currently exploring another patch for Bloodborne, seeking ways to improve load time duration, in addition to other performance optimizations and miscellaneous bug fixes."
Gamers are not happy about the Bloodborne load time problems.
Bloodborne Tips for New Players
In just 13 minutes you'll learn everything you need to know to be a better player. The Beginner's guide to Bloodborne video below includes all the Bloodborne tips that you need to get started and to learn the new user interface, options, stats, Blood Echos and how to level up.
As the video progresses you'll learn about controls, combat and moves. When you reach the end the video focuses on Bloodborne tips and how you can learn from your mistakes.
15 Exciting 2015 PS4 Games
MLB 15 The Show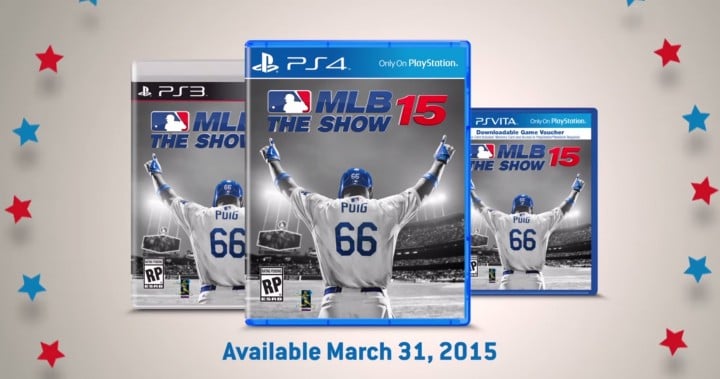 MLB 15 The Show Release Date - March 31st Confirmed
Sony is the undisputed king of baseball games with MLB The Show and we know that MLB 15 The Show is coming in early 2015. Sony just shared five key details about MLB 15 the Show and gamers are excited.
MLB 15 The Show is a PlayStation Exclusive, that is coming to the PS4, PS3 and PS Vita. There is a chance that this will be one of the first big hits among the 2015 PS4 game releases. I
Watch the MLB 15 The Show teaser video above for a glimpse at what's new.

As an Amazon Associate I earn from qualifying purchases.