Bloodborne Release Date: 5 Things Buyers Need to Know
The Bloodborne release date arrives in late March to deliver gamers into a dark and gothic world where twisted creatures wait to attack you alone or as a mob.
Don't hold out hope for a Xbox One Bloodborne release. This is a PlayStation Exclusive and it is coming to the PS4 in just a few days.
This Action RPG is a long time coming, after an announcement in the middle of 2014. The Bloodborne release includes a special collector's edition with Steelbook, a digital copy of the soundtrack and a hardcover art book.
Here are five important details that you need to know about the Bloodborne release date.
Bloodborne Release Date
The Bloodborne release date is March 24th in North America, March 25th in the European Union, March 26th in Japan and finally March 27th in the UK.
There are no midnight Bloodborne release date events listed at major retailers in the U.S., which isn't surprising given that it is a PS4 exclusive without the same mass market appeal as a Call of Duty: Advanced Warfare or MLB 15 The Show.
You can order Bloodborne from Amazon and other retailers for $59.99 and the Collector's Edition for $79.99.
Bloodborne Digital Release
Th Bloodborne digital release is available on PSN and you can pre-order it now so that you can pre-load the game before March 24th. Pre-loading downloads the game to your console so as soon as the release arrives you can play.
We expect that this will go live at 12:10 AM Eastern on March 24, which should allow users on the West coast to start playing at 9 PM Pacific on March 23rd.
Bloodborne Deals
So far there are not a large amount of Bloodborne deals, but CheapAssGamer forums mentioned a possible deal at Target where you can buy Blooodborne and a $20 PSN card and get $15 off, which is an OK deal. '
There is no Best Buy $10 pre-order bonus like with many other games, but Gamer's Club Unlocked members can still save 20% on Bloodborne, dropping the price to $48.
Bloodborne Videos
If you cannot wait for the Bloodborne release date, you need to watch the new Bloodborne video trailer that is sure to ramp up your excitement. You'll likely see some of these scenes in TV commercials as Sony ramps up advertising for this dark PS4 thriller.
Another great video to watch is the first 18 minutes of Bloodborne. The video above highlights what it will be like when you start playing. Perhaps it will get you prepared for the many deaths you will encounter in Bloodborne.
Bloodborne Audio Tweaks
If you own the official PS4 headsets you can download a special audio mode for Bloodborne. On the PlayStation Blog Masaaki Yamagiwa writes,
"But I do have one cool piece news for those of you who have an official PlayStation Gold, Silver or Pulse Elite headset: on March 24, open your Headset Companion App to download a custom Bloodborne Audio Mode that's been tuned specifically to bring the unique world of Yharnam to life"
You can download the free Headset Companion App to your PS4 and on March 24th you can download a special audio profile.
15 Exciting 2015 PS4 Games
MLB 15 The Show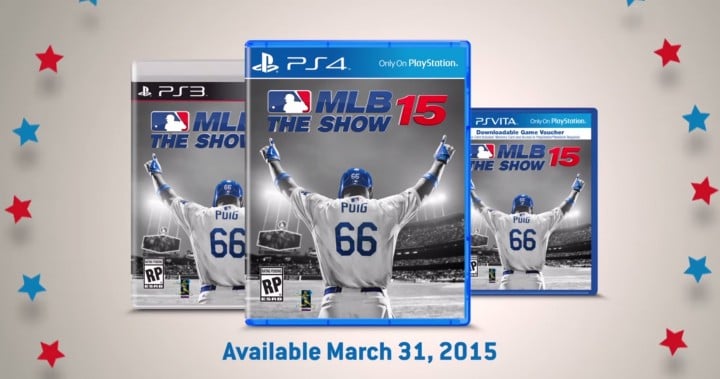 MLB 15 The Show Release Date - March 31st Confirmed
Sony is the undisputed king of baseball games with MLB The Show and we know that MLB 15 The Show is coming in early 2015. Sony just shared five key details about MLB 15 the Show and gamers are excited.
MLB 15 The Show is a PlayStation Exclusive, that is coming to the PS4, PS3 and PS Vita. There is a chance that this will be one of the first big hits among the 2015 PS4 game releases. I
Watch the MLB 15 The Show teaser video above for a glimpse at what's new.

This article may contain affiliate links. Click here for more details.