Call of Duty: WWII Winter Siege: 5 Things You Need to Know
A month long event starts this Friday, offering new Call of Duty: WWII guns, access to special 2XP playlists, a free new map and other special items that are all a part of the Call of Duty: WWII Winter Siege.
Starting with the Call of Duty: WWII 1.07 update that arrives this week you will start to see snow in Headquarters and other festive areas in the game. Here's your primer on what you need to know about the first special event in Call of Duty: WWII.
What is Winter Siege?
Call of Duty: WWII Winter Siege is a four week event with loads of bonuses and free Supply Drops. This is in addition to the free Twitch Supply Drops that you can get during this period. Activision describes this as,
"Welcome to the Call of Duty: WWII Winter Siege Event, where winter has arrived in full force. Your mission begins in Headquarters, where the snow has already begun to fall. Captain Butcher, of the British Special Air Service forces has arrived at the Quartermaster with an inventory of cold weather gear suited for the frigid weeks ahead. Pick up your payroll, grab your winter contracts, gear up, and get ready to head into battle."
The special event is four weeks long with free supply drops, special 2XP playlists, new weekly orders and special contracts that give you Winter Supply Drops. This ties into special new winter gear and new Call of Duty: WWII weapons.
Call of Duty: WWII Winter Siege Schedule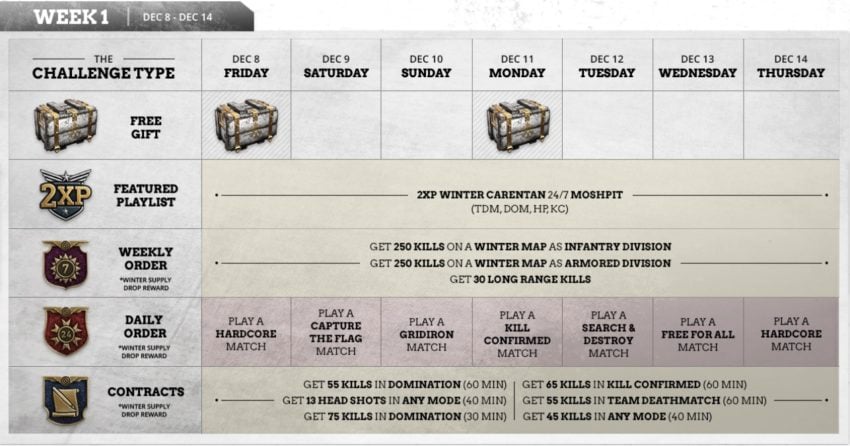 The Call of Duty: WWII Winter Siege starts Friday December 8th at 10 AM Pacific, 1 PM Eastern on Xbox One, PS4 and PC. There are four specific weeks of play with special events, rewards and bonuses throughout.



Check out the rest of the schedule in the images above. It's nice to see some Hardcore options in there even though they don't appear to be a part of the 2XP playlists and are still missing key game modes like Kill Confirmed.
Free Call of Duty: WWII Map for Winter Siege
Normally you cannot play on Carentan if you don't have the Call of Duty: WWII Season Pass, but that's no longer the case during the Winter Siege event. There is a special Winter Carentan playlist that will rotate through various types of games on a Wintry version of Carentan.
This is only available during Winter Siege, so it's actually a nice way to see if you enjoy this map enough to factor it into your decision to buy the Call of Duty: WWII DLC.
How to Get Winter Siege Supply Drops
There are a new type of Call of Duty: WWII Supply Drops for the next four weeks, but they are really just Rare Supply Drops. For the rest of this month Sledgehammer Games is rebranding the rare version as a Winter Siege Supply Drop and adding in cold weather gear and new weapons with cold weather camo.
You can get several Winer Siege Supply Drops by simply logging in this month. There are four free gifts, and then you can also win many more Supply Drops by completing the Weekly Order, Daily Orders and Contracts. Check out the schedule listed above this section to find out what you need to do each day or week to unlock up to 16 Supply Drops each week.
You can also earn these through the end of match bonus, if you are lucky.
Winter Siege Guns
There are three new Call of Duty: WWII guns as part of Winter Siege and there are two melee weapons you can get. Here is what you can unlock in Supply Drops or through orders.
GPMG LMG
Sten SMG
Gewehr 43 Assault Rifle
Trench Knife
Ice Pick
These are only variants of existing weapons, so there stats should match an existing gun exactly. There is an XP bonus as part of these, so you do get an advantage for your leveling, but not in gunfights. In addition to finding these in supply drops, you can earn at least one free from Orders.
Call of Duty: WWII Season Pass: 4 Reasons to Buy & 2 to Wait
Buy if Call of Duty: WWII is Still Your Go to Game
Is Call of Duty: WWII your game? If you are sticking with Call of Duty while half the population jumps to Fortnite Battle Royale and PUBG, this is a good investment.
This is still the go to boots on the ground version of Call of Duty, and even with Call of Duty: Black Ops 4 on the way it makes sense to buy the Season Pass if you will play Call of Duty: WWII for most of 2018 and into 2019.
If you think you will buy all of the maps because you loved the first 8 months of Call of Duty: WWII or because you like the direction the game is going with each update, you should buy the Season Pass.
For gamers who are planning to play Call of Duty: WWII for a year, it doesn't make sense to wait and buy the DLC separately or even to skip one or two of them since that will limit the matchmaking as you get split into a smaller and smaller pool.
You save $10 over buying the DLC individually, you get a bonus and you may still need to wait a long time for a deal.