Clash Royale May 2018 Update: New Rascals Troop, Heroes & More
Another big Clash Royale May 2018 update is coming soon. And while we just received Clan Wars in April, the developers aren't slowing down. Supercell recently announced new troops are coming to Clash Royale, and now we have a good idea of what they are.
In this guide we'll go over everything you need to know about the Clash Royale May 2018 update. We're talking about balance changes, 3-4 new cards, and more. We could see a new Double Trouble troop the Rascals, Elite Archers, and finally, Clash Royale Heroes.
Read: Clash Royal 2018: 7 Changes We Want Next
For months we've been saying heroes are coming to Clash Royale, as you can see in our article linked to above. And while we never thought it would really happen, that might be exactly what we get in May or June. Here's what to expect, what leaked, and what those leaks suggest.
During the April update announcement, the Clash Royale developers gave us two tips or teasers. For one, they said new cards (troops) were coming in May. Then, the teaser said, "Watch your step when walking in the woods near Royal Arena". We're not entirely sure what that means, but we have a good idea. Watch your step because a new "Ground Hound" looking rolling rock troop might run you over.
Clash Royale May 2018 Update Speculation & Leaks
Looking over the April update release notes did you notice the game developers mentioned "Double Trouble" or did you see a note about bubble gum inside the game? Yes, we're actually seeing mentions of the update on the "loading" screen of Clash Royale right now. I took the screenshot below on my own game.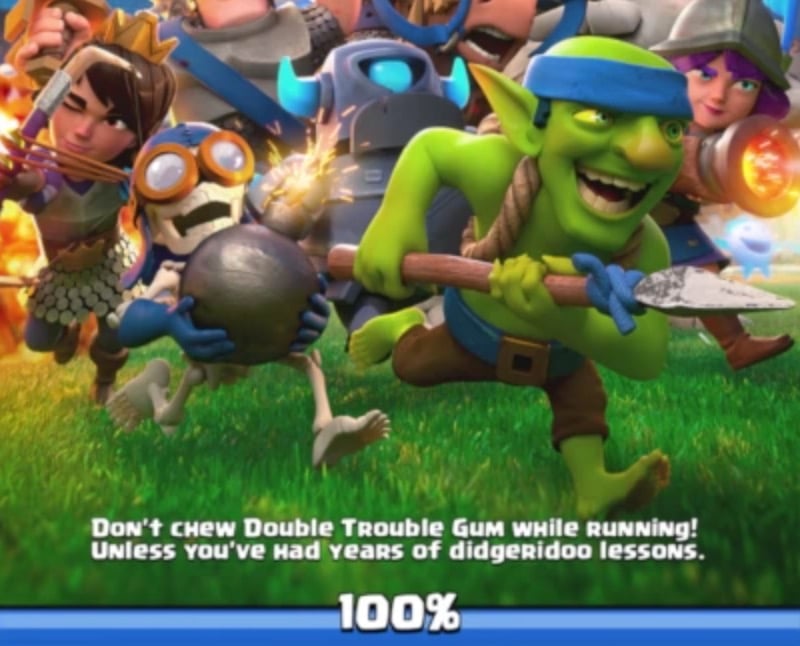 We're not sure what the Double Trouble Gum mention is, but "didgeridoo" is nothing new. The Dart Goblin card mentions didgeridoo lessons in the description. However, the next leak below might explain the bubble gum.
A user on Reddit revealed the image below, based on information and files found in the April release. Basically, he broke down the April update game files and found these images. This potentially gives us our first look at the next three troops in Clash Royale. One of which is blowing bubble gum.
According to this image, there's a new Elite Archer, or something similar. Is that a cross-bow? Then, we see "double trouble" which looks like an Archer mixed with a Bandit. Supercell just confirmed the middle troops. Then, last but not least we see a third card, which looks like a Golem mixed with the Lava Hound. This looks like a giant boulder you can roll down the Arena, and matches nicely with Supercell telling players to "watch their step". I'm calling it the Ground Hound until further notice.
In the game you can see a new troop called the "Rascals" and it's actually a trio of three different troops in one. Meaning this will probably cost somewhere around 5-7 Elixir, or even more. The Rascals are a mischevious trio. The boy takes the lead, and all the damage, while the two girls pelt enemies from behind using slingshots full of bubble gum balls. It's odd, but it's official and will get released on May 25th. Rascals are a common card, so everyone can and will get it.
They don't call it Double Trouble Gum for no reason… pic.twitter.com/FzeQn7ieUb

— Clash Royale (@ClashRoyale) May 10, 2018
Expect more information about the new Rascals card soon. Not to mention a special Rascal Draft Challenge starting on May 11th.
Clash Royale Heroes?
Will Supercell ever add Heroes like the Archer Queen or Barbarian King to Clash Royale? It's something we've heard about for over a year, but we just don't know how they can add such a powerful troop to the game.
That said, we're seeing signs of exactly that. From the same leak as the photos above, we're seeing images of an Archer Queen of some sort. Along with what the game files call a "Golden Knight". That's obviously not a Hero, but it looks similar to the Barbarian King from Clash of Clans. Here's a quick video from Molt explaining all these leaks and more.
It's worth noting that we've seen leaks like this before. Cards that could come to Clash Royale but then we never see or hear from them again. Countless images have surfaced, only to fade away and never come to exist. That said, these are pretty realistic looking. At least the Double-Trouble and Elite Archer cards.
Basically, we could get Elite Archers, Rascals, a Golden Knight, Archer Queen, and the Golem-Hound troop all within the next few months. Whenever Supercell adds multiple cards to the game they get released slowly over time. Like one every 2-4 weeks. So, even if these are real, don't think you can battle with all of these cards right away. Or, some of these were fake to conceal the new Rascal trio.
Clan War & Balance Changes
And finally, expect some changes to Clan Wars and balance changes in the May 2018 update for Clash Royale. The developers just added Wars to the game, and they'll surely need to make a few adjustments to improve things. Whether that's how long of a break we take before wars, to the actual War Day battles themselves.
For one, we tied for 1st place in our first Clan War in Clash Royale. Both teams had the same amount of wins and towers destroyed. We need a sudden death or tie-breaker mode so one clan can be victorious.
In closing, look out for another round of balance changes to further improve things. Each month or so we get balance changes based on what's too strong or too weak in the game. And, if Supercell really does add some of the cards from our leaks above, they'll interfere with current troops. Meaning a few balance changes will even things out so the new troops can comfortably join the battle.
While you're here, take a peek at our slideshow below detailing 10 of the best PUBG-style games for Mobile.
10 Best PUBG Like Battle Royale Games for Android and iPhone
Rules of Survival
Ok, first things first, just download the official PUBG Mobile. Otherwise, the absolute best clone and nearly identical experience around comes from Rules of Survival. It's the most popular iPhone battle royale game, and Android battle royale game. That said, Garena Free Fire is giving it a run for its money lately, which is #6 on our list.
With Rules of Survival, you'll drop into 8 x 8 km island and enjoy basically everything you love from PUBG. They have the same style for weapons, run or fight, pick your weapons, jump for cover, and much more. Originally Rules of Survival had massive multiplayer battle royale fights with 120 players, but now they have even more.
A recent update increased the map size to 8 x 8 km, and now lets you join games with 300 players at a time. It's pretty intense, to say the least. Personally, I find more guns and ammo and have a better time in Rules of Survival than the new PUBG.
Get tons of weapons, ammo, backpacks, health, shields, attachments, and they even have voice-chat. Yes, it's pretty close to PUBG for mobile, and it's a blast. With over 100 million downloads, there's no reason you shouldn't try it.