10 Common LG G7 Problems & How to Fix Them
The LG G7 is a big phone with a lot to like, but it's not perfect. And while users wait for the eventual LG Android 9 Pie update, we're seeing a lot of reports about LG G7 problems. With that in mind, below is a list of some common issues you may experience and how to quickly fix them.
Thankfully it is easy to fix most small LG G7 problems on your own at home. You won't need help from a carrier retail store or have to call LG support and sit on hold for hours. Just follow our guide and tips.
Read: 7 Best LG G7 Screen Protectors 
And while we expect many of these bugs to go away when the Android 9 Pie update arrives, we're not sure when that'll actually happen. As a result, you'll want to deal with them right now. Which is why we'll walk you through some of those complaints, and offer fixes or resources to help you fix them.
Whether it's a small glitch or something major like bad LG G7 battery life problems, we're here to help.
How to Fix LG G7 Battery Life Problems
First things first, we're hearing a lot of complaints about battery life. In fact, this is the biggest issue facing LG's phone to date. With the G7 you have a big 6.1-inch screen with a small 3,000 mAh battery.
It's nearly the same size as the Galaxy Note 8, but with a battery as small as the Galaxy S8, which is a recipe for disaster. What we're trying to say is there's no easy fix for bad LG G7 battery life. LG put a small battery in a big phone.
However, there are multiple different steps to take, settings to change, and things you can do to make it last a little longer. Every bit helps when you're working with a small battery. First, go to settings and make sure an app isn't misbehaving and using an abnormal amount of juice.
Go to Settings
Click on Battery & Power Saving
Select Battery Usage
Typically Android system, Android OS, or the screen (Display) is at the top. If there is something else at the top, like FaceBook or something random, you have a problem. Tap the stop bottom to the right to instantly stop the problem. We also recommend you disable, uninstall, or reinstall an app that's misbehaving. Or, try a quick and simple reboot.
We also recommend customizing location settings, turning the screen brightness down to around 40% or automatic, and closing big apps you no longer need. Not to mention use LG's battery saver modes if you can, or change the screen resolution from 2k down to 1080p. That's in Settings > Display > resolution.
LG G7 Bootloop Problems
For some reason, a lot of LG phones over the years suffer from what's known as "bootloops". Where the phone restarts over and over again and is essentially unusable until you manage to stop the loops. This was a huge issue with the LG G5 and even led to a class-action lawsuit.
We haven't seen anything bad with the LG V30, G7, or the V40, until just recently. Users with the T-Mobile LG G7 in Europe and other regions are randomly experiencing bootloops. We're hearing a quick update from T-Mobile should fix it, but we'll have to wait and see. Hopefully this doesn't become another widespread issue for LG. We'll report back once we know more.
LG G7 Backlight Bleeding
There have been quite a few reports about backlight bleeding on the LG G7. That's where users can see light bleeding through the sides of the phone and interfering with photos, video, or web browsing.
Most notably, users see light shining through more than it should on the bottom right, near the home button. Or just the entire bottom area of the screen. Sadly, we don't have anything good to report here. This isn't something we can "fix" and we recommend you reach out to LG for a replacement device. Almost everything else on our list you can fix though, so here's where we can help.
How to Fix LG G7 WiFi Problems
WiFi is another thing everyone complains about, but it's rarely the phone itself. Usually, it's a problem with the app, like Netflix or Google Play Music. From poor connectivity, drops, to even 5GHz not working right. We saw a lot of issues with WiFi on the LG G5, but the company fixed them with the G6 in 2017.
Before we go any further into this guide, make sure to head to Settings > about phone > and check for updates and install any new software. LG has released several updates over the last few months to improve and refine the experience on this phone, and prepare it for Android Pie.
Read: Top 10 LG G7 Features You'll Love
If you're having WiFi problems we have a few suggestions you should try before doing anything else.
Reboot your phone
Turn WiFi off, then back on (in settings or with the quick toggle in the notification bar)
Unplug your home WiFi router for 2-3 minutes, then plug it back in and turn it on
Try reconnecting to the WiFi connection
If this doesn't fix your issue, try going to Settings > WiFi and forget the wireless network you're trying to connect to. Then search again and reconnect to it, put in the password, and see if it works. This completely resets the connection between your phone and WiFi, giving it a fresh start and often fixes any issues.
How to Fix LG G7 Bluetooth Problems
Bluetooth is another aspect of every phone that we see complaints about. With so many devices, Bluetooth speakers, cars, car stereos, and different brands, you're bound to run into the occasional problem.
The biggest complaint is Bluetooth in cars, where the phone simply won't connect. For one, the LG G7 connects but the phone icon is grayed out on your stereo. If so, check your permissions or turn off HD calling. However, your best bet is to turn your phone (and car) off and back on again. Then repair the two and give it a try.
Bluetooth is always a little tricky, so try deleting or forgetting any device you're having problems with, and redo the connection. This is a last-ditch effort to get things working properly.
LG G7 Apps Aren't Fullscreen (or Notch problems)
There are two screen issues a lot of people will face. Apps not being fullscreen thanks to the long and skinny design, or app content getting cut off by the notch. And sadly, official notch support isn't coming until you get Android Pie. So, you might be stuck with black bars at the top and bottom of some apps.  Or, you can use LG's "app scaling" mode to force apps into fullscreen mode.
Go to Settings
Tap on the Display Column
Select App Scaling
Find and enable fullscreen mode on apps that need it
A prime example is YouTube, it doesn't use the entire display. However, you can pinch to zoom and it will expand to fullscreen mode. Give it a try and enjoy that 6.1-inch screen. For everything else, LG's built-in scaling mode will help you enjoy apps to the fullest.
Read: 15 Best LG G7 ThinQ Cases
Otherwise, go to that same settings menu and hide the notch with software tricks. This makes the phone have bezels like older devices, but it hides the notch and makes apps look normal again.
How to Fix LG G7 Missing App Drawer Problem
This next one is more of a preference than a problem, but we're still seeing a lot of complaints. With the LG G7, you don't have a dedicated button for the app drawer. Instead, you have to swipe up on the screen or deal with every app being in a folder like the iPhone.
Here's how to get your app drawer button back. Head to Settings > Display > Home screen and enable the application tray. Alternatively, users can follow this old but still useful guide to download and install a home screen replacement app with more features or customization. We also recommend users try NOVA Launcher from the Google Play Store.
How to Fix LG G7 Fingerprint Scanner Problems
Are you having problems with the fingerprint scanner? Typically we see reports that it won't recognize a finger, or owners are getting false readings when the phone is in their pocket. Causing the battery to drain faster than it should. These are both easy to fix.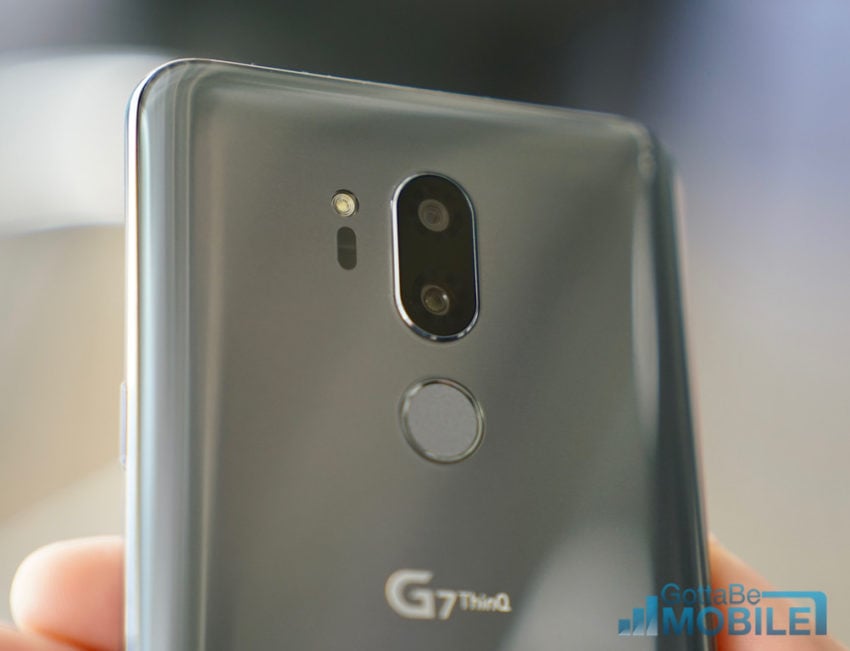 First, make sure you have a lockscreen password or pin in addition to the fingerprint scan. That way it won't turn on in your pocket by accident and drain the battery. Most phones have a second layer on top of the fingerprint, so you probably already did this.
For all other fingerprint scanner problems, we recommend deleting your fingerprints and starting over. If it doesn't recognize your scan you might need to redo it. This is especially true if you setup fingerprints before you installed your case. Sometimes a case can change the angle of your fingerprint, causing the phone to struggle to unlock. Basically, delete your fingerprint and redo it. Do this by going to Settings > Security > Fingerprints > Saved Prints > and delete them. Some users claim saving the same fingerprint twice gives them better results and fewer errors.
How to Fix LG G7 Audio Problems
Another thing we saw a few complaints over is audio in the LG G7. Which is odd considering the boombox speaker gets incredibly loud on this phone. From the speakers overall, ringtones, or while watching videos. Our device sounds fine, but some users claim the audio is very low, especially with headphones.
First, make sure your volume is turned up. LG even has a setting that will make the volume buttons turn up your media volume instead of ringtone volume. If this isn't checked, you might be turning up your ringtone volume instead of media. As a result, YouTube or movies will sound quiet.
If you're having other general problems with sound on your LG G7 wait for a software update, or RMA the phone and get a new one.
How to Fix Bad LG G7 Performance & Lag
Does your new LG G7 feel slow or seem to lag opening apps and games? This shouldn't happen on a powerful flagship phone. However, people use phones heavier than a computer and never ever turn them off, or reboot them. Eventually, it'll get a little bogged down.
That said, LG has a few tools to help fix these types of occasions and problems. For one, reboot your phone. Do it now, and do it every week or so. We also recommend making sure all of your apps are up to date.
Last but not least though, use LG's smart cleaning tools. You can go to Settings > General > Smart cleaning to quickly clean out unused files and apps. This is basically a cleaning process that frees up space, clears the memory, and keeps the phone running at its best.
LG G7 Camera Problems
We're seeing quite a few reports about camera lag too, where users report it's slow to click, focus, or just work in general. Whether that's the time it takes for the camera to open, take the photo after you click, switch between lenses, or even a little lag as the phone tries to save the image.
This is likely a small problem we'll have to wait for LG to fix themselves, but we do have a few potential solutions. For one, turn off HDR mode, then try again. HDR takes more time and resources and could be what's slowing down your camera. Just know that HDR takes better photos, so you're missing out.
Additionally, get a good fast microSD card for your LG G7 so photos and videos can save quickly, then set the camera to save to the SD card. Otherwise, wait for an update from LG in July or August.
Other LG G7 Problems
Of course, some users may have other small problems here and there. No phone is perfect, not to mention everyone uses them differently. So, what works for you might not work for someone else.
For any and all other problems, the first step is to quickly reboot your LG G7. Whether that's screen glitches or rotation, lag, app crashes, or other minor things, try rebooting your phone. Actually, you can fix almost any small problem by rebooting the phone. Just long-press the power button, and hit "restart".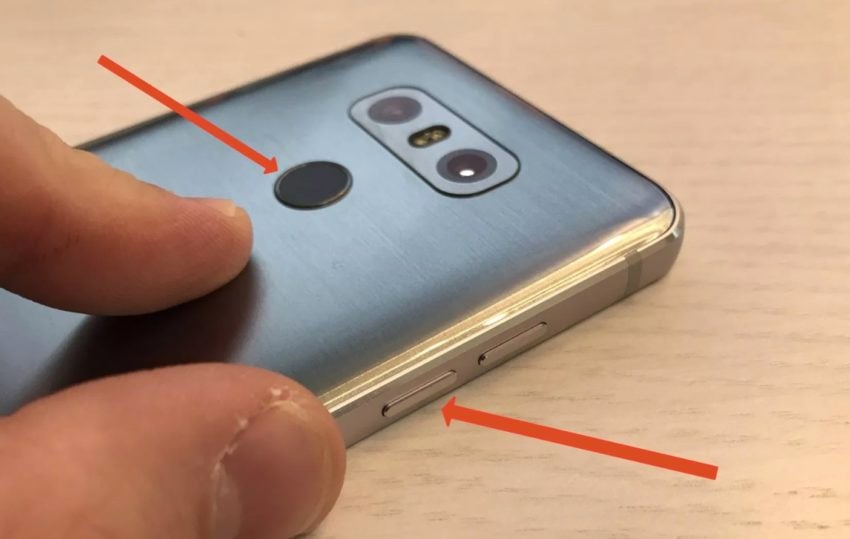 Or, if your LG G7 is completely frozen and unresponsive, you can force it to restart and reboot. To do this simply press and hold volume down and the power button at the same time for 7-10 seconds. Press, hold and wait. You'll hear the phone vibrate, see it turn off, and it'll restart and hopefully work as expected.
How to Factory Reset the LG G7
Last but not least, if you are experiencing a major dealbreaker problem or can't find a solution to something, try a factory data reset. This is the last resort and will erase everything, but it can fix most problems. Backup anything important, then follow our steps below.
Head to Settings by pulling down the notification bar and hitting the gear-shaped icon near the top. In settings scroll down to Backup & reset and then tap Factory Data Reset. The phone will reboot a few times, erase everything, and boot up fresh and ready to go. You'll have to go through setup again, redo all of your settings, and sign into Gmail. However, you'll probably have fewer problems and a more enjoyable experience after.
What's Next for the LG G7 ThinQ?
So what's next for LG's phone? Well, that's the update to Android 9 Pie sometime in January or February of 2019. Google released a new and improved version of Android in August, and you'll love everything that's new. There are beta programs, but LG isn't participating in any yet.
Owners can expect a few little software changes and monthly security upgrades before the big upgrade to Android P in 2019. There's a small chance it'll arrive before the end of the year, but don't hold your breath.  For now, try our suggestions above to fix problems, or drop us a comment below with any other questions.
In closing, try reaching out to @LGUSAMobile on Twitter. They have plenty of valuable resources to help owners with any and all concerns.

This article may contain affiliate links. Click here for more details.