Darth Vader PS4 Photos & Details
Two special edition Darth Vader PS4 bundles are coming in time for the Star Wars: Battlefront release date in November.
At a special weekend event Sony confirmed two new Darth Vader PlayStation 4 bundles are coming with a special design, Star Wars PS4 controller and the Star Wars: Battlefront game. A second Darth Vader PS4 takes things to the next level with Disney Infinity 3.0 figures from Star Wars.
The Star Wars: Battlefront release date is November 17th, and that is when you will be able to buy these special Darth Vader PlayStation 4 editions at select retailers. Here's a quick look at the new PS4 Darth Vader edition console and what we know about them.
Darth Vader PS4 Bundle
The first Darth Vader PS4 is a Star Wars: Battlefront bundle that includes a special black PlayStation 4 with Darth Vader on the side / top. This is a 500GB PS4 unit and it includes a special DUALSHOCK 4 controller that takes design cues from Darth Vader's chest panel and features a Star Wars logo on the touchpad. Sony shared photos and details on the PlayStation Blog.
This bundle includes the Star Wars: Battlefront Deluxe Edition, normally priced at $69.99 and a code to download four classic Star Wars games on PS4. This includes, Super Star Wars, Star Wars: Racer Revenge, Star Wars: Jedi Starfighter and Star Wars Bounty Hunter. These are available for the first time on PS4, and will come as a paid download option to owners with a PS4 already in their possession.
Disney Infinity 3.0 PS4 Darth Vader Bundle
The second Darth Vader PS4 bundle is an insanely attractive option for gamers who are addicted to the Disney Infinity line of games. This is a Disney Infinity 3.0 PS4 Star Wars Bundle that includes;
Darth Vader PS4
Darth Vader PS4 controller
Disney Infinity 3.0: Star Wars Edition Hardware Bundle Kit
Physical Copy of Disney Infinity 3.0
Disney Infinity Base
Rise Against the Empire Disney Infinity 3.0 Play Set including Luke Skywalker, Leia Organa, Boba Fett and it looks like a Death Star.
Digital Voucher for the classic Star Wars games.
This special Disney Infinity 3.0 Darth Vader PS4 bundle is only available at Walmart.
In the announcement Sony states that both of these are limited editions. We could see a small supply with stock that sells out as fast as the Call of Duty: Black Ops 3 Juggernog Edition or the Fallout 4 Pip Boy Edition.
There is also a normal PS4 with the voucher and Star Wars: Battlefront coming to gamers. Sony would not confirm any plans to sell the special Darth Vader PS4 controller separately.
Darth Vader PS4 Pre-Order and Price
Sony did not confirm any Darth Vader PS4 price or a specific Darth Vader PlayStation 4 pre-order date. Sid Shuman, blogger and digital communications for PlayStation shared the only update on this information writing, "No pre-order or pricing details available yet, but should be coming soon!"
It would make sense to see a higher than average price for the special Darth Vader PS4 bundles with a $69 game and four classic games on top of the special look.
15 Exciting 2015 PS4 Games
MLB 15 The Show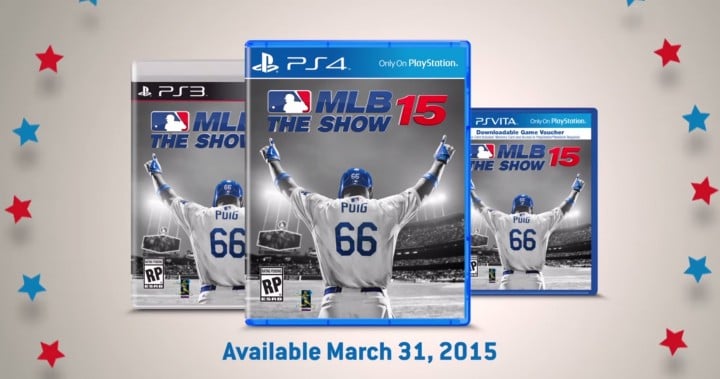 MLB 15 The Show Release Date - March 31st Confirmed
Sony is the undisputed king of baseball games with MLB The Show and we know that MLB 15 The Show is coming in early 2015. Sony just shared five key details about MLB 15 the Show and gamers are excited.
MLB 15 The Show is a PlayStation Exclusive, that is coming to the PS4, PS3 and PS Vita. There is a chance that this will be one of the first big hits among the 2015 PS4 game releases. I
Watch the MLB 15 The Show teaser video above for a glimpse at what's new.