Destiny Offline for Hours: ETA for Return
Is Destiny offline? Yes, the Destiny servers are completely offline today April 7th, and this is what you need to know about the planned downtime and when you can start playing again.
There are no major Destiny problems happening right now, but you cannot currently play Destiny thanks to this planned downtime.
If you attempt to connect to Destiny you will not be able to login and play. You may see a variety of error messages during this time, but there is nothing you can do to fix any issues since this is a related to server maintenance.
This is in preparation for the Destiny April Update that brings a collection of upgrades, changes and Strikes.
The Destiny offline issues started this morning at 8 AM Pacific, 11 AM Eastern when Bungie stopped letting players log in to Destiny. At 9 AM Pacific, 12 PM Eastern Bungie removed players from activities on the Destiny Servers. This allowed Destiny to take the servers offline for maintenance.
While the servers are down, users will notice the following disruptions to Destiny.
Unable to log in or play Destiny or Destiny The Taken King.
Bungie.net sign-in and Companion app services may be restricted during this time.
Players signed in shortly before maintenance will receive prior notice via in-game messaging.
Bungie estimates that the Destiny server maintenance will finish by 1 PM Pacific, 4 PM Eastern. When this happens, users should be able to start playing Destiny again.
The last time Destiny took the servers offline for maintenance it took longer than expected to bring them back online.
You can follow @BungieHelp to get updates on the current status of the Destiny server maintenance. The account will likely tweet when the servers are back online.
Destiny will be undergoing maintenance today 4/7/2016 starting at 8AM PST. Expected completion is 1PM PST. https://t.co/Ocy0lEVMfq …

— Bungie Help (@BungieHelp) April 7, 2016
As you might expect, even with the notice that servers will be down, some users are frustrated with the timing of Destiny going offline for hours.
@BungieHelp why does this always happen in prime time for UK players? 4pm -9pm totally sucks!!

— Mark |/ (@lordkramGB) April 7, 2016
@TWIBRULZ @kjml6989 @BungieHelp Its always uk though, how about bungie stop being lazy and just pull 1 overtime, downtime shouldnt happen.

— Tyler Cullen (@IceStiletto) April 7, 2016
@BungieHelp seriously…. Every single update you do happens when we get off work…. Do it at Pacific time night between 12am-5 am

— Ken Murray (@kjml6989) April 7, 2016
Although there is never a great time to take a connected game like Destiny offline for hours, this timing does allow Bungie to get the work done before most gamers in the U.S. get home from work to play.
15 Exciting 2016 PS4 Games
No Man's Sky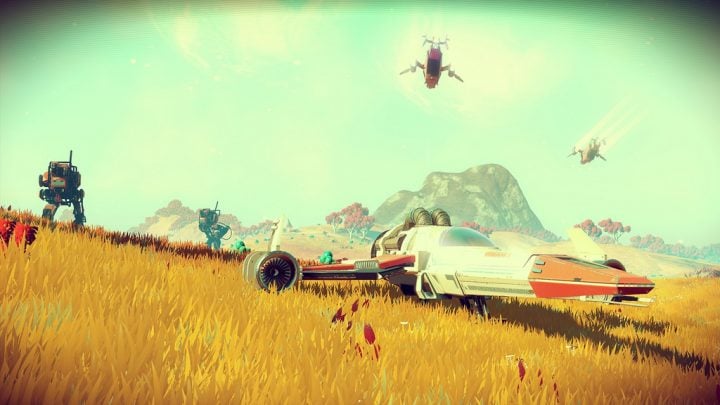 No Man's Sky Release Date: August 9, 2016, PS4 & Windows
No Man's Sky is a constantly generating open galaxy game with space exploration, world exploration and more as you work through an ever-expanding solar system of planets. Each of these planets is filled with new species and a new landscape.
Your goal is to find ancient artifacts that will help you understand the universe. As you make discoveries you can share with other players or keep it all a secret. As you explore and interact with worlds you can leave a trace of yourself behind.
In addition to the digital release there is now a Blu-Ray release of the game.

As an Amazon Associate I earn from qualifying purchases.