Early iPhone 6 Release Date Rumored Again
Shoppers may be able to buy the 4.7-inch iPhone 6 earlier than expected if a new rumor of an August iPhone 6 release date comes true. This is the second time we've heard about an August release for the 2014 iPhone and this time we also hear about an earlier than expected release for the larger 5.5-inch iPhone 6.
For months the iPhone 6 release date rumors focused on a typical September release window for one of the new iPhone models and a holiday season release for a larger model, but this latest report suggests Apple is gearing up to deliver an iPhone 6 early.
We expect to see two iPhone 6 models in 2014, and most rumors agree that buyers can expect a 4.7-inch iPhone 6 that is designed for use with one-hand and a larger 5.5-inch iPhone 6 that is a Galaxy Note 3 or Note 4 competitor that will is more of a two-hand device. iPhone 6 rumors suggest Apple is closer to bringing the 4.7-inch model to production and every day we see new iPhone 6 mockups show us what a thinner and larger iPhone might look like.
As we draw closer to Apple's first major event of the year, where the clock will start ticking towards a fall iOS 8 release, this new report means potential iPhone 6 buyers should start saving, and possibly hoping for this means they will be able to buy the iPhone 6 before summer is over.
A report from Taiwan in the Economic Daily News claims Apple is ready for an early iPhone 6 release date in August 2014, for the 4.7-inch model. The larger 5.5-inch or 5.6-inch iPhone 6 release is reportedly not ready until September. These two devices combined could result in over 80 million iPhone 6 unit sold in 2014, according to the report.
This is the second time we've heard that Apple may be planning to shift the iPhone 6 release date up a month. In March Steve Milunovich, analyst with UBS, shared his insight into the iPhone 6 on the CNBC Smart Money: Half Time Report and told investors that the iPhone 6 release date is likely in August or September.
Both of these reports focus on the 4.7-inch iPhone 6, with a larger model coming later in the year. This would mark the first time Apple releases an iPhone in August, if it is true.
Four sources claim Apple is planning an iPhone 6 release date in September, including KDW Daewoo Securities, Ming-Chi Ku, Nikkei and the Industrial Commercial Times, though Milunovich also covers his bases with a possible September release. Ming-Chi Kuo shared his iPhone 6 release prediction in a massive report on what consumers can expect from a new iPhone in 2014. Kuo accurately predicted many iPhone 5s features ahead of the release. Kuo also tells investors that the iPhone 6 release date is
The rest of the iPhone 6 release date rumors point to a more generic fall or Q3 iPhone 6 release. This is no surprise considering Apple chose fall for the last three iPhone release dates.
We anticipate two iPhone 6 models with a new look, but that share a similar design. So far leaks point to a thinner iPhone 6 measuring 6mm to 7mm thick, down from a 7.6mm thick iPhone 5s. The design leaks suggest a look that resembles the iPad Air and the iPod touch 5th generation with curved edges and new volume buttons. The iPhone 6 may also feature a power button on the right side to make it easier to reach on a larger device. Inside expect an Apple A8 processor, 1GB RAM and sensors to track movement. We expect some iPhone 6 camera improvements, but there is not enough agreement on what to expect at this time.
If Apple does choose an iPhone 6 release in August, shoppers should expect a change in the Apple Back to School 2014 deals. During 2013 Apple offered a $50 gift card for the app store when a user purchased an iPhone 4, iPhone 4s or iPhone 5. Apple Back to School deals typically last into September and always end before a new iPhone is announced. Even though the iPhone 5s deals arrived fairly quickly in 2013 Apple is not likely to offer the equivalent of 25% off the iPhone 6 price the same day it goes on sale.
So far in 2013 Apple retired the iPad 2 and brought the iPad 4 back from the dead, delivered a new MacBook Air with a $100 price cut and, well, that's about it. The first half of 2013 will likely pass without any major Apple announcements as the company appears set to save new Apple products for the second half of 2014.
On May 6, 2014 Apple stock (AAPL) hit $600 for the first time since late 2012 when Apple announced the iPhone 5 and the iPad 4. The stock dropped back down to $585 on Friday as Apple appeared close to closing a deal to buy Beats for $3.2 Billion.
Here's a closer look at the iPhone 6 and other top Apple products we expect to see in 2014, including a new iPad Air and iPad mini with Touch ID.
Top 7 Apple Products for 2014: iPhone 6, iPad Air 2 & More
iPhone 6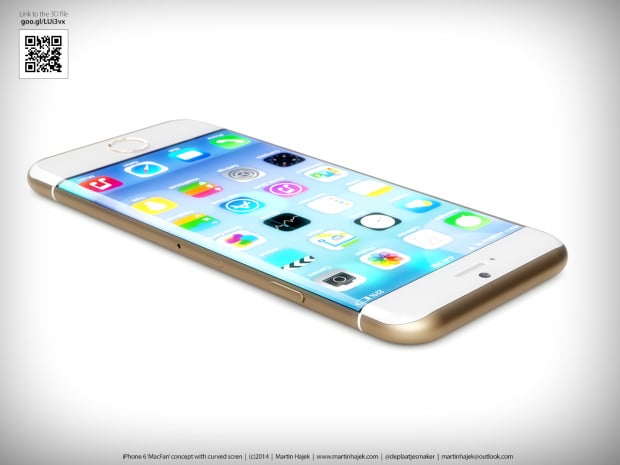 Demand for the iPhone 6 is the highest in years according to a recent survey, thanks to consumer interest in a new design and a larger screen.
iPhone 6 rumors started back in 2012, exploded in 2013 and as we move within six months of a rumored iPhone 6 release the rumors are starting to align and show a better picture of what consumers can expect from the most anticipated Apple product of 2014.

Two Models with Bigger Screens

iPhone 6 rumors, reports and analyst notes all point to an iPhone with a larger screen and many of the reports suggest Apple is planning to release two iPhone 6 models in 2014.

General consensus is Apple plans to offer an iPhone 6 with a 4.7-inch display and a higher resolution than the iPhone 5s. That is a screen size jump of .7-inch and would put the iPhone in line with top Android phones like the HTC One M8 and the Galaxy S5. Rumors do not agree on a resolution for this display, but do expect that it will be higher than the 1136 x 640 resolution on the iPhone 5s.

Another iPhone 6 model with a 5.5-inch or 5.7-inch display is also rumored for 2014, but many sources agree that it will arrive after the 4.7-inch model. This screen would be closer in size to the Galaxy Note 3 and the rumored Galaxy Note 4. This concept above from Martin Hajek includes a curved display, but don't expect that on a new device.

Possible iPhone 6 Features & Specs

Rumors suggest Apple is planning a thinner iPhone 6 that will be between 6mm and 7mm thick, a drop form 7.6mm on the iPhone 5s. We could also see more metal in the design and a power button on the right hand side with new style volume buttons on the left.

Expect an Apple A8 processor that delivers a small speed boost, but also delivers better battery life thanks to a improved efficiency. Ming-Chi Kuo believes we will see 1GB of RAM and an 8MP camera that may include some type of image stabilization.

For more check out our iPhone 6 Rumor Roundup.

As an Amazon Associate I earn from qualifying purchases.