Top 10 Galaxy Note 9 Settings to Change
If you just got a shiny new Galaxy Note 9 you'll find plenty of fun new features to play with and enjoy. Like the 960 FPS slow-motion video recording. In fact, there are several Galaxy Note 9 settings to change or features you can enable for a better experience. With that in mind, here we'll go over the first 10 settings you should change.
Some of these tricks we do on every Galaxy phone, while others are new to the Galaxy Note 9. Including enabling full screen apps, taking advantage of the S-Pen, using intelligent scan and more. Follow this guide to do more with your phone, personalize it, and enjoy all the Note has to offer.
Use and Customize the Always-On Display
Our first recommendation is to take advantage of the always-on display. And while some people might want to disable it at first, you'll love this feature as much as we do. Samsung's Galaxy Note 9 screen can give you quick at-a-glance information about the time, date, weather, battery levels and incoming notifications. Even when the screen is off.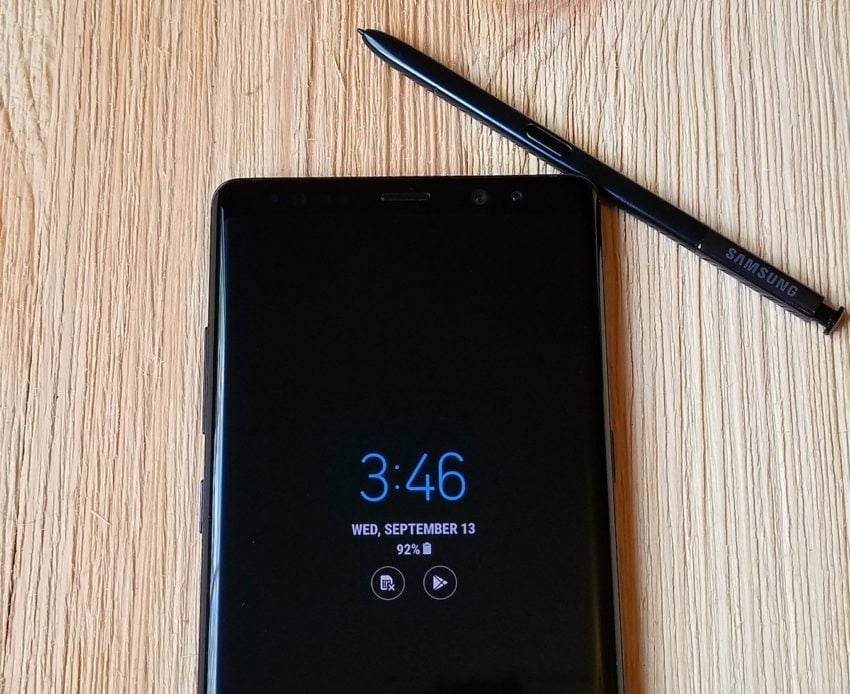 A small area stays on all the time, as the name suggests. Turn this on, enjoy it, and customize a few of the options. Head to Settings > Lock screen and security > Always On Display to get started. You can select what does, or doesn't, show up on the lock screen. Next, go to Settings > Lock screen and security > Clock and FaceWidgets to change the clock styles, colors, or widgets. You can also add background images, a GIF, calendar and more in a low-power always-on state.
This gives you tons of information without turning on your phone. It's helpful, convenient, and saves battery life.
Enable Full Screen Apps on the Note 9
The next thing you'll want to do is make sure every app or game you enjoy takes advantage of the entire 6.4-inch screen. It's big, wide, and longer than most Android screens. As a result, some apps don't use the full screen and you'll have black bars on the top and the bottom. This aspect ratio doesn't work right with a few apps, but we can force them into full-screen mode.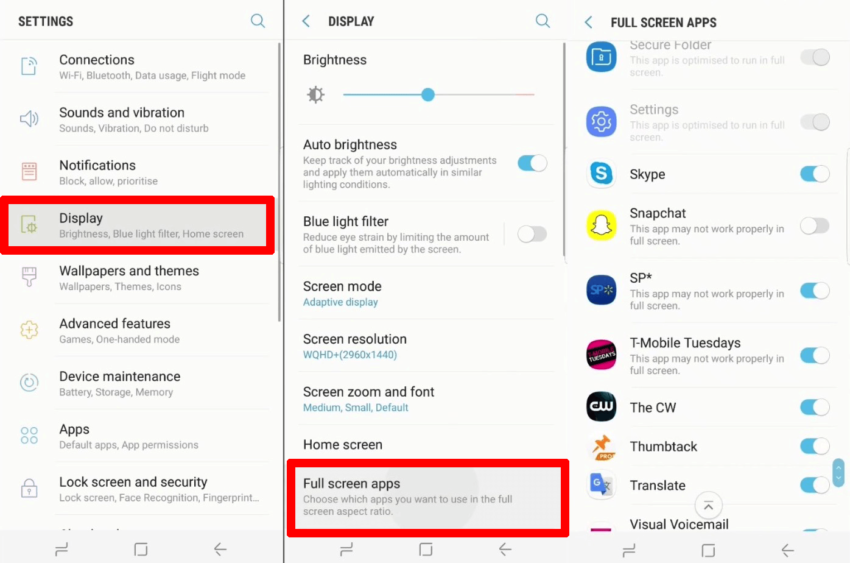 Here's how to enable full screen apps. Or, Just head to Settings > Display > Full Screen Apps > and enable any app that isn't highlighted. Most apps work fine, but a few, like Snapchat, didn't.
Bonus tip: pinch to zoom will expand YouTube to full screen on the Galaxy Note 9.
Setup Iris Scan & Face Unlock (Intelligent Scan)
While the fingerprint scanner is finally in the center, lower, and easier to press, it's not the only unlock method. With the Note 9, the facial scanning or Iris Eye scanner for unlocking the phone is better than ever. You'll want to use Samsung's latest version, known as Intelligent Scan.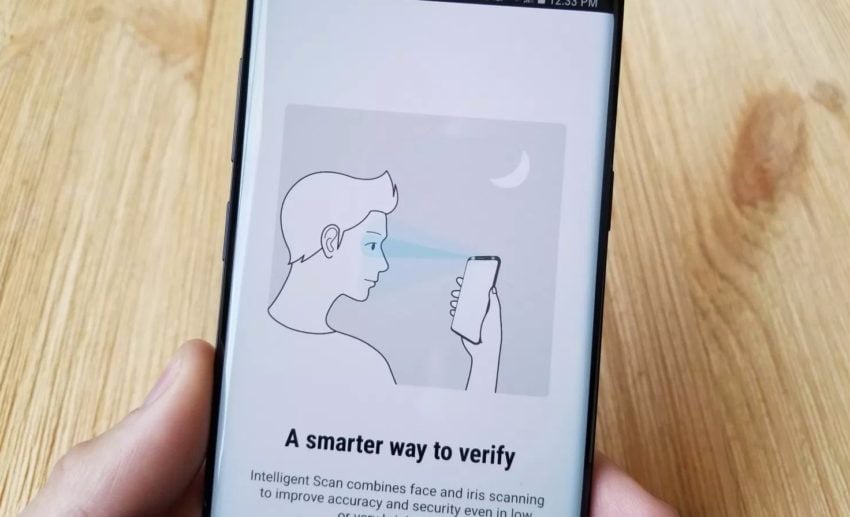 Intelligent Scan uses both Face unlock or Iris scanning, or both, to unlock your phone as fast as possible. To start, go to Settings > Lock screen and security > Intelligent Scan and follow the prompts to get all set up.
One of my favorite Galaxy features is being able to quickly launch the camera at any moment. Perfect for getting photos in any situation, even when the screen is off. Simply double-tap the power button very quick, and the camera will fire up.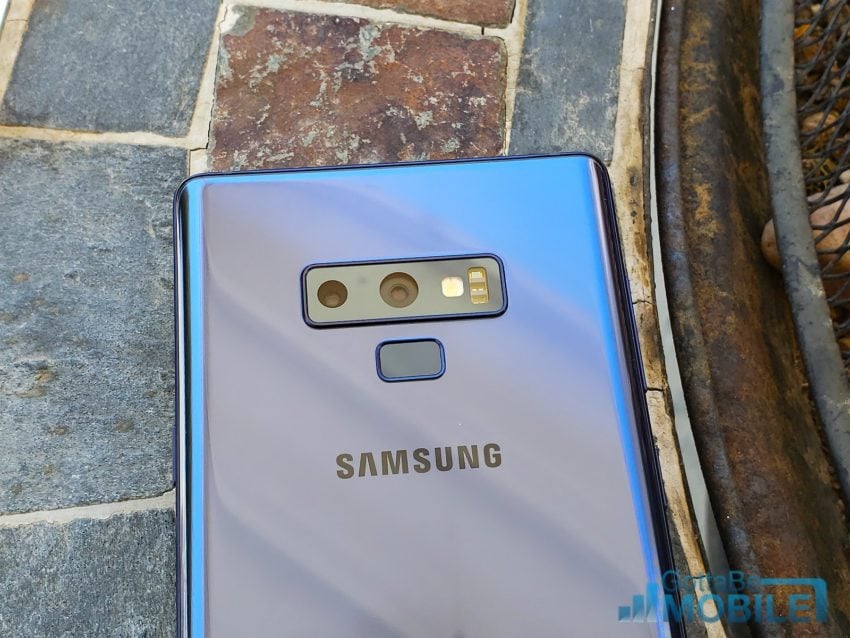 If you didn't turn it on already, Open the camera and in settings enable "Double Tap Power Button to Quick Launch Camera". Now, no matter what you're doing double tapping the power button will instantly start the powerful two cameras on the back. Snap some photos or quickly record a slow-motion video.
While you're in the camera settings turn off shutter sounds, and even turn on voice controls so you can snap photos hands-free.
Add an SD Card and Set Camera to SD Storage
While we're talking about the camera, if you're using a microSD card you'll want to make sure things save to it, and not the internal storage. Buy a Galaxy Note 9 MicroSD card from here. Then, watch our quick video below on how to install it.
Once you install a microSD card you'll want to switch everything to it. Fire up the camera app, tap settings, and scroll down to "storage location" and set it for "SD Card" rather than internal storage. That way you won't waste precious internal storage on all the photos and video you'll be taking.
Another crucial step is to use and take advantage of Do-Not-Disturb. This is a feature that everyone should use. I have Do-Not-Disturb to automatically come on at 10:45 PM each night, and turn off at 6:30 AM. That way nothing bothers me while I'm sleeping.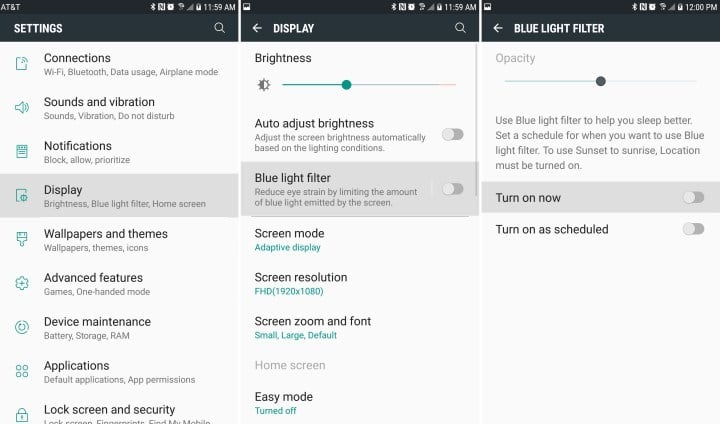 Head to Settings > Sounds & vibrations > and scroll down to "Do-Not-Disturb" and turn it on with a set schedule. Owners can even customize it so alarms can still get through, or repeat callers in case of an emergency. There are even exceptions like specific friends or family members can still call or text you, while everything else gets silenced until morning. We highly recommend using this.
Then, use the Blue light filter which works like Night Shift on the iPhone. Go to Settings > Display > Blue Light Filter and customize this too. I have it set to a schedule to come on at night, and turn off in the morning.
What does this do? It actually eliminates blue light from the screen. This helps prevents eye strain and reportedly helps calm the brain at night so you fall asleep easier and faster. The blue light is a stimulant, increases melatonin, and keeps you awake.
Change the Screen Resolution to Quad-HD
You paid $999 for a phone with a big 6.4-inch beautiful 2560 x 1440 Quad-HD AMOLED display, so use it. Out of the box, Samsung has it set to 1080p Full HD, but we can quickly change it.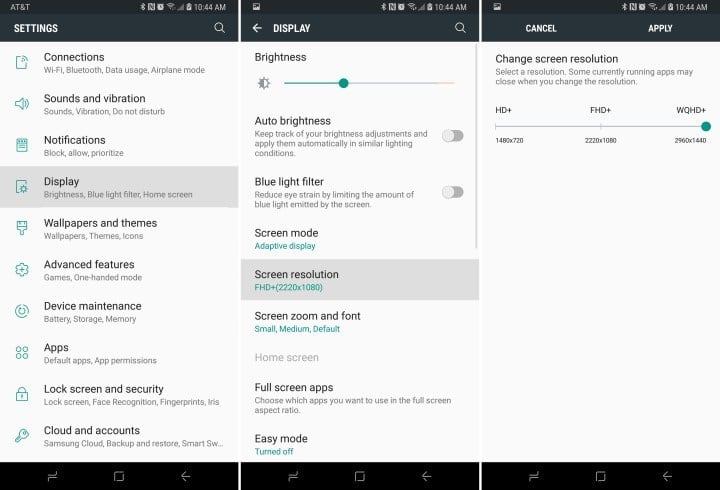 All of Samsung's recent phones ship with the screen in FHD+ mode. This may help with battery life, but it also means you aren't getting the full resolution that the screen can offer. Upgrade your screen instantly in settings.
Go to Settings and search for Screen resolution. Slide it over to WQHD+ 2,560 x 1,440 and hit Apply.
Get Your App Drawer Button Back
I hate change. So not only do I install the Google Now launcher and a theme to replace Samsung's on-screen buttons, but I make sure to get my app drawer button back. Instead of swiping up to access all of your apps, follow these steps to get that little white "app tray" button back.
Long press a blank space on your screen, like when you're changing the wallpaper. You'll then see a home screen layout edit menu. Tap the gear-shaped settings button. Now, hit the option in settings labeled Apps Button and select show apps button. Hit back or go home and you'll see that familiar white button to launch your tray of applications.
Disable Bloatware
If your Galaxy Note 9 came from a carrier like Verizon or AT&T, you probably have lots of bloatware on your phone. What is "bloatware" you're wondering? They're the dozens of apps that come pre-installed, wasting space, that you'll never use. AT&T adds the most, followed closely by Verizon. Carriers add these apps as partnership deals to make money.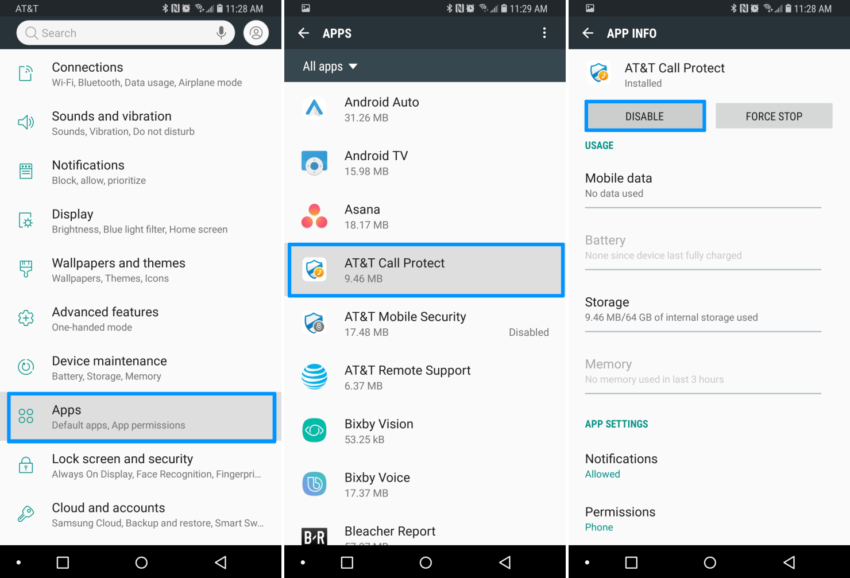 Go to Settings > Apps > and simply start scrolling down the list and disable anything from AT&T, T-Mobile, Verizon, or Sprint. As you see above I've selected AT&T Call Protect Blocking (an app I don't want to pay monthly to use) and then just hit Disable. This is as close to uninstalling bloatware and junk apps as you're going to get without modifying your phone. You can't uninstall them, but you can disable these apps. That way they're out of sight, out of mind.
I disabled everything from Amazon, AT&T, AT&T Data Usage Manager, Lookout Mobile Security and a few others. Same goes for Verizon apps, T-Mobile stuff, and Sprint NASCAR additions. Just be careful here and only delete what you understand. If you disable too much, you could harm your device or its performance.
Samsung Theme Store, Samsung Pay & More
In closing, we wanted to highlight a few other settings to change or things to try that we think are important or worth mentioning. The first one being Samsung's theme store. Go to Settings > Wallpapers & themes > and look around. You can customize the entire look and feel of the phone, change the icons and more. I'm running a stock Android theme with Google Pixel icons.
Change the wallpaper, theme, icons, or the always-on display and make your phone yours. We also recommend heading to Settings > Display > Navigation Bar > Button Layout to change the on-screen buttons. That way the back button is on the side you want it on.
Next, Samsung Pay is by far the best mobile payment system available, so enjoy it. You can use your Galaxy Note 9 to pay for stuff anywhere Apple Pay or Google Pay works, known as NFC terminals. However, it's also backward compatible with magnetic swipe card terminals (MST) and works at 95% of stores in the United States. It's incredibly convenient. Click the Samsung Pay app to get started.
Last Minute Tips
Don't forget to setup the fingerprint scanner, use the secure folder, turn on the "edge" features you'll use the most, and try "Smart Lock". Go to settings and type smart lock, turn it on, and enjoy the benefits. This nifty feature unlocks your phone for you, so you're not always tapping the fingerprint scanner or entering a password when you're in the safety of your own home or car.
Read: How to Change the Note 9 Lockscreen, Wallpaper & Themes
And while these aren't settings to change, you'll want to check out the powerful new cameras and that 960 frames per second slow motion mode. In fact, here are 10 cool things the Galaxy Note 9 can do.
In fact, give the settings menu a good glance to learn all about your new phone. If you're already dealing with problems here are some common issues and how to fix them, tips to improve battery life, and 15 of the best Galaxy Note 9 cases.

As an Amazon Associate I earn from qualifying purchases.