Galaxy Note 10 vs OnePlus 7 Pro: What You Need to Know
The OnePlus 7 Pro is a big and powerful phone with a lot to love, but so is the new Samsung Galaxy Note 10. In this post, we'll go over how the two compare so you can choose what's best for you.
Samsung released two different models of the Galaxy Note 10 this year, including one with a smaller screen for those that don't want a huge phone. This puts the OnePlus 7 Pro right in the middle of both, making the choice even more difficult for potential buyers. Here's what you need to know.
The OnePlus 7 Pro is an excellent phone with a lot to love. So much in fact, that a lot of people already chose it over Samsung's latest. Whether that's the huge 6.7-inch 90 Hz display, triple rear cameras, or because it doesn't have a notch in the bezel-free display.
That doesn't mean the OnePlus 7 Pro is the better phone or even the better phone for you. They both have pros and cons, differences, and strengths. You have to choose if you want a notch or not, the screen size, if the S-Pen is important to you and more.
So, if you're still rocking an old Galaxy S8, Note 5 or even the OnePlus 5T and are trying to decide which phone to buy next, you've come to the right place. This is our Galaxy Note 10 vs OnePlus 7 Pro comparison for those on the fence.
Galaxy Note 10 vs OnePlus 7 Pro: Display & Design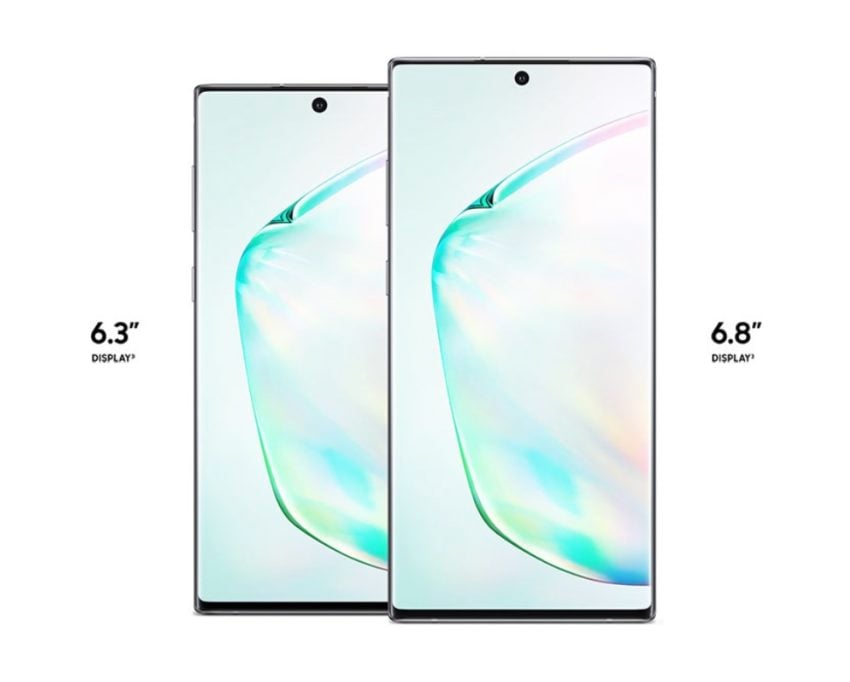 First things first, we should probably talk about the display. Mainly because that's one of the single most important aspects of the purchase decision for most buyers. Depending on the size of your last phone, this will be a big deal.

Galaxy Note 10 - 6.3 inch curved 1080p HD OLED display
Galaxy Note 10 Plus - 6.8 inch Curved Quad HD OLED display
OnePlus 7 Pro - 6.67 inch Quad-HD AMOLED (90Hz) display
This year OnePlus finally upgraded the display above 1080p, offering a beautiful Quad-HD curved AMOLED display (just like a Samsung Galaxy) on the OnePlus 7 Pro. It's bigger than any previous model, too.
Aside from the bigger 6.67-inch OnePlus 7 Pro size and 2k resolution is the 90Hz refresh rate, which Samsung isn't offering. That means it refreshes 90 times per second, compared to just a 60Hz refresh rate from Samsung, Apple, and most other phones.
That's a big screen with zero bezels, too, as the OnePlus 7 Pro features a pop-up selfie camera and absolutely no notch, no cutout in the screen, nothing. It's all display up front taking up 93% of the screen-to-body ratio. Samsung, on the other hand, has a small circle cutout in the top middle of the screen for the front-facing camera. It's not a notch, but it's close.
Which size do you want? 6.67-inches could be too big if you have small hands. The Note 10 is slightly smaller, while the Plus-sized Note is a little bigger than the OnePlus 7 Pro. Keep in mind that the smaller Note 10 only has a 1080p screen.