Which Galaxy S7 Color to Buy: Black, Gold or Silver?
There are only two Samsung Galaxy S7 color options to choose from, and three for the Galaxy S7 Edge. None of those are White. As a result many buyers are already asking, "Which Galaxy S7 color should I buy?"
Samsung's new phone for the first time in a while doesn't come in White, at least not in the United States, not yet. For whatever reason Samsung ditched white for US carriers, and saved Titanium Silver as an exclusive for the Galaxy S7 Edge. This year Samsung refined the design, rounded the edges, and delivered a new color many buyers will love.
Read: Best Samsung Galaxy S7 Deals
We've seen gold, black and white Galaxy S smartphones before, but the new design and layered metal and glass design really makes the colors pop. At the same time, the Gold model is a fingerprint magnet, and gets dirty rather quick. Those wondering what to buy will want to read on to see pictures, advice, or details on where to try them early before you pick a Galaxy S7 color.
In past years Samsung's announced phones in a myriad of different colors, but they're never available in the United States. Many loved the Silver Galaxy Note 5, but it wasn't offered in the US. Instead carriers had the blueish black, and white. No other option was available. The Gold Galaxy S6 was extremely popular, as was the gold Galaxy S6 Edge+, and this year Samsung is taking a slightly different approach.
The Samsung Galaxy S7 will be available in the United States in two colors: Black Onyx and Gold Platinum. The Galaxy S7 Edge will come in: Black Onyx, Gold Platinum and Silver Titanium. The image above shows all the choices for potential buyers.
For those trying to decide which Galaxy S7 color to buy, we have good news. Starting today, February 24th the Galaxy S7 and S7 Edge is on display in select Best Buy retail stores. Users can try all three colors, see what looks the best, choose what's right for them, and place a pre-order. Best Buy is giving away a free Gear VR and 64GB micro-SD card with all orders too, which is a great Galaxy S7 deal. On the 26th all carriers in the United States will have them on display too, so users can head to AT&T or Verizon to see it as well.
Galaxy S7 Colors: Entertainment
With two Galaxy S7 and three Galaxy S7 Edge color options to choose from, users will want need to make a choice based on how they use their device, personal preference, and how distracting the color around the display is.
Personally Black is my favorite, as Samsung's LED notification light is easiest to see. It was always more difficult to see on the White model, which isn't be offered this time around. We saw a White Galaxy S7 during the announcement, but no US carriers seem to have it.
Gold and Silver will both be rather easy to deal with, but try them yourselves to know for sure. When picking out a new phone, some users find a color other than black around the screen distracting. The bezels around the black Galaxy S7 are like those on your HDTV and computer monitor. A black bezel can deliver a more immersive experience for users while watching movies or TV shows and while playing games. It seems silly, but try the Gold model and you'll quickly notice how beautiful it is, but distracting at the same time. The Black Galaxy S7 Edge appears to only have two bezels, which makes it best for viewing content. Those curves look great.
It's all about personal style or preference, but with White no longer being offered the choice should be rather easy for most potential buyers.
Galaxy S7 Colors: Scratches & Discoloration
The two biggest concerns about the buying the right Galaxy S7 color in the long run are, "Will it scratch easily? and "Will the color wear or discolor after use?"
Samsung's new design has the colors under a durable Gorilla Glass 4 panel, so they'll never scratch, fade, or start to look weathered. That said, the screen or back glass could scratch and make them more noticeable. Black will be the easiest to see, while Silver will probably show the least.

All said and done it comes down to personal preference, or style. Those who wear a lot of gold, or have gold watches or headphones, may want to Sprint for the beautiful new Gold Galaxy S7 or Galaxy S7 Edge color. I love the look of Gold, but using it is another story completely.
Galaxy S7 Color: Fingerprints
Due to the nature of the design, fingerprints are going to be inevitable. The glass on front and back shows every single print. Black makes it obvious, but for whatever reason the Gold Galaxy S6 was the worst in terms of fingerprints for me. The silver model will probably mask this best, but try it yourself at Best Buy or carrier stores to know for sure, before you buy.
If a White model is eventually released, that would probably be the best choice. However, it doesn't look like any carriers will be offering one at this time.
Galaxy S7 Cases
Samsung and its partners are offering a wide array of cases. Many of them are clear, to show off the beautiful design, while others have colored bumpers around the edges to match as well.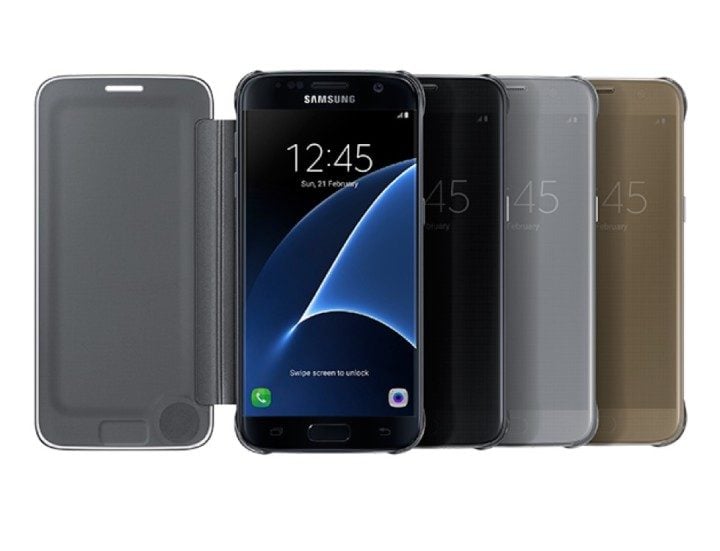 Black is the best choice as it works with everything, so that's something to consider. Choosing gold may limit case options, although most appear to have a Gold case available, including Samsung.
Read: 11 Official Galaxy S7 Accessories & Cases
All of Samsung's official accessories come in all three colors, or Black and Gold for the Galaxy S7, to be perfect. This includes the new battery pack case offered by Samsung as well. Meaning choose whatever color you want, then one of Samsung's official accessories linked to above.
Which Galaxy S7 Color Should I Buy?
When it comes down to it, the Galaxy S7 color option a user chooses is completely up to personal preference. In a survey of nearly 30,000 iPhone buyers last year the black option was the most popular, with a near tie for the silver(white) and gold models. Here's the bottom line on picking a Galaxy S7 color.
Black Onyx Galaxy S7 – You'll be watching a lot of movies, you don't like white phone fronts.
Gold Platinum Galaxy S7 – You want a flashy Galaxy S7 that stands out and you don't plan on using a case.
Silver Titanium Galaxy S7 Edge – You want a one-of-a-kind color that is only offered on the Edge, works good with cases, and is truly unique.
Or of course buyers could just simply get one of the many Clear cases as outlined below. Let us know which Galaxy S7 color or Galaxy S7 Edge color you plan on buying.
20 Best Samsung Galaxy S7 Cases
Galaxy S7 S-View Flip Cover (Clear)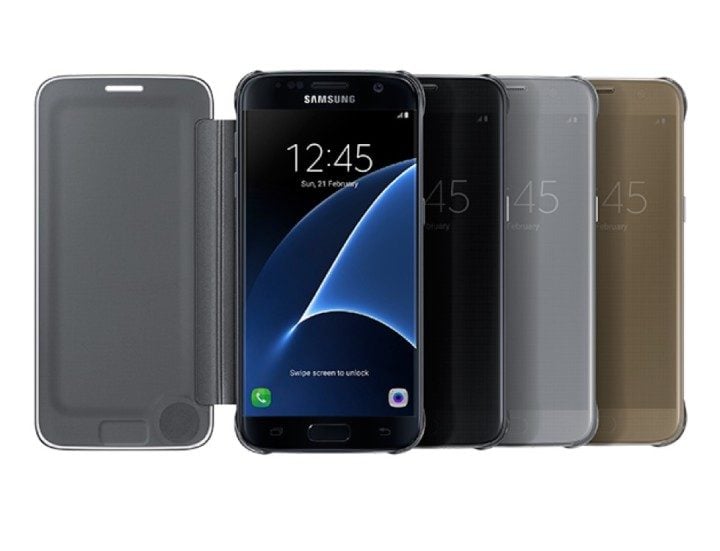 First up is a fan-favorite, the official Samsung S-View flip case. For the S7 Samsung actually has three different S-View Flip cover cases. There's the traditional flip cover with a window like previous years, then a completely clear one and an LED flip case. Our favorite is the clear case. This offers a full view of the entire screen, not just the small cutout like previous years.
This case gives you quick access to information on the screen, even when the case is shut. It's at-a-glance information, and it's one of Samsung's most popular cases. You can even answer a call or take a photo without opening the front. This one also has a new notification bar (while the case is closed) allowing users access to more than just missed calls or texts.
Buy it Now for $59.99 in three colors