God of War 4 Gameplay Video from E3 2016 You Need to See
A live demo of God of War stunned viewers at the start of the 2016 Sony E3 presentation. This offered our first look at the God of War 4 gameplay for the next game in the series.
Although this is simply titled God of War, this is a game that many of the community are already calling God of War 4.
We don't know the God of War 4 release date yet, and there is frankly not a lot of information about the game yet.
The 10 minute God of War e3 2016 gameplay video below introduces you to this PS4 exclusive that is coming in the future.
Unlike most of the games we are seeing at E3 2016, this was a live demo, with someone playing the game on stage. This is real gameplay, not a pre-rendered cutscene.
Whether this comes as God of War 4 or simply as God of War — this is a huge reveal. In the trailer we see Kratos teaching a small boy how to hunt, when they are attacked by a group of enemies and then by a massive troll.
At the end of the short video we see Kratos teach the boy to kill the deer and then the world comes into view. A dragon flies across the sky as Kratos announces that this is a new beginning.
With no announcement at the event, a God of War 4 release date is very unlikely in 2016 and almost certainly set for 2017 or later.
There is a chance we will learn more about the new God of War game later in the evening as Sony shares many new games.
15 Exciting 2016 PS4 Games
No Man's Sky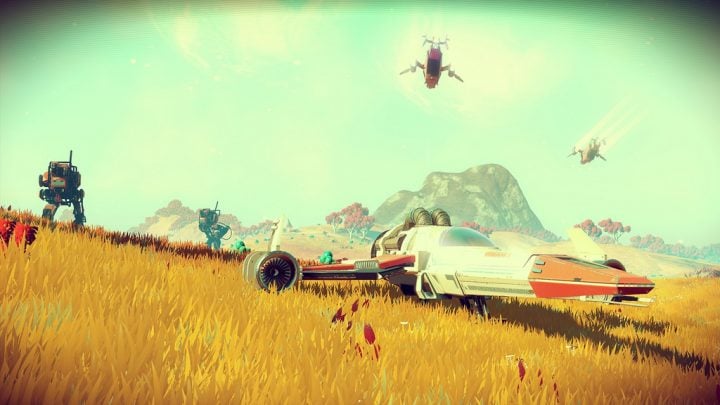 No Man's Sky Release Date: August 9, 2016, PS4 & Windows
No Man's Sky is a constantly generating open galaxy game with space exploration, world exploration and more as you work through an ever-expanding solar system of planets. Each of these planets is filled with new species and a new landscape.
Your goal is to find ancient artifacts that will help you understand the universe. As you make discoveries you can share with other players or keep it all a secret. As you explore and interact with worlds you can leave a trace of yourself behind.
In addition to the digital release there is now a Blu-Ray release of the game.

As an Amazon Associate I earn from qualifying purchases.