Google PixelBook vs 2017 Surface Pro: Which Should You Buy?
The new Google PixelBook is a productivity powerhouse that runs Chrome OS and transforms into a tablet. This makes it a great alternative to the 2017 Surface Pro. And that can make choosing between the two convertibles difficult. We're here to help you pick the right device for your needs.
Google designed its own laptops and tablets before, but it's never designed one device that can act as both. The Google PixelBook brings Intel's 7th Generation processors, a full-size keyboard and a 12.3-inch display to the table starting on October 31st.
The 2017 Surface Pro is an evolution of Microsoft's original tablet. It has 7th Generation Intel processors and a touchscreen too. It's also designed to make staying entertained and productive easy wherever you are.
Here's how the new Google PixelBook compares to the 2017 Surface Pro.
Google PixelBook vs 2017 Surface Pro: Design & Internals
The Google PixelBook looks like a high-end laptop. Machined aluminum makes up almost all its shell. A white glass window on its lid lets wireless radios inside it talk to Wi-Fi routers and Bluetooth accessories, and a white lower keyboard deck gives buyers a nice place to rest their wrists. The laptop is around a fourth-of-an-inch thick and weighs 2.4 pounds.
Google designed the PixelBook around different modes, and each of those modes has their own advantage over the others. Its laptop mode makes use of the built-in soft touch keyboard and spacious trackpad on the keyboard deck.
Special hinges allow users to transform the PixelBook into its other three modes. Tablet Mode hides the keyboard behind the display. And using the keyboard as a kickstand lets you get the 2400 x 1600 12.3-inch display closer to you for watching a video and interacting with apps. Tent Mode does the same thing, but puts the backlit keyboard facing outward.
You can buy a Google PixelBook with a 7th Generation Intel Core i5 or Intel Core i7 processor. There are only two RAM options to choose from: 8GB and 16GB. The more RAM you have, the better your PC handles multiple apps. A 720p web camera sits on the device's bezel, and there's a gyroscope motion sensor, magnetometer and TPM security chip inside the machine. TPM chips help keep your data safe, and Google is including free antivirus on the machine to keep viruses and malware away.
The PixelBook isn't the device to buy if you need lots of port. It only has two USB 3.0 Type-C ports. Luckily, Google includes an adapter so that you can use these ports with devices that require a full-size USB port to work, like printers and game controllers. There's also a headset jack.
You get everything that you need to stay productive when you by a Google PixelBook. That's something you can't necessarily say about the 2017 Surface Pro. It's a 12.3-inch tablet that has a kickstand. To get a keyboard and trackpad you need a $129 Surface Type Cover. The Surface Pro has a 12.3-inch 2786 x 1824-inch display.
You won't notice the Surface Pro in your bag because it weighs 1.70 pounds and is only a third-of-an-inch thick. That's without the Type Cover that you need to stay productive though.
Inside, these two devices are very similar. You can get an Intel Core m3, Core i5 or Core i7 processor in the 2017 Surface Pro. These are the same generation of processors that the PixelBook uses. You also get a TPM switch for extra security. RAM starts at 4GB and expands to 16GB. An ambient light sensor and accelerometer let you play some motion games with the tablet.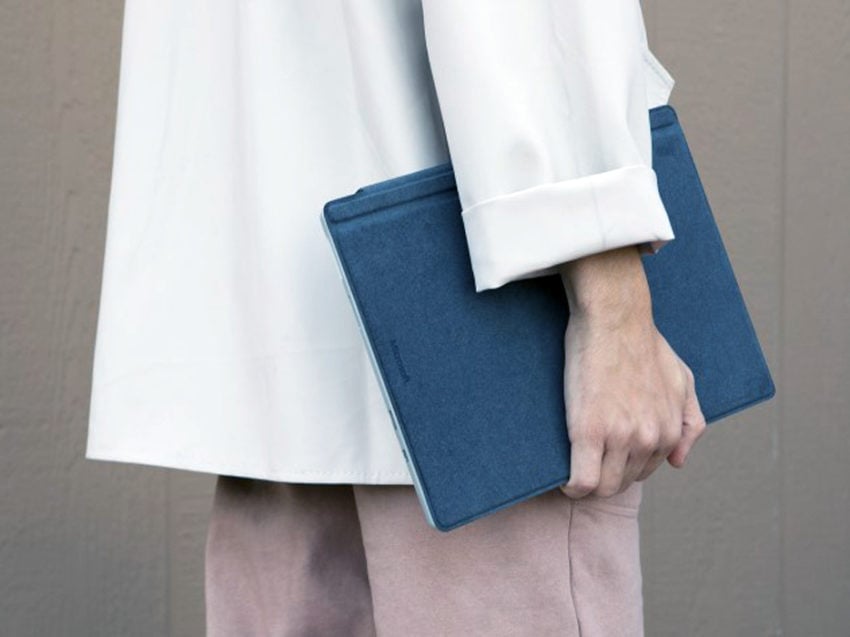 Finally, there are many ways to connect the Surface Pro to other devices. There's a full-size USB 3.0 port on one side and a headphone jack on the other. You connect a monitor to the device using the DisplayPort on its right edge. A MicroSD Card slot behind its kickstand provides an easy way to boost storage and move photos from your phone to your PC.
Unlocking the Surface Pro is easy. You just gaze into its 5.0-megapixel Windows Hello camera.
Battery Life
Any device that travels with you daily must have great battery life. The Google PixelBook certainly does; it lasts 10 hours between charges. Also, fast charging technology inside the machine gets you two hours of battery life in just 15 minutes. That's impressive.
Surface Pro lasts for 13 hours of video playback and around 9 hours of real-world productivity in my testing. Unfortunately, the device doesn't have fast charging and getting back to a full charge takes two hours.
Google PixelBook vs 2017 Surface Pro: Software
Keep software in mind as you consider which of these convertibles is right for you.
The 2017 Surface Pro comes with Microsoft Windows 10 Pro. This is the best version of Windows you can have on your notebook, desktop or tablet. With it, you can install programs from the internet and install apps from Microsoft's Windows Store. If you have Windows software already, like Microsoft Office, you can use it on the Surface Pro.
Chrome OS comes on the PixelBook. You can't install the millions of programs you can on Windows, but there are enough apps to help you stay productive and entertained. Gmail, Google Calendar, Evernote, Google Docs, Google Drive, Slack, TuneIn Radio, Spotify, Netflix and Google Play Music are all available on the device. Chrome acts as its Chrome OS' web browser, letting you sync your passwords, browsing history and favorites from your phone.
Read: 20 Best Android Apps for Chrome OS and Chromebook
Google PixelBook vs 2017 Surface Pro: Drawing
Both Microsoft and Google have bet big on drawing and notetaking.
You need the $99 Surface Pen to write and sketch with the Surface Pro since Microsoft doesn't include one with the tablet. The device's display detects 4,096 different levels of pressure from the accessory as you write, and it knows if you're tilting it. Microsoft also sells the Surface Dial, a $99 digital dial that lets artists change line thickness and switch pen colors without using on-screen controls.
Surface Pro comes with OneNote for digital note-taking and a Sketchpad app for drawing things quickly. Also, Microsoft Office and the Cortana personal assistant work with the Surface Pen.
We don't know how pressure sensitive the $99 PixelBook Pen is. We do know that it can detect the direction it's titled in. A button on the PixelBook Pen lets you circle images and words on your screen to get more information about them from the Google Assistant.
Google is building out a healthy stable of pen-ready apps of its own. Evernote, AutoCAD, Google Keep, Jamboard and Infinite Painter all work with the Google PixelBook's pen accessory.
Google PixelBook vs 2017 Surface Pro: Price
The Google PixelBook and 2017 Surface Pro are both premium computers.
You save some money by buying the 2017 Surface Pro only if you stick to its cheapest model. A 2017 Surface Pro with 128GB of storage, an Intel Core m3 processor and 4GB of RAM costs $799. Just keep in mind that this model isn't as powerful as the cheapest PixelBook.
You need to spend $1,299 to get a Surface Pro with the same internals as the $999 Google PixelBook. Also, you still need to buy a Surface Type Cover to get the most of the device. That's another $129.99 to add to your costs.
The Surface Pro is more expensive at all levels. Google has plans for a Google PixelBook with an Intel Core i7 processor, 16GB of RAM and 512GB of solid-state storage. That's a pretty powerful mobile computer. This model will cost $1,650 when it arrives at the Google Store. Buying a 2017 Surface Pro with the same internals will cost you $2,199 today. Don't forget that you still need a $129.99 Type Cover to get work done with it away from home.
| | Google PixelBook | Surface Pro | | |
| --- | --- | --- | --- | --- |
| Intel Core m3 Processor, 4GB of RAM and 128GB of Storage | - | $799 | | |
| Intel Core i5 Processor with 4GB of RAM & 128GB of Storage | - | $999 | | |
| Intel Core i5 Processor with 8GB of RAM & 128GB of Storage | $999 | $1,299 | | |
| Intel Core i5 processor, 8GB of RAM & 256GB of storage | $1,199 | $1,599 | | |
| Intel Core i7 processor, 16GB of RAM & 512GB of storage | $1,650 | $2,199 | | |
| Intel Core i7 processor, 16GB of RAM & 1TB of storage | | $2,699 | | |
| | - | $129 for Surface Type Cover | | |
Google PixelBook vs 2017 Surface Pro: Which Should You Buy?
Changing operating systems requires you to switch your workflows. If that doesn't sound like something you want to try, the 2017 Surface Pro is for you. It gives you access to everything you already know in Windows 10. It's also a solid tablet with a great writing and drawing experience.
Not long ago, that would be the end of the comparison, but not anymore. You either have a phone running Android in your pocket or an iPhone that has plenty of Google apps installed. On Windows, these apps and services live in a browser. In Chrome OS they're ready and available for you in a new way and they integrate with those phone apps seamlessly. Throw in a clear pricing advantage and the Google PixelBook is the overall best buy for shoppers that use Google services already and don't have programs that tie them to Windows.
Google PixelBook pre-orders are available now at the Google Store.

As an Amazon Associate I earn from qualifying purchases.