2017 Surface Pro Release Date, Features & Pre-Orders
Microsoft's 2017 Surface offers better battery life and new pen features to what is already considered a great way to stay productive and watch videos.
The Surface Pro looks like a 12-inch tablet, but it's more than just another tablet. The hardware inside lets users install touch-friendly apps from Microsoft's Windows Store and programs from the internet. The keyboards and built-in kickstands let buyers use them as laptops when they need to get work done. The Surface Pro 4 and Surface Pro 3 account for most Surface sales, according to Microsoft.
Together with the Surface Laptop, Surface Studio and Surface Book, the new Surface Pro finally gives Microsoft an up-to-date line-up for every kind of Windows user.
Here's everything you need to know about the 2017 Surface Pro release, including its new features and updated accessories.
2017 Surface Pro Features
The 2017 Surface Pro is more than a processor upgrade and less than a complete redesign. It's still a tablet with the internals of a laptop. The device's magnesium body is one-third of an inch thick, making it just as thin as the Surface Pro 4. The 2736 x 1824 12.3-inch display isn't any sharper or brighter than the Surface Pro 4's.
Most of the upgrades are for Surface Pen lovers. The 2017 Surface Pro has a display technology that can sense when users are tilting the new $99 Surface Pen while drawing or taking notes. It's now capable of sensing 4,096 different levels of pressure from the accessory, too. Microsoft plans to deliver updated Office programs that include these new pen features. Kickstand upgrades let the 2017 Surface Pro achieve a 165-degree angle. Microsoft says that this new angle boosts comfort for users who draw and take notes.
This new Windows 2-in-1 isn't any thinner or lighter than its predecessor, but it is a better tablet and laptop. Using 7th Generation Intel Core processors and new cooling techniques allowed Microsoft to get rid of the fans on the Intel Core m3 and Intel Core i5 models. Nothing is more distracting than the hum the fans in older Surface devices make when you are watching a movie, reading a book or listening to music. The 2017 Surface Pro lasts for 13.5 hours of video playback, which is far more than the 9 hours the Surface Pro 4 is capable of. Loud 1.6-watt Dolby Premium Audio speakers let the tablet fill a room with sound while keeping down distortion.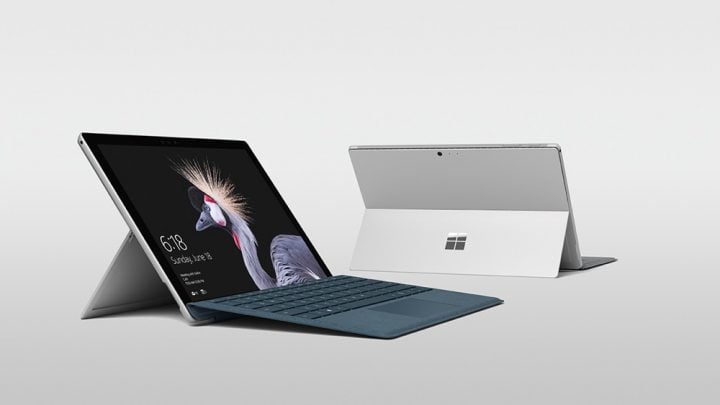 The 2017 Surface Pro will have LTE mobile data. That's the same technology that lets iPads connect to the internet when there's no Wi-Fi. The iPad and iPad Pro have had LTE for years, but Microsoft has never included it in a Surface Pro.
Read: iPad Pro Review: Why I Returned the 2017 iPad
2017 Surface Pro Release Date & Pre-Orders
The 2017 Surface Pro release date is June 15th. Past Surface Pro launches have happened in stages, but this launch is different. The 2017 Surface Pro will come to 26 countries on release day.
Both Best Buy and the Microsoft Store have 2017 Surface Pro pre-orders available. More stores and websites than these two should offer pre-orders as we get closer to launch.
2017 Surface Pro Specs & Price
Excluding the RAM, processor and storage, every 2017 Surface Pro has the same features. Each of them gets the 13.5 hours of video playback that Microsoft promises. They all have a 5-megapixel front-facing camera that lets users sign in with Windows Hello and a rear-facing 8-megapixel camera that supports autofocus. A microSDXC card reader, Surface Connect charging, headphone jack, Mini DisplayPort and a place to connect a Surface Type Cover come in each.
The new Surface Pro starts at $799. This model has an Intel Core m3 processor, 128GB of solid-state storage and 4GB of RAM. It uses Intel HD Graphics 615, which can't power demanding games, but handles photo editing just fine. The $799 2017 Surface Pro lacks a fan because the Core m3 processor doesn't need one.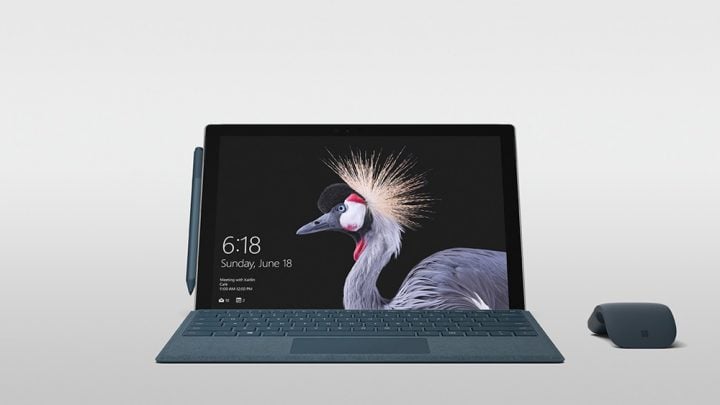 The Intel Core i5 model has 128GB of solid state storage, 4GB of RAM and no fan for the processor. Intel HD Graphics 620 are inside, which slightly boosts its performance for really basic games. This model costs $999.
There is just a single upgrade option for the new Surface with Core i5 processor. Shoppers can replace the model's 128GB of storage with 256GB of storage and double its RAM to 8GB. These upgrades cost $1,299.
The $1,599 model with Intel Core i7 has Intel Iris Plus Graphics 640 for better performance in games, video editing and 3D modeling. This 2017 Surface Pro's processor has a fan to expel heat.
Two upgrades for the model with Intel Core i7 processor are available.  The $2,199 model adds 512GB of storage and 16GB of RAM. Shoppers can boost the Core i7 model's storage to 1TB and add 16GB of RAM for a total cost of $2,699.
2017 Surface Pro Accessories & Accessory Compatibility
The 2017 Surface Pro works with all existing Surface accessories. The Type Covers from Surface Pro 4 and Surface Pro 3 dock to its connector just fine. It works with the older Surface Pen, but without the additional levels of pressure and tilt sensitivity for drawing. Docking though the Surface Connect port still works.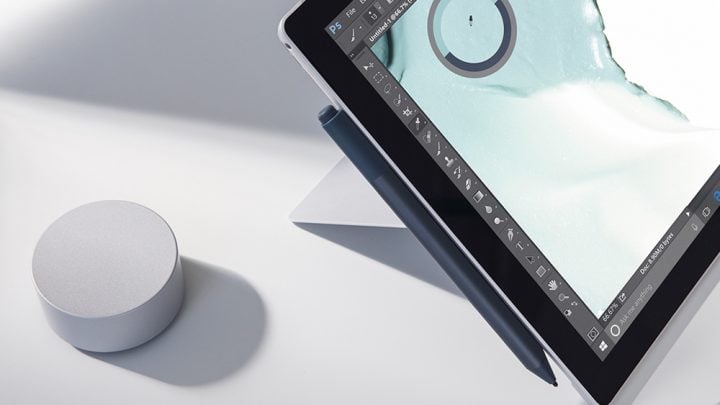 The 2017 Surface Pro doesn't come with a Surface Dial. That's the $99 accessory that lets Surface users change settings in apps and programs. Buyers can place the Surface Dial on the 2017 Surface Pro's screen to get options tailored to their apps.
New 2017 Surface Pro accessories are coming. Unfortunately, Microsoft has stopped including the Surface Pen with the Surface Pro. The new Surface Pen costs $99 and comes in black, silver, burgundy and cobalt. It no longer has a clip for securing it to a shirt pocket or the cover. Instead, its magnets let it snap to the left side of the 2017 Surface Pro.

Another generation of Surface Type Covers is on the way. These 2017 covers come in silver, burgundy and cobalt and are covered in Alcantara fabric. Microsoft says that Alcantara is softer than the fabric on the Surface Pro 4 covers. Each of these covers costs $159.99.
2017 Surface Pro Deals
Best Buy has two 2017 Surface Pro deals. Shoppers that pre-order there can get $100 off their new device. The savings requires a College Student Deals membership, which is free but restricted to students. Best Buy will set up the Windows 2-in-1 and transfer any information that you have on your PC for free.
10 Best Surface Pro Alternatives in 2020
ThinkPad X1 Tablet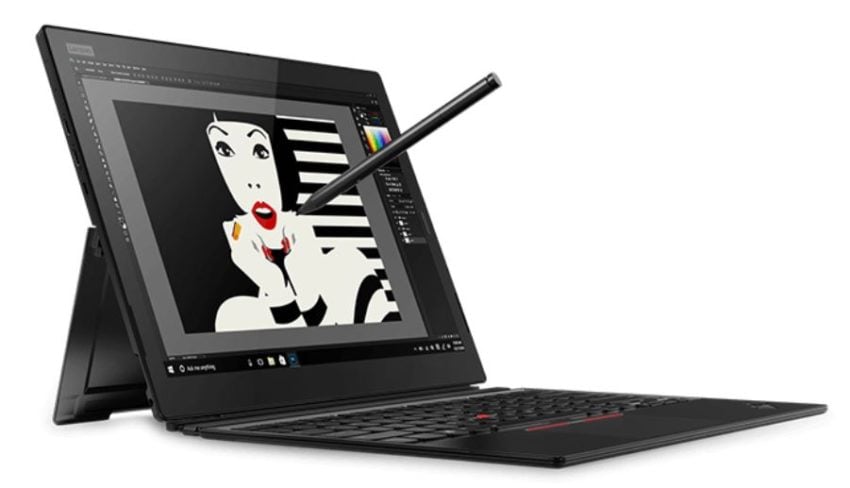 The ThinkPad X1 Tablet offers a lot of great features: a durable shell, an amazing display and Amazon's Alexa personal assistant.

The ThinkPad X1 Tablet has a 13-inch display. And, despite its good looks, the device has passed 12 military torture tests to ensure it can survive dust storms, cold temperatures, drops and spills. Finally, If you don't find Microsoft's Cortana personal assistant useful, the ThinkPad X1 Tablet has the same Alexa personal assistant your Echo smart speakers do. A Surface Pro won't survive a drop or spilled liquid and Cortana isn't as useful as Alexa is.


Read: ThinkPad X1 Carbon, X1 Yoga and X1 Tablet Have Stunning Display and Alexa


The third-generation ThinkPad X1 Tablet has powerful processors, plenty of RAM and other options. Models come with up to an 8th generation Intel Core i7 processor and 16GB of RAM. You won't get stuck waiting for web pages to load or your photo editor to process your touch-ups. If you don't like passwords, use the IR camera on the front of the ThinkPad X1 Tablet to sign into Windows. This 2-in-1 also has a fingerprint reader.

The ThinkPad X1 Tablet's screen detects 4,096 different levels of pressure from its digital pen. Besides that, it's a really detailed display. Windows, your videos and everything else you do on it looks crisp and detailed. Again, it's three times as sharp as an HD display.

Like other Surface Pro 4 alternatives, this Windows 2-in-1 connects to its included keyboard cover using a special slot on its bottom edge. It has Thunderbolt 3 ports for fast data transfers, a MicroSD card reader and a headset jack. With LTE connectivity, you can add the ThinkPad X1 Tablet to your smartphone data plan. You can't do that with a Surface Pro 4.