How Long the macOS Catalina Beta Takes to Install
If you decide to install the macOS Catalina beta on your Mac it will take a while to download and install. You will need to make sure you have enough time to complete the download and then install it on your Mac. You will need WiFi and you should try and stay connected to power while installing the update.
We'll walk through how long the macOS 10.15 beta installation will take and help you figure out if you have enough time. There is a chance that your download will take much longer on the first day, but it shouldn't be too bad if you have a good internet connection.
Apple offers a developer macOS 10.15 beta today, but you can join without being a developer using our guide. Before you install, there are several things you should do so that you and your Mac are ready.
With the first macOS 10.15 beta out, we are hearing users ask us, " how long does the macOS Catalina beta take to finish?" That's what we'll try to help you estimate using a variety of factors.
You should plan on spending at least an hour on the process if you are already backed up and if you don't have any problems. The outlier will be the download time since this is a large download and connection speeds vary form user to user. Here's a breakdown of how long the macOS Catalina beta takes to finish;
| | |
| --- | --- |
| Task | Time |
| Backup to Time Machine (Optional) | 5 minutes to a day |
| macOS Catalina Beta Download | 20 minutes to an 2 hours |
| macOS Catalina Installation Time | 20 to 50 minutes |
| Total macOS Catalina Update Time | 45 minutes to 2 hours and 50 minutes |
This doesn't include the time it takes to download and install the macOS Developer Beta Utility, which should add a few minutes to the process. You need to make sure that you have a backup, since it is the easiest way to downgrade to macOS Mojave if you run into issues with the macOS 10.15 beta. If you aren't ready, that's a good reason not to install the macOS 10.15 beta yet.
Prepare for the macOS 10.15 Beta
Do not approach the macOS 10.15 beta the same way you do a traditional macOS update. This is a pre-release update that requires a little more planning and a little more prep work.
Here is a look at the things you need to do before you install the macOS 10.15 beta. It adds some time, but it will make your installation and any potential downgrade much easier.
macOS Catalina Beta Download Time
During the first day of the beta, the macOS Catalina beta download time will likely take longer than if you wait a few days. This is because many other users are trying to do the same thing. The other factor is your internet connection speed.
In our experience you can expect to spend at least 20 minutes downloading the update that should be around 5GB in size and for some home users it could take as long as two hours.
macOS Catalina Beta Install Time
The macOS Catalina Beta install time is between 30 and 60 minutes. This includes the download time and the installation time. If you choose to install to an external hard drive, you may need to budget a little more time than installing to an internal SSD or Fusion drive, but it shouldn't change things much.
While the macOS 10.15 beta is installing you cannot use your Mac for most of the time. During this part of the process, your Mac will be on a black screen installing the beta, so plan accordingly.
6 Reasons Not To Install the macOS Catalina Beta & 7 Reasons You Should
Install macOS Catalina Beta for New Features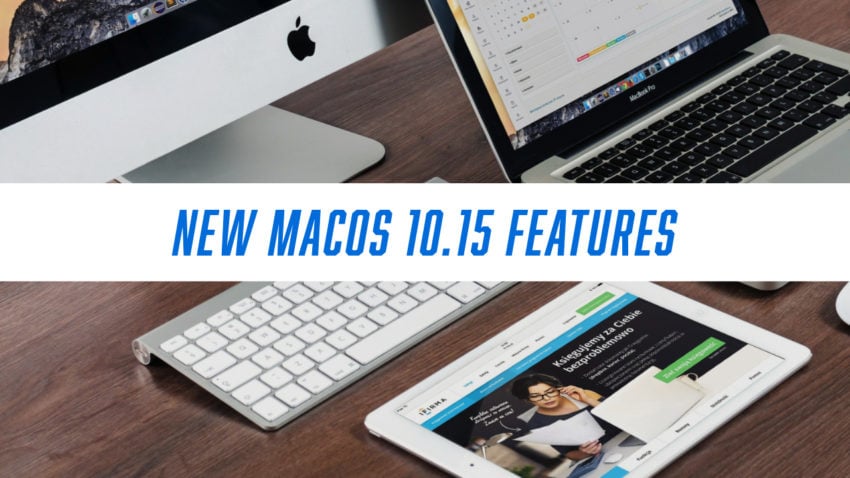 One of the biggest reasons to install the macOS Catalina beta is to test out all of the new macOS features that Apple is adding into this update.
There are a lot of upgrades that we dive into deeper with some of the specific reasons below, but as an overview, there are a range of new features coming to the Mac.
Some of these are in this beta and others will come in the next few betas. Some of our favorite new macOS Catalina features include;

Using the iPad as an External Display
Siri Shortcuts
Window Snapping
Apple also adds in cross-platform support for iPad apps, which will allow developers to offer their iPad apps on the Mac. This feature won't fully materialize until this fall, but we could see some limited opportunities for testing from developers looking for feedback.

As an Amazon Associate I earn from qualifying purchases.