How Long Will Red Dead Redemption 2 Take to Download
Red Dead Redemption 2 is a huge game and it will require a huge chunk of hard drive space on your PlayStation 4 or Xbox One.
With the Red Dead Redemption 2 release date on the horizon we're starting to see some key information about the game's release emerge.
Rockstar's confirmed new gameplay details and we've also seen important information about the Red Dead Redemption 2 download emerge.
Red Dead Redemption 2's main story will reportedly take 60 hours to complete. And with a world that big, it should come as no surprise to learn that the game's download size is larger than your typical game.
Thanks to a variety of sources, including Microsoft, we now know what to expect from the Red Dead Redemption 2 download size. And from that we can put the download and installation time into perspective for those who pre-ordered and anyone that wants to start playing the game on October 26th or soon after.
| Task | Time |
| --- | --- |
| Make Room on Your Console | 10-30 Minutes |
| Red Dead Redemption 2 Download | 1-4 Hours |
| Day One Patch | 15-45 Minutes |
| Total Download Time | 1-5 Hours |
Red Dead Redemption 2 Download Size
According to Microsoft, Red Dead Redemption 2 is approximately an 88.56 GB download on the Xbox One. It's a little bit bigger for the PS4 and requires a 92GB download.
By comparison, Grand Theft Auto 5 plus every single update Rockstar's released for the game since its release in 2013, utilizes 76.4GB of hard drive space on the Xbox One.
In other words, Red Dead Redemption 2 is as big as it gets.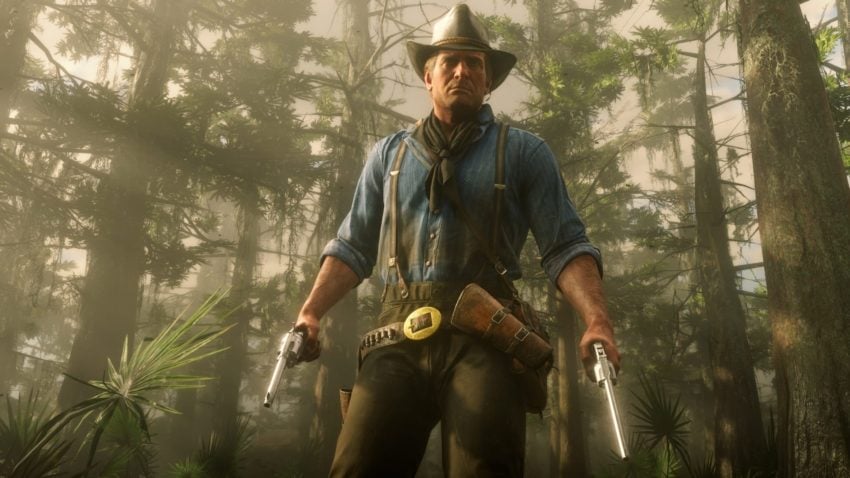 On its website Sony notes that the game will need "105GB minimum save size" which means many players will have to clear out room for the game ahead of its release.
Disc Installation:
PS4: 99GB installation space.
Xbox One: 107GB installation space.
Digital Installation:
PS4: 99 GB installation space with an additional 50GB for the installation process.
Xbox One: 107 GB installation space.
If you're running out of space on your console's internal storage, now would be a good time to comb through your data and delete files and games you no longer need.
If you're out of space and don't want to delete any files, you'll want to invest in an external hard drive for your PS4 or Xbox One.
Fortunately you can find great 4TB external hard drives, like this 4TB hard drive from Western Digital, for less than $100.
Red Dead Redemption 2 Download Time
If you're planning to install and play Red Dead Redemption 2 right when it comes out you might have to wait for over an hour before the game is up and running.
Mileage will vary from platform-to-platform, connection-to-connection, but a 90+GB download is going to take over and hour for most of you. For some of you, it could take multiple hours, especially if you're trying to download the game the second it's released online.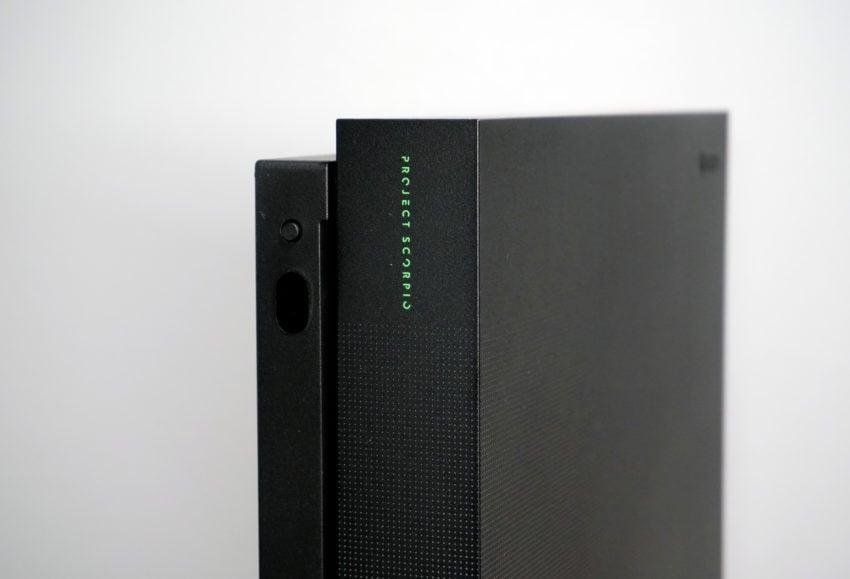 If you're curious how long it might take on your connection, you can use this handy tool to approximate the amount of time Red Dead Redemption 2 will take to download.
It's not going to be exact, but it will help you plan ahead and set realistic expectations.
Red Dead Redemption 2 Pre-Load
If you want to get a head start on the download you can start pre-loading the game right now. In order to pre-load the game you have to pre-order a copy.
Pre-loading Red Dead Redemption 2 allows you to start playing right when the game goes live on October 26th.
Red Dead Redemption 2 Day One Patch
Rockstar's issued a day one patch which only increases the download size and installation time.
The Red Dead Redemption 2 day one patch includes a variety of improvements and bug fixes for optimal performance. The developer strongly recommends making sure you download the patch before starting the game.
As expected, the patch is around 3GB for both platforms:
PS4:  3.30GB worldwide (3.02 GB for Japan)
Xbox One: 3.2GB worldwide (2.9 GB for Japan)
To confirm you've properly installed the day one update, go to the Settings section of the in-game Pause menu and check the bottom left hand corner for 'Build 1116.8'.
4 Reasons to Buy Red Dead Redemption 2 & 3 Reasons to Wait
Buy for a Great Story & Voice Acting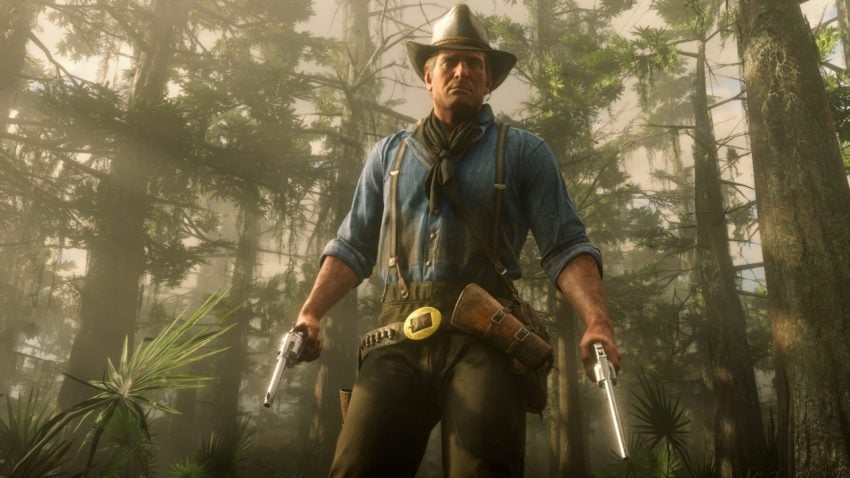 Red Dead Redemption 2 is a sprawling game with lots to do. There are plenty of other games that provide a huge sandbox to play around though few games can match the quality of Rockstar's open world experiences. And that starts with the story and the voice acting.
I'm not going to spoil anything here, but know that Red Dead Redemption 2's storyline, characters, and dialogue are the backbone of this game.
Many games provide a huge playground, but very few back it up with a memorable cast of characters that you truly care about and want to interact with.
Often times characters are underdeveloped, annoying, and/or forgettable. It's the exact opposite in Red Dead Redemption 2. You'll might even come to love the game's most vile characters.
The main story line is outstanding and believable and the actors (including the original John Marston) and actresses that voice the main characters, lesser characters, and various other NPCs truly bring these them to life.
The main story is just one piece though. There are side quests with minor characters and random events with strangers. You can also interact with every person in the game.
These side missions and the organic random interactions have been quite enjoyable. On one ride up into the mountains to look for a legendary animal I ran into five unique random events.
This is a world populated with characters that are truly interesting and believable and it's one of the game's obvious (once you start playing) strengths.
If you love a good western or if you like good writing, the story alone is worth the price of admission.