How to Buy a PS4 for $225
There is no reason to wait for a PS4 price drop to play the best games of 2015 that are coming only to the PS4 and not to the older PS3 or Xbox 360.
Best Buy offers a new PS4 deal for upgraders who are ready to join the current generation of consoles with a PS4.
When you trade in any PS3 or Xbox 360 you'll get a minimum $75, but if you trade in a PS3 Slim or Xbox 360 with 250GB hard drive you can buy the PS4 for $225 thanks to a minimum $175 trade in value.
Here's what you need to know to buy a PS4 for $225 from Best Buy when you trade in your old console. You don't need to trade in all of your old games to Best Buy as part of this deal, which means you can compare trade-in prices at GameStop, Amazon and Best Buy to get he most value out of your old console.
For this to work you need to go to a Best Buy location and trade in the Xbox 360 or PS3 for the PS4. This is only valid on the PS4, so it will not work with the Xbox One.
Best Buy limits this to one per customer. You cannot trade in a PS3 and a Xbox 360 to get $350 towards the PS4. The trade is only valid if the console is working, the original seal is intact and it comes with power adapters and it must turn on. The fine print does not say anything about the need for any AV cables or controllers.
The PS4 deal is live now and it runs through June 6, 2015. The promotion includes Best Buy Gift cards, not cash and it cannot combine with any other trade-in deals.
Gamers should consider trading in old games and accessories separately and looking for other trade-in bonuses on games that often appear every other month at retailers like Best Buy and GameStop.
On the page describing this deal Best Buy lists the PS4 Batman Arkham Knight Limited Edition Bundle and the Batman Arkham Knight Edition Bundle for pre-order. Shoppers who want one of these consoles may be able to use the trade-in credit for a pre-order.
If you don't want to wait, Best Buy stocks the PS4 500GB console with The Last of Us Remastered for $39. With the trade-in credit the PS4 is $225.
It is unclear if Best Buy will price match the current PS4 deal at GameStop in addition to this trade-in deal. GameStop offers the PS4 at regular price plus a PS4 Silver wired headset and a year of PlayStation Plus. After you trade in, it is worth asking about matching this deal during the PS4 checkout process as it can save an added $100 in value. Keep in mind this is not something every location will do.
This fall marks two years since the PS4 release date and popular games like Call of Duty: Black Ops 3, Batman Arkham Knight, Just Cause 3 and others are not coming to the PS3 or Xbox 360. If you want to play the best new games, you need to upgrade to a PS4 or Xbox One this year.
PS3 and Xbox 360 trade-in deals are still fairly common, but it is unclear how much longer we will see retailers offer inflated trade-in values for these aging consoles.
15 Exciting 2015 PS4 Games
MLB 15 The Show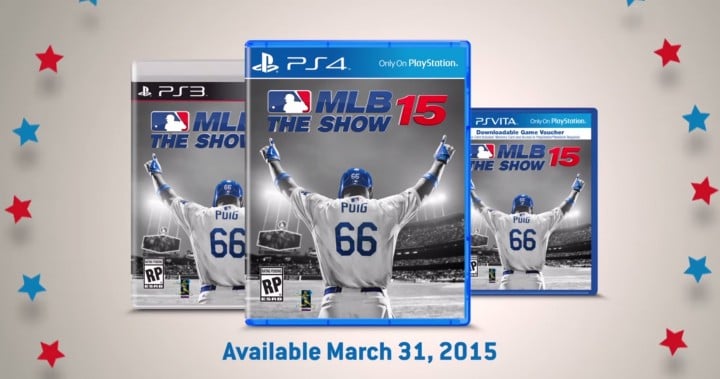 MLB 15 The Show Release Date - March 31st Confirmed
Sony is the undisputed king of baseball games with MLB The Show and we know that MLB 15 The Show is coming in early 2015. Sony just shared five key details about MLB 15 the Show and gamers are excited.
MLB 15 The Show is a PlayStation Exclusive, that is coming to the PS4, PS3 and PS Vita. There is a chance that this will be one of the first big hits among the 2015 PS4 game releases. I
Watch the MLB 15 The Show teaser video above for a glimpse at what's new.