How to Change the Galaxy Note 8 Navigation Buttons
In this guide we'll show you how to change the Galaxy Note 8 on-screen navigation buttons. The Galaxy Note 8 doesn't have a physical home button, and instead, everything is right on the screen. If you're coming from an LG, Moto, or Google Pixel, the buttons aren't in the right order. Here's how to change them.
Most Android smartphones with on-screen keys have them in a certain order. From left to right you have Back, Home, and Recent Apps. This is different on LG and Samsung smartphones, which is frustrating for some.
Read: How to Change & Download Fonts on Galaxy Note 8
Luckily, Samsung made this completely customizable. On the Galaxy Note 8, you can change the on-screen buttons order, theme, background color, home button sensitivity and more. Here's how to make your phone exactly how you want it.
How to Change the Galaxy Note 8 On-Screen Nav Buttons
Just like anything on the Galaxy Note 8, users can head into the settings menu and find a lot of advanced controls and options. This is where we'll begin changing the on-screen navigation buttons.
Instructions
Pull down the notification bar and tap the gear-shaped Settings Button (or find Settings in the app tray)
Tap on Display
Scroll down and select Navigation Bar
From here users have a few options to choose from. You can change the background color for the on-screen keys based on the device theme. Or choose from an entire color selection. Previously, we could choose between a full-color wheel but Samsung removed that option in favor of light colors. This prevents burn-in and prolongs the life of your display.
As you can see from our screenshots, even the theme you're using changes the on-screen keys. I'm running a stock Android Material Design theme, so my buttons look like stock Android above. Then regular Samsung buttons below.
Next, simply select Button Layout and choose whether you want the back button on the left side like most Android devices, or Samsung style on the right side. Additionally, there is an option to customize the home button sensitivity, and a few other odds and ends for those interested.
Read: How to Change the Note 8 Lockscreen & Wallpaper
Users have the option to make a hard-press of the home button take you home from any location. Whether the phone is locked, off, or even in fullscreen mode running an app or movie. We recommend enabling this. And finally, there's a slider where owners can customize how hard or light the vibration motor is with the virtual on-screen keys and home button.
Other Details
In closing, there will be certain circumstances where the on-screen navigation background color won't be what you choose. Some apps or even the home screen will default to transparent or other colors. Either way, it's nice to have this level of customization on Samsung's latest and greatest smartphone. While you're here, get a Galaxy Note 8 case from our roundup below.
25 Best Samsung Galaxy Note 8 Cases
Samsung Protective Kickstand Case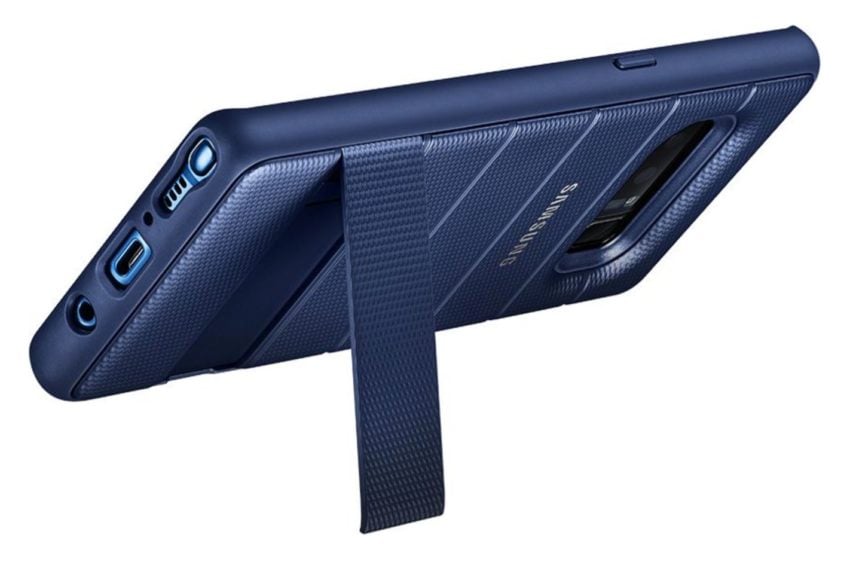 First up is a new case from Samsung themselves. The Rugged Protective Cover is Samsung's new military-grade case for the Note 8. Meaning it's certified for some serious tumbles like drops from 8-10 feet. Basically, this is one very durable case.
Then, to make things even better Samsung added a fold-out kickstand for hands-free viewing. The kickstand will also detach if you put too much pressure on it to prevent damage. Simply snap it back in and you're good to go. This is one of the first cases we recommend, as it's extremely durable and has extra features.
Buy it Now at Samsung for $39.99

This article may contain affiliate links. Click here for more details.