How to Downgrade from macOS Catalina to Mojave
You can downgrade from macOS Catalina to Mojave if you run into problems or you simply don't like the new version of macOS. This takes some prep, it takes a little time and you need to change up how you downgrade compared to older versions of macOS.
You'll want a Time Machine Backup or a similar backup that has all of your files safely stored on it since this will delete everything on your Mac. If you have a 2018 or newer Mac with a T2 security chip, you need to make sure you change the options to allow booting from an external drive.
Back-Up Your Mac
While you likely already have a backup from before installing macOS Catalina, it's a good idea to make sure you have a current Time Machine Backup so that you have all of the files you've worked on in Catalina. Either back up through Time Machine, move key files to iCloud or DropBox, or manually back up your needed files to an external drive.
Read: How to Fix macOS Catalina Problems
Make a Bootable macOS Mojave Installer
Next, you need to download macOS Mojave and then make a USB drive with the installer on it. You cannot run the installer from inside macOS Catalina. Instead, you need to download macOS Mojave from the App Store and then quit the installer.
Connect your USB drive to your Mac. You don't need to format the drive specially for this task, the app will handle all of that for you. This will erase the USB drive.
Download Disk Creator 2 and then Click on the App.
Choose the USB drive from the drop-down.
If not selected click on Choose Installer and pick the macOS Mojave installer.
Click Create Installer.
Click Erase disk.
Wait for a confirmation that this is complete.
Now you are ready to get started on most Macs.
Allow External Media Booting
If you have a 2018 or newer Mac with a T2 chip, you need to take an additional step to allow booting from external media. This is very important, so make sure you follow the steps.
Shut Down your Mac.
Turn it on and hold Cmd + R until Recovery Mode Opens.
Click on Utilities
Click on Startup Security Utility
Enter the Admin password.
Check the box to Allow booting from external media.
Now, you are ready to erase your drive, install macOS Mojave and then restore a backup.
Erase Your Mac
From here it is time to boot into Recovery and erase your Mac. Make sure your Mac is backed up before you proceed.
Turn your Mac off.
Reboot your Mac while holding Cmd + R.
Click on the Install macOS Catalina option.
Now click on Disk Utility.
Click on your mac hard drive and then on Erase.

Use the default options here. But if you need to make a choice pick
If on HFS+ use mac OS Extended (Journaled)
If on APFS, choose APFS
Pick GUID Partition Map if you see that option.

Name your hard drive Macintosh HD then click erase.
Wait for the drive to erase.
Once the erase is complete, close Disk Utility and you will be able to install macOS Mojave.
Install macOS Mojave
You have two options here to install macOS Mojave. If your Mac shipped with macOS Mojave, you can install it from the Internet Recovery option, which is handy, but if your Mac shipped with an older version, you will need to use the bootable drive we made earlier in this guide.
Connect your Mac to the Internet.
Plug the USB drive with macOS Mojave in.
Restart your Mac.
Hold Option when your Mac is restarting.
Click on the macOS Mojave drive.
Click Continue to install.
Now you simply need to follow the on-screen instructions like a standard upgrade or installation. You'll need to agree to terms and conditions and then you will need to then finish the typical start-up information.
From here, you can start using macOS Mojave, or you can restore from a Time Machine backup.
Restore From a Time Machine Backup
If you use Time Machine, you can now restore a backup you made so that your files and settings are back in place. Just like many of the steps, we're going back into the Recovery options.
Restart your Mac.
Hold Command+R once the reboot goes into the macOS Utilities
Choose Restore from Time Machine Backup.
Click Continue.
Agree to the on-screen information.
Choose your Backup location.
Click Continue.
Choose a recent Time Machine Backup.
Click Continue.
Wait for the Mac to restore and then it will reboot. This process will take a while, so make sure your computer is connected to power.
7 Reasons Not to Install macOS Catalina & 14 Reasons to Install macOS 10.15.7 Today
Install for macOS 10.15.6 Fixes and Security Updates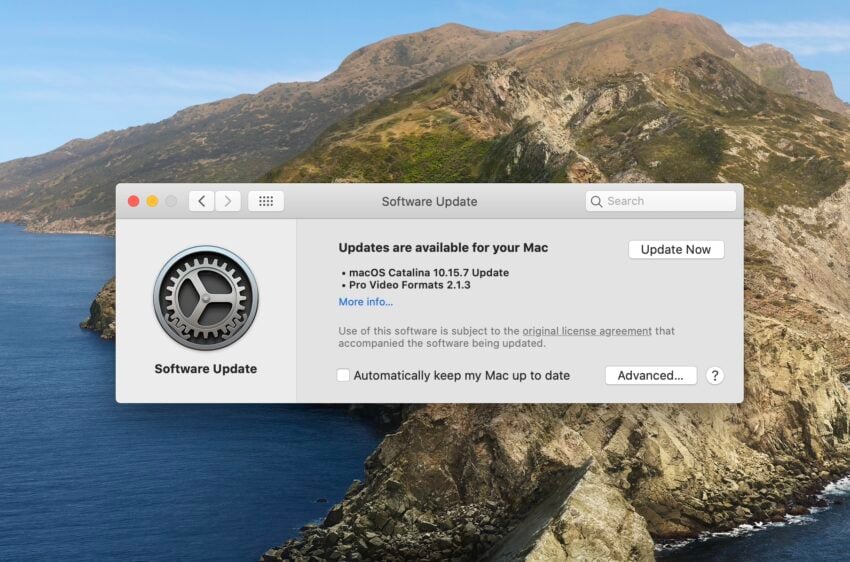 If you are on macOS Mojave or an older version of macOS 10.15, you should install this update to get the latest security fixes and new features that come with macOS. These include security updates that help keep your data safe and updates that patch bugs and other macOS Catalina problems.
The macOS 10.15.7 update includes the following fixes;




Resolves an issue where macOS would not automatically connect to Wi-Fi networks

Fixes an issue that could prevent files syncing through iCloud Drive

Addresses a graphic issue that may occur on iMac (Retina 5K, 27-inch, 2020) with Radeon Pro 5700 XT
We will also see a list of security updates in this, which are disclosed on this security page.

As an Amazon Associate I earn from qualifying purchases.