Samsung Galaxy Note 8 Android Pie Problems & Fixes
The Samsung Galaxy Note 8's Android Pie update went through weeks of testing, but issues have slipped into the final version.
The Galaxy Note 8 Android Pie update is finally out of beta and pushing out to select models in select regions around the world. It's still limited, but the roll out will grow in the weeks ahead.
As the roll out grows, so will complaints about Android Pie issues. We haven't heard about any catastrophic bugs yet, but some Galaxy Note 8 users running the new software are reporting minor bugs and various performance issues.
Some of the problems are brand new while many others have carried over from the previous versions of Android (Oreo) and Samsung's UI (Experience).
In this guide we want to take you through the current state of Galaxy Note 8 Android Pie problems. We'll walk you through the best way to prepare for the Android Pie update, provide you with some resources that will help if you encounter a problem, and give you a look at what to expect from Samsung and its partners in terms of bug fixes.
Prepare for Your Android Pie Update
If you're still waiting for your Android Pie update to arrive use this time to prepare yourself, and your device, for the move. A little prep work can go a long way toward preventing issues.
It's difficult to predict how your phone might react to the new software. While some of you will likely see a performance boost, others will run into issues. This is why it's important to prepare.
Spend 30 minutes or so preparing for the transition. If you don't know where to start we've put together a guide that will take you through the steps to take before you install Android Pie on your phone.
At the very least you should spend time making sure all of your data is backed up. Data loss issues are fairly rare but there's always a chance something goes wrong once you hit download. It's better to be safe than sorry.
Galaxy Note 8 Pie Problems
We're starting to see quite a bit of feedback from Galaxy Note 8 users running Pie. A lot of this feedback is positive but some users are running into issues.
The current list of Galaxy Note 8 Android Pie problems includes abnormal battery drain, connectivity (Wi-Fi, Bluetooth, GPS) issues, random reboots, UI lag, issues with first and third-party apps, touchscreen problems, issues with notifications, installation problems, and voice quality issues.
Sprint Galaxy Note 8 users are complaining about cellular reception issues. Some users are unable to connect to the carrier's LTE network after upgrading to Android Pie.
The carrier says it's working on a fix, but it's unclear when it will roll out a new version of Android Pie.
Where to Find Feedback
If you're still waiting for Android Pie or you're curious about issues other Note 8 users are seeing you'll want to keep your eye on short-term and long-term feedback. Fortunately, there are a bunch of places to find feedback about the Note 8's update.
We've released a guide that will take you through the reasons to, and not to, install the Android Pie update right away. It's a great place to start if you haven't been following along.
We recommend keeping an eye on XDA-Developers and the Android Central Forums for feedback about the update's performance.
You'll also want to keep your eyes on official forums like AT&T's, Verizon's, Sprint's, and T-Mobile's if you own a device on one of those networks.
You'll also want to monitor the Galaxy Note 8 Reddit and social media sites like Twitter for additional feedback from Android Pie users.
How to Fix Galaxy Note 8 Pie Problems
Most Galaxy Note 8 Android Pie problems can be fixed within minutes.
If you notice an issue with the software, take a look at our list of fixes for common Galaxy Note 8 problems. It's a great place to start if you're dealing with common issues like poor Wi-Fi connectivity or lag.
Our guide to fixing Galaxy Note 8 battery life issues will help you fix weird battery drain if you start noticing it immediately after installing Android Pie.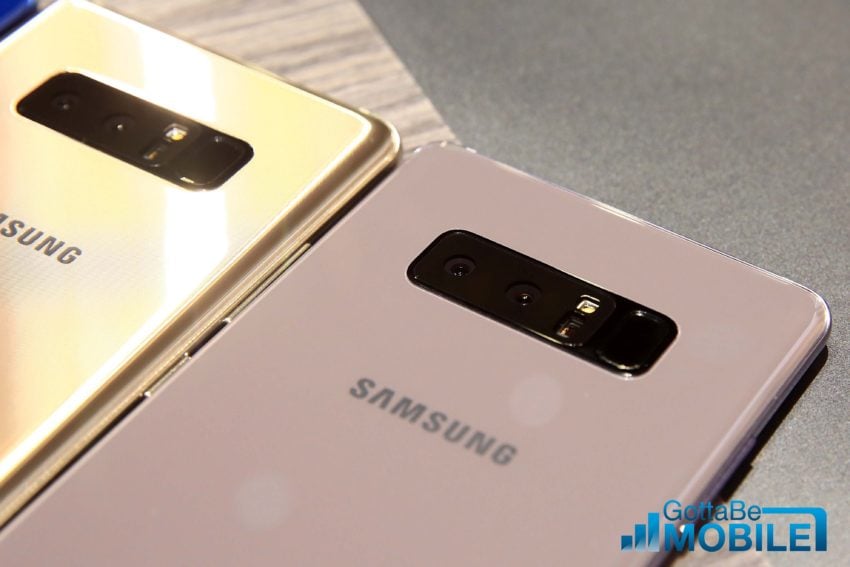 If you don't find what you're looking for in those guides, you should check out the XDA-Developers Galaxy Note 8 forums, the Android Central Galaxy Note 8 Forums, carrier support forums at AT&T, Sprint, T-Mobile, Verizon, or the forum for your carrier.
You can also get in touch with Samsung or your provider on social media sites like Twitter or get in contact with Samsung via its customer support line.
What's Next
Samsung's first major bug fix update for Galaxy Note 8 Android Pie problems is probably a few weeks away so you're on your own for the time being. That said, help could arrive soon.
Samsung will continue to push monthly security patches to Galaxy Note 8 models and there's a chance these updates include bug fixes for Pie issues in those firmware upgrades.
Carriers like Rogers, Fido, and Telus in Canada and Vodafone in Australia like to keep their customers informed about upcoming software updates. If your carrier offers an Android update schedule, you'll want to keep your eyes on it for details regarding bug fix updates.
4 Reasons Not to Install Galaxy Note 8 Pie & 12 Reasons You Should
Install Android Pie for Improved Security
If you want to keep your Galaxy Note 8 protected you'll want to download the Android Pie update soon after it arrives for your phone.
Samsung and its carrier partners continue to roll out monthly security updates to the Galaxy Note 8. Your Galaxy Note 8's Android Pie update will likely bring the latest patches from Samsung, and Google, to your device.
The Galaxy Note 8 Android Pie update comes with the company's latest security updates and we expect upcoming releases to come with additional patches.
If you're interested in the contents of Samsung's recent security updates, you can read more about the changes on the company's website.
The Android Pie update also comes with additional security enhancements including a feature called Lockdown Mode located in your device's settings.
With Lockdown Mode enabled you can quickly disable Smart Lock, biometrics unlock, and notifications on the lock screen so that other users can't get into the contents your phone.