How to Fix Bad Nexus Android Nougat Battery Life
Many Nexus smartphone and tablet owners are experiencing poor battery life after the update to Android Nougat. With that in mind, today we'll go over some common battery life problems and offer tips on how to fix them.
This guide will cover the Nexus 5x, Nexus 6P, Nexus 6, Nexus 9, Pixel C and more. Including Android 7.1.2 Nougat issues and the Google Pixel.
Read: Nexus Android 7.1.1 Release: What to Know
Android Nougat delivers a slew of exciting new features like split-screen mode, instant apps, and revamped notifications. Sadly, the update isn't perfect and instead of improving battery life it's making it worse for some.
How to Fix Nexus Android Nougat Battery Life Problems
Heading over to Reddit or even the official Google forum bug tracker, you'll see lots of complaints about a wide array of problems. Most notably Nexus Android 7.0 battery life issues.
Abnormal battery drain is a common problem, especially after big software updates.
We're here to try to help solve some of the bad Nexus Android 7.0 battery life problems users are experiencing. Android 7.1.1 and 7.1.2 fixed a lot of bugs, but some remain.
Find Battery Draining Apps
The first thing users should do if battery life is a problem is check for rogue apps. This could be a malfunctioning app that isn't ready to run right with Nougat, an app keeping the system awake, or other things.
Typically heading to settings > battery > and looking at the list of apps draining battery you'll get a good idea of what's going on. Android System or the Screen (Display) are usually at the top of the list, but we've been seeing a problem where "Android OS" is taking the most, followed by Android System. One should be there, the other should not. Android System is typically one of the higher drains, but not the OS.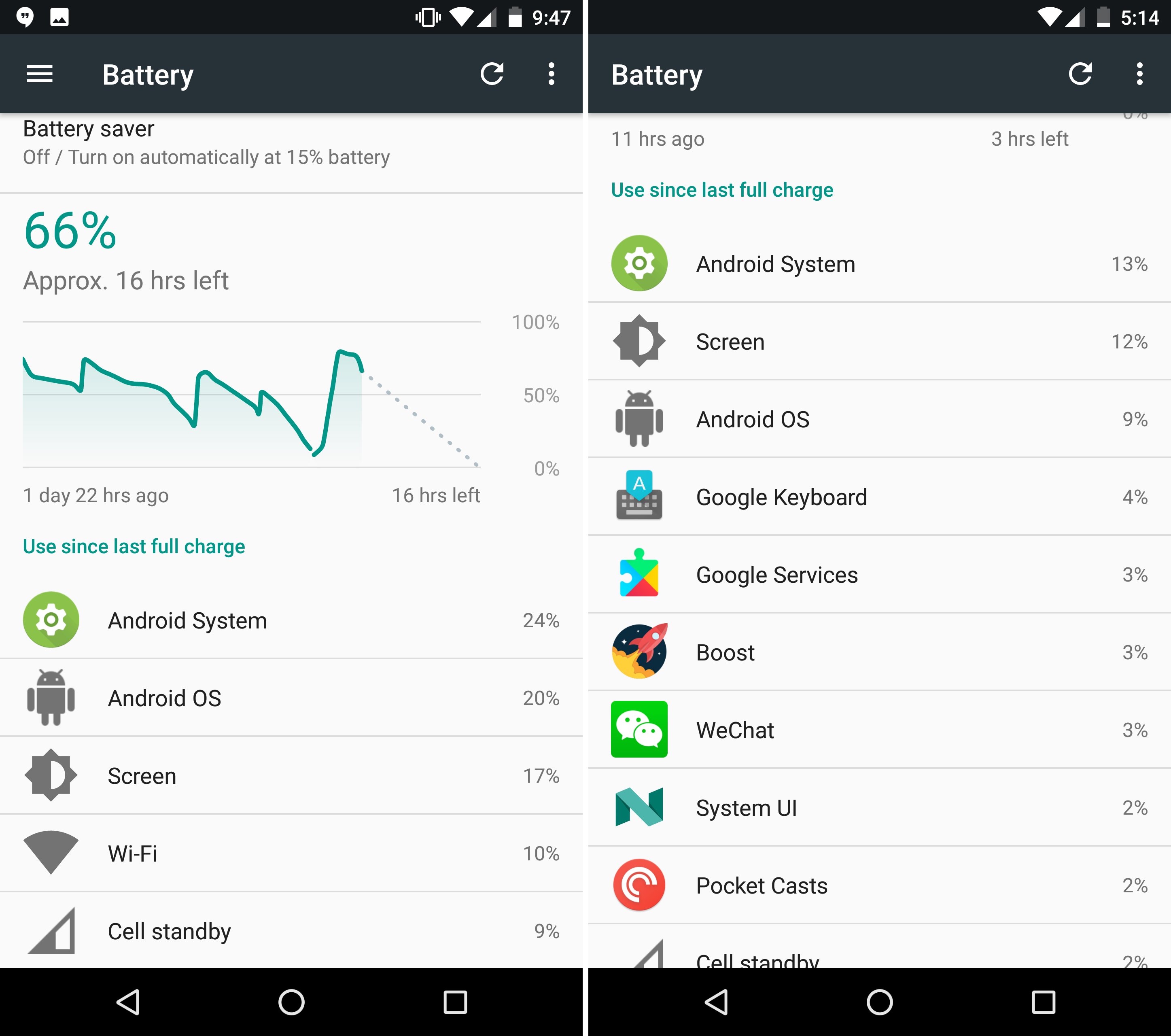 While Google services or Android System often take up the battery to perform important tasks in the operating system, you should not see Android OS at the top. Furthermore, screen brightness is typically what's at the top of the list. If it's not, something isn't right.
As for a fix, oddly enough one is to turn off Bluetooth if you don't need it. Android Wear, Android Auto, and other devices require Bluetooth, but many users have noticed substantially better battery life with Bluetooth turned off.
Check the list of apps in the battery settings to see if anything else is causing drain. Apps like Facebook and Snapchat can often be the problem as well, so keep that in mind. Selecting an app and hitting "Force Stop" can kill the process and improve battery, but don't kill anything unless you know what it does. Reinstalling an app that is misbehaving is also another good idea.
Lastly, try booting into Safe Mode. Safe Mode will disable third-party applications and that will allow you to narrow your search to find any potential problems.
Check Account Sync
Similar to apps draining your battery as mentioned above, apps being synced and backed up could be the culprit too. Multiple users on Reddit noticed that on the Nexus 6P the device wasn't syncing right, causing huge drains in battery life. Imagine your phone trying to sync to the cloud and save all of your contacts, photos, Google Drive documents or Google music over and over again. That will surely affect battery life.
The user recommends heading into Settings > Accounts > and looking for any that have the sync icon or a (!) next to them, suggesting sync had failed. To make matters worse, manually refreshing accounts to sync didn't fix the problem. One owner went into each Google account sync option and did it manually. For Google Drive, fit, photos, music, keep, and even 3rd party apps like Skype, and re-synced each one. Multiple users have noticed substantially improved Nexus battery life after doing this.
To take this further, Skype sync was causing the problem for a few users, so be sure to check any and all apps and accounts to make sure sync is working. Then, continue on for the rest of our tips.
Disable Unused Services
If your apps are functioning properly try disabling unnecessary services on your Nexus phone or tablet. Disabling connections and other services when you aren't using them could save you some battery life. We mentioned Bluetooth above and will say it again. Actually, we're seeing a lot of complaints about Bluetooth problems, and some of those could be causing battery drain. Turn if off if you don't need it.
We highly recommend shutting off Wi-Fi connectivity, Bluetooth, NFC, GPS, and cellular data when you don't need them turned on. You can turn those off from the Nexus' quick settings menu or you can turn them off from the regular Settings menu. It seems with each update a small group complains about Bluetooth issues. Another idea is to change location settings to "Battery Saver Mode" which uses WiFi and networks instead of GPS. That is because GPS will hog any and all battery.
If you're in a poor signal area, try switching on Airplane Mode. Airplane Mode will kill all of your device's services but it could prevent battery drain. When you have no service the phone will constantly look for one, so turn on Airplane mode and save juice for later. In fact, most phones can last 4-5 days on Airplane mode.
Restart Your Nexus
Occasionally apps will just start draining the battery, or even Android System and OS when it shouldn't. If I've removed my Nexus (or any Android) from the charger and it is draining faster than expected, I do a quick reboot. This usually fixes any random problem killing the battery.
Hold down the power button and turn it off, then back on, or hit reboot on select devices. This starts the entire system fresh and can solve a lot of little bugs including bad Nexus battery life. It sounds silly, but I reboot my phone once every 2-3 days, for the best experience.
Auto Brightness
This is one everyone should know and isn't really a tip, but I constantly see users with a phone set around 90-100% brightness. Full brightness isn't needed on most devices, even outdoors. Instead, try setting it around 35-40% brightness and watch how much longer the phone lasts.
Head into Settings > Display > and uncheck auto, then put the slider to a more manageable and realistic brightness setting. It may take a few hours to get used to the lower screen level, but your battery will thank you for it.
Clear The Cache Partition
If none of those work, you can take some more drastic steps towards fixing your bad Nexus Android Nougat battery life. One of those steps is clearing the cache partition.
Clearing the cache has worked wonders in the past to fix poor Nexus battery life in general, and some stated it helped with the battery drain on the Nexus support forum. Here's how to clear your cache partition:
Press and hold Power and Volume Down buttons simultaneously until you see something other than Google on the screen.
You should see a large arrow at the top of the screen.
Tap Volume Down repeatedly until you see Recovery in the arrow.  Then tap the Power button.
You should see an android on his back, chest open with a red triangle and exclamation mark.
While holding Power button tap Volume Up once then release the Power button.
You should now see a list of items at top of screen and will be in "Recovery mode".
Tap Volume Down until you reach the option to clear cache partition. Tap the Power button to select, confirm by hitting yes, and let it finish.
Progress messages will appear at the bottom of the screen. This should take less than a minute but could take upwards of 10 minutes in some cases.
Restart your Nexus
This has shown to fix multiple small problems after a software update. From battery life to WiFi and Bluetooth issues, GPS glitches, and multiple other small things. We'd recommend doing this after any big update, so your Nexus can start with a clean slate.
Factory Reset Your Device
This is the last resort, but like clearing the Cache it is also a great idea to start with a clean slate and wipe out any unwanted leftover files. Doing a factory data reset will erase everything, so backup any important files first, and be prepared to set aside an hour or so to set up your phone back to how it was.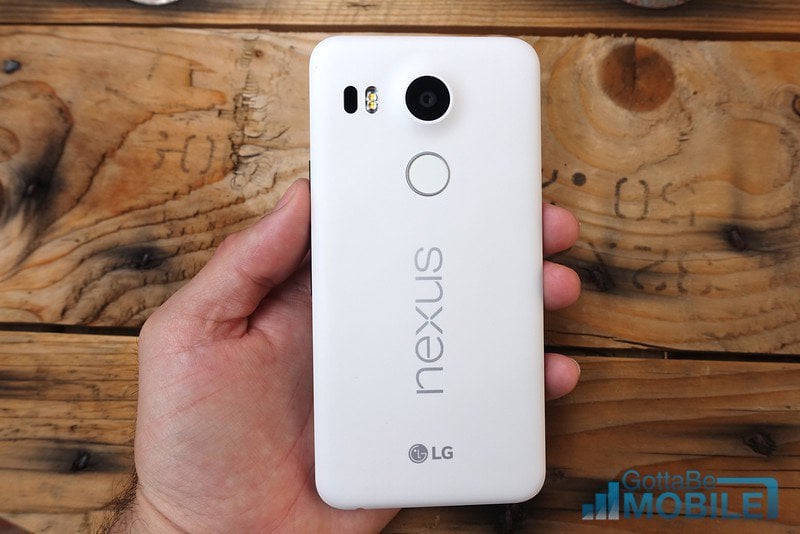 Most should know how to do a reset, if not, Google has put together an extensive guide that outlines the proper way to factor reset Nexus smartphones and tablets. Take a look at that information, backup your device, and get started.
Downgrade to Marshmallow
If you absolutely need better battery life and can't fix it with any of these suggestions, and can't wait for Google to release an update to Android 7.1.2 Nougat, some owners can always revert back to Android 6.0.1 Marshmallow.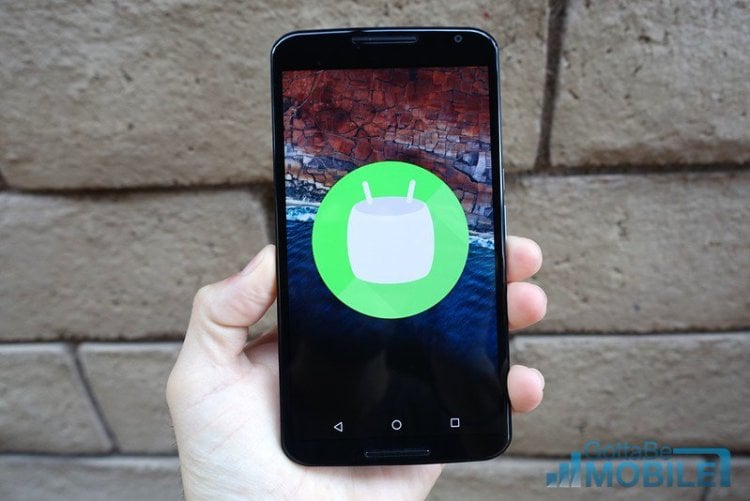 This guide explains how to manually install Android Nougat, but the same instructions (and factory images link) will allow users to download any version of Android 6.0 and install it within 10-15 minute. Use that to downgrade back to Marshmallow if you don't need Nougat, and want better Nexus battery life.
I wouldn't recommend it but to each their own.
Try the Android O Beta
The next logical step is to try the recent update to Android O, which is available now as an early preview beta. Android O delivers a slew of new features, improvements, bug fixes, and made major changes to improve battery life. Apps can't just run in the background, as the operating system limits them after a set period of time. Users will enjoy plenty of new features, and hopefully better battery life too.
Android O isn't perfect, and still beta software, but it could improve your experience drastically.
Here's how to install Android O today.
Other Ideas
If none of this seems to work, try tracking down another fix. Google's Nexus Help Forums are a great place to start. There are tons of helpful users on XDA-Developers not to mention custom 3rd party versions of Android you can install that may have better results.
We also recommend getting a Portable Battery Pack that can recharge your device anywhere and everywhere, which isn't ideal, but a great accessory to have anyways. We'll be on the lookout for more complaints, details, possible fixes, and report back once we know more. Are you experiencing bad Nexus Android Nougat battery life? Let us know in the comments below.
13 Official Nexus 5X & Nexus 6P Accessories
Nexus 6P Folio Case
Google doesn't have the best track record when it comes to cases or accessories, but they're working hard to change that with the Nexus 5X and Nexus 6P. Tons of cases are available now, or will be coming soon.
The Nexus 6P Folio Case comes in a beautiful refined leather design in brown or black color options. This is one of the few that is listed as coming soon, and arguable one of the best. It features cutouts for the front speakers, fingerprint scanner, all the ports, and has a magnet on the flip out cover to instantly wake the screen. It's an elegant case, but will be expensive.