How to Fix iCloud Music Library Can't be Enabled Error
Are you running into Apple Music problems that prevent you from downloading music or adding the music to your music library? When you are using Apple Music on iOS 8.4 you need to enable iCloud Music Library for all the features to work.
One of the common messages you will see is a warning that "This requires iCloud Music Library" with an option to enable iCloud Music Library in the settings app.
When you try to do this, you may run into a troubling Apple Music error message that says, "iCloud Music Library can't be enabled." The message continues, saying, "You can enable it later from Music in Settings. until then, your music won't be available across your devices."
This Apple Music problem won't prevent you from trying out the service, starting a free three-month trial and listening to Beats! radio, but it will impact the syncing of songs between your devices.
Here's how to fix the iCloud Music Library can't be enabled error message in Apple Music on iOS 8.4.
How to Turn On iCloud Music Library on iOS 8.4
After upgrading to iOS 8.4 this morning and testing out Apple Music I kept running into the iCloud Music Library can't be enabled error on my iPhone 6. This is also happening on the iPhone 6 Plus and on many other devices running iOS 8.4.
After several attempts I was able to fix the iCloud Music Library can't be enabled problem, by simply trying again and again. This is likely a problem with Apple's servers being under strain from users trying to install iOS 8.4 and to turn on iCloud Music Library to get the most out of the new Apple Music app.
If you already gave up, it is still a good idea to restart your iPhone or iPad. You don't need to, but after this fast step I was able to get iCloud Music Library working in just two tries, after multiple previous fails.
Go to Settings on the iPhone or iPad
Tap on Music  – Note that this is not in the iCloud Settings like you might expect.
Turn iCloud Music Library On.
Choose to Merge or Replace your music library. I had success using replace, others report success choosing merge, so this shouldn't impact your choice.
If it works you are done. If not keep trying to turn it on until it works. You may need to try 5-10 times before it finally takes.
That's all there is to solving this annoying Apple Music problem on iOS 8.4.
Some users are also reporting issues with transferring Beats Music Playlists over to Apple Music. This process may take some time, but on the Apple Support Forums one user says that turning on iCloud Music Library brought his friend's Beats Music playlists to Apple Music immediately.
What's New in iOS 8.4
Apple Music Streaming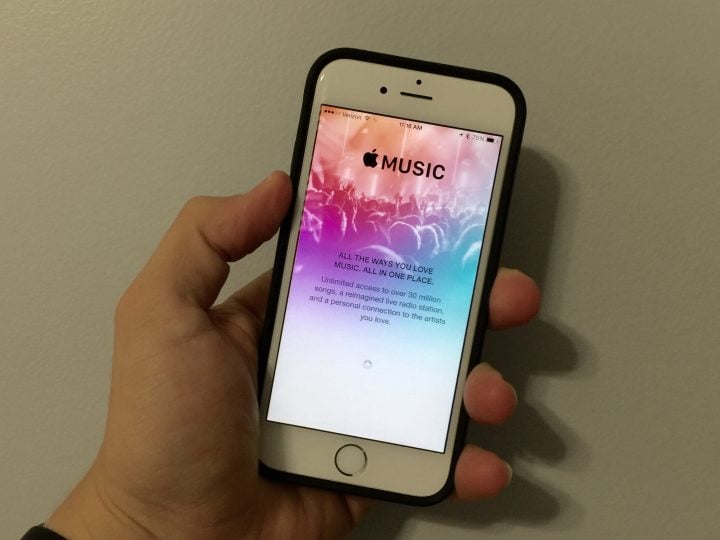 The new Apple Music app includes the new Apple Music streaming service designed to take on Spotify, Pandora and other services. The iOS 8.4 update enables this new app and includes a free three-month trial of the Apple Music service.
With Apple Music you can pay $9.99 a month for an individual or $14.99 a month for a family of up to six members and enjoy full albums on demand and save music for offline playback.
Apple Music uses your musical tastes to pick new music that you might enjoy listening to in a new For You section of the music app that will help you find new music to listen to. The video above shows how this works.
This new app replaces the Music app from iOS 8 and earlier. Apple is not adding another app you cannot install from the iPhone or iPad, just updating one that is already on your device.

As an Amazon Associate I earn from qualifying purchases.