How to Fix iPhone that Doesn't Ring, But Shows Voicemail
"Help, I am not getting calls, but my iPhone keeps showing voicemail!" This is a common complaint that we hear in Verizon, AT&T and the Apple Store from customers who are frustrated at missing calls because the iPhone doesn't ring and then suddenly they see that they have voicemail.
Users often think this is a major problem with their iPhone and end up spending time going to a store for help and then waiting for someone to look at the problem.
Many times there is a quick fix for an iPhone that isn't ringing but is showing voicemail notifications. There is always a chance that there is something wrong with the way the phone connects to the network, but before you waste time driving to a store you should try this simple fix that can solve the problem in a few seconds.
When this happens, there is not likely anything wrong with your iPhone. Instead, Do Not Disturb is likely turned on, sending all calls to voicemail unless the caller calls back within three minutes. This is why you may get some calls, but most end up showing as a voicemail without any ring or notification on your iPhone.
This happens when you accidentally turn on Do Not Disturb on your iPhone. Introduced with iOS 7, it's a staple feature on the iPhone and part of iOS 11 and iOS 12.
It is easy to accidentally turn Do Not Disturb on when changing settings. There is an option to do this in Control Center, the half screen of settings and controls that you can use by swiping up from the bottom edge of the phone on most models or down from the upper right corner on the iPhone X.
Here's how to see if Do Not Disturb is the reason your iPhone isn't ringing all the time. Look in the upper right of any screen and see if there is a small half-moon near the clock. If you see this, Do Not Disturb is on.
You need to turn it off if you want callers to get through. The fastest way to do this is to swipe up from the bottom of the iPhone to reveal the Control Center. You can see what this looks like below. If you are on the home screen you can do this quickly, if you are in some apps, you may need to swipe up and then pull up on a small on-screen tab that appears.
You'll see a variety of options like the image above. There is a moon icon on the right side of the screen. If this is on a white background Do Not Disturb is on. Tap on the moon icon to turn Do Not Disturb off on the iPhone. This will change the background color to gray and the moon will disappear from the area by the clock.
You should now be able to get phone calls all the time. If this does not fix the problem, you will need to go to a store or call customer support for help. You should also go to Settings -> Do Not Disturb and make sure that there is no schedule turning this on when you don't want it on. You can use this page to customize how Do Not Disturb works and set it up to work for you.
Learn how to use Do Not Disturb on the iPhone to control when you phone makes noise and when you can think or relax without interruptions.
iOS 12 vs iOS 11: What's New in iOS 12.4.1
iOS 12.4.1 Features and Fixes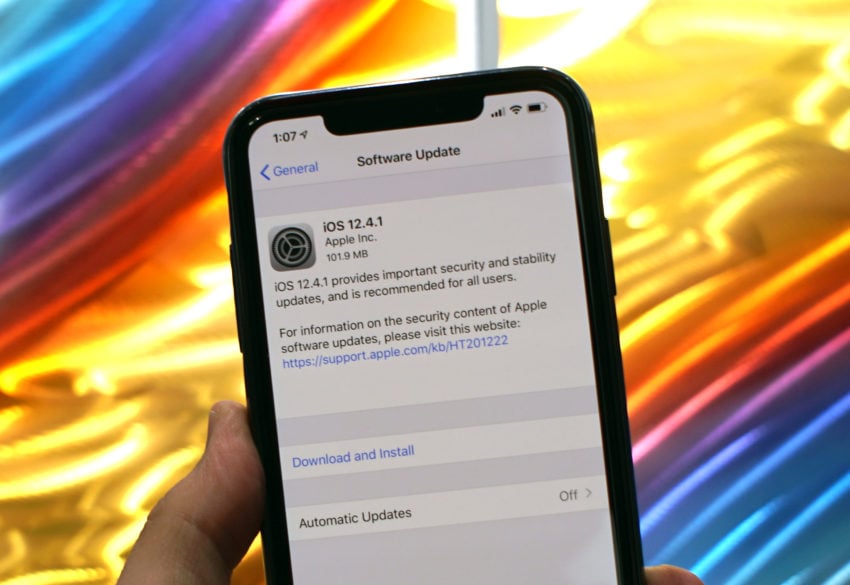 The iOS 12.4.1 update focuses on security fixes for a major bug that Apple fixed once before, but that is back in iOS 12.4. This security issue would allow an app to essentially gain full control over your phone.

Available for: iPhone 5s and later, iPad Air and later, and iPod touch 6th generation
Impact: A malicious application may be able to execute arbitrary code with system privileges
Description: A use after free issue was addressed with improved memory management
This is what allows people to jailbreak iOS 12.4, which is a plus for some users, but most users will want the security that comes from iOS 12.4.1.

This article may contain affiliate links. Click here for more details.