How to Fix Taskbar Search Not Working in Windows 10  
Taskbar search problems plague Windows 10. That's why every Windows 10 user needs to know how to fix Taskbar search on their notebook, desktop or tablet.
Normally, the search field on the bottom of your screen is very useful. Tapping or clicking on the bar launches a pop-up that includes search results for your files and news topics from your favorite websites. If you've turned the Cortana personal assistant on, upcoming package deliveries, your next appointment and music search all appear.
A broken Taskbar search box in Windows 10 can ruin your experience. Without that field, there's no way to access Cortana, and you must open a file window to search your PC for pictures, documents, music and video. You can't search for apps and programs either, forcing you to go back to the Start menu or Start Screen and look for the app you need in a long list of installed apps and programs.
Read: 10 Windows 10 Creators Update Problems & Fixes
Here's how to fix Taskbar search not working in Windows 10.
Restart Your Windows 10 PC
If the Taskbar search field on your PC isn't working at all, your first move is a system restart. You need to shut down your device completely, then start it up again.
Shut down your PC by right-clicking on the Start button inside the Taskbar. It's in the bottom-left corner of your screen. This will open a pop-up menu.
Inside the pop-up menu, click on Shut down or Sign Out.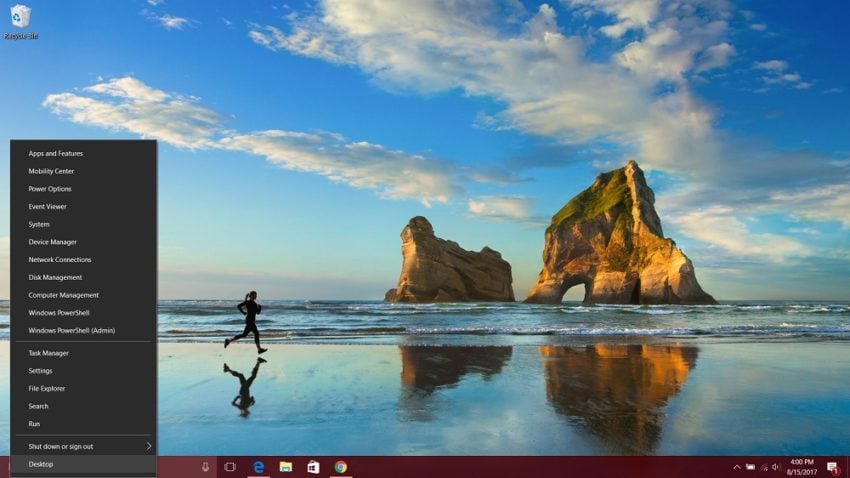 Click on Shut Down. Don't click Restart because some users report it didn't fix their issues with Taskbar search and other Windows 10 problems.
Wait for your PC to log you out and turn off completely. Once it has, use its power button to turn it on again.
Once your PC is back on, try clicking Taskbar search again. This time, the pop-up window that holds Cortana and your search results should work.
Change Your Display Size
Windows 10 handles high-resolution monitors in a new way. Together with a buggy driver, this change can cause your Taskbar search window to not open correctly in Windows 10. If the window won't open for you, try changing your resolution settings.
Click on the Start button in the Taskbar.
Click on Settings.
Click on Systems.
Now, use the Display Settings menu to adjust your screen settings. Surface Pro 4 users have had some success with switching the scaling option under Change the size of text, apps and other items to 100% for their display, then changing it back to their original settings.
Fix File Indexing
Even when the Taskbar Search pop-up opens, Windows 10 could fail to actually perform your search. If this happens to you, try clearing your Index. Indexing is how Windows 10 knows what files are on your system.
Click on the Start button.
Scroll down in the list of apps and programs installed on your PC to Windows System. Click on it.
Click on Control Panel.
Use the button in the top-right corner of the Control Panel to switch from Category View to Large Icons.
Select Indexing Options.
Click the Advanced Option.
Inside the menu, click or tap on the Rebuild button under Troubleshooting. This button will trash the file your Windows 10 PC uses for searching and create a new one. Taskbar search should begin working again.
Read: 10 Things You'll Hate in Windows 10
Check Your Installed Apps
Some users report that programs they installed to prevent other apps from tracking their keystrokes broke Taskbar search in Windows 10. To fix the issue, they removed the app from their system and search began to work normally.
Check your list of installed apps for anything that blocks key logging, like Zemana AntiLogger. If you find a program that does block your keystrokes, remove it from your device to get Taskbar search working again.
Creating a New Account or Restoring Your PC
If all these other remedies don't work, it's time to consider more drastic options to fix Taskbar search in Windows 10.
You can create a new user account to work around the issue with your original account. To do this, go to the Settings app and click on Accounts. Note that only a PC's administrator can do this. If you don't have the necessary privileges, you will need to ask someone who does to create a new account for you.
Read: How to Add an Account to Windows 10
Your second-best option for fixing Taskbar search is to reinstall Windows 10. Again, you can't do this unless you are the administrator for your PC. In fact, don't do this if other people also use your Windows 10 PC. You will delete their files when you reset too.
Read: How to Reset Windows 10 Laptops, Desktops & Tablets
To reset your PC, open the Settings app and click on Update & Recovery. Next, click on Recovery. Follow the prompts to reinstall Windows and get your PC working again.
Gotta Be Mobile will continue to add new ways to fix Taskbar search in Windows 10 as more information about the problems surface.