How to Go Home on Xbox One
Owners of Microsoft's Xbox One entertainment console aren't strangers to updates that change their gaming experience in big ways overnight. Microsoft isn't a stranger to creating them either. It's spent its time since 2013 refining the console's software and adding new features that gamers crave. That is when it hasn't been working on the new Xbox One S or upcoming Xbox Scorpio. Most of the new features that get included in these updates are a cause for celebration, but a change to how the Xbox button works has gamers everywhere asking how to go home on Xbox One.
So many people are searching for how to go home on Xbox One because Microsoft has traditionally left the glowing Xbox button on every controller alone. That is, it has only rarely changed how the button works. Until the Xbox One Windows 10 Creators Update, pressing that button took you to a dedicated Home area. That area provided a live look at what games or apps you had open at that time. It also provided direct links to games and apps that you'd recently used and advertisements to buy more new games, movies and television shows from the Xbox Store.
Read: Xbox One Windows 10 Creators Update
The Xbox button won't allow you to go home on Xbox One, but you can still get there from anywhere with a simple shortcut. Here's how to go home on Xbox One.
How to Go Home on Xbox One: Before We Begin
Know that to use this method to go home on Xbox One you'll need to have the latest software installed on your Xbox One console. That's because the changes that Microsoft made to how the console works are directly related to the upgraded Xbox Guide. The Xbox Guide updates are a part of the Xbox One Windows 10 Creators Update that Microsoft released in late March.
Read: How to Update the Xbox One
Unless your console isn't connected to the internet, you should always have the current software installed. That's because software updates are mandatory to connect to the Xbox Live gaming service. You can check to see if you have pending updates from the Settings app.
How to Go Home on Xbox One: Why Things Changed
As for why it changed how to go home on Xbox One, Microsoft's intentions are pretty clear. Xbox One launched in 2013. At the time, making the Xbox button take you back to home made sense. Such an arrangement has always worked well for the Windows key on Windows PCs.
As time went on, gamers began complaining that Xbox One required them to dive into apps too much. Sending a party invite required pressing the Xbox button then finding the Friends app, for example. Microsoft has been on a mission to streamline how everything works on the console. That's why it introduced the Xbox Guide. The Xbox Guide is meant to almost entirely replace Xbox home. That is, Microsoft has made it possible to open apps, launch games, create parties, send messages and change settings directly from this one area.
All of this doesn't change habits. For years, Xbox gamers have used the Xbox button to go home on Xbox One.
How to Go Home on Xbox One: Getting to Home
The process of going home on Xbox One begins with pressing the Xbox button on your controller. Remember, regardless of what you're doing, that button will always open the Xbox Guide area and overlay controls on the left edge of your television set or monitor.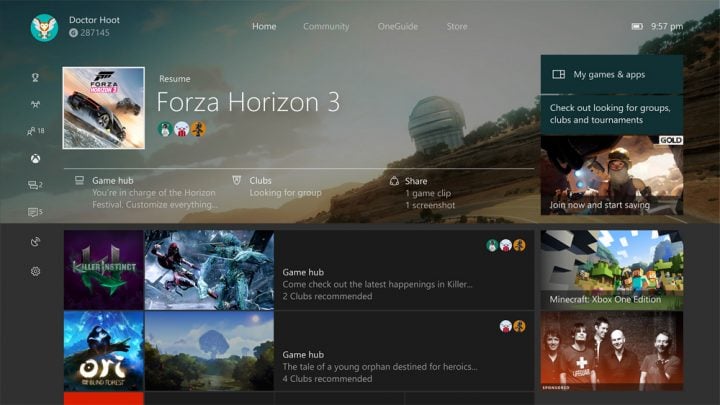 Now, from the overlay, press the Home button inside the Xbox Guide to go home on Xbox One. Note that the Xbox Guide has lots of different panels for different social features and settings. The Home option will only appear when you have the section with the Xbox logo selected.
Luckily, that section is always the default panel to be opened with you press the Xbox button on your controller. Microsoft only changes this behavior if you hold down the Xbox button because you received a message from another Xbox Live member or a notification from one of the apps you have installed on your console.
Read: Xbox One vs Xbox One S: What You Need to Know
Unfortunately, Microsoft is making everyone's experience consistent with this change. The company didn't add a toggle to switch the behavior of the Xbox button back to its original shortcut. It's unlikely that such a change will happen either. At least, the company hasn't publicly discussed plans to let users customize the button's behavior.
Read: Xbox Scorpio vs Xbox One S
You'll also notice that the game and app preview window that dominated the Home area on Xbox One is not there anymore. As recent updates have focused on performance, it's likely that Microsoft took the feature out to focus on keeping the Xbox Guide and the rest of the interface fast and simple. For certain, app and game previews are gone with this update.
Here's to hoping that this tutorial on how to go home on Xbox One helps get you through the painful transition away from the old shortcut.
8 Best Free Xbox Games: January 2018
Warframe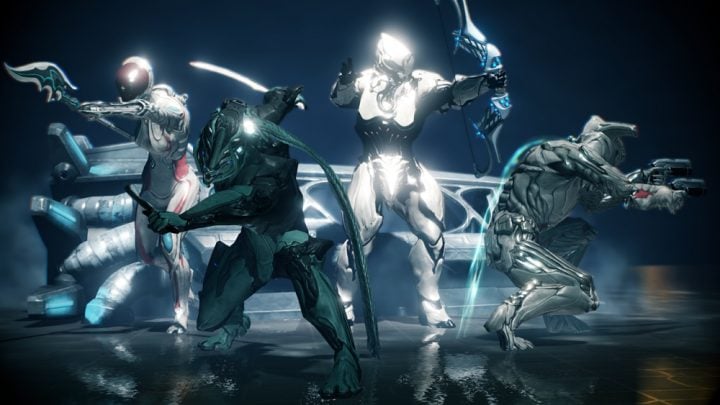 Many free-to-play games revolve around strategy or civilization building. Warframe is one of the free Xbox games that you can download now that doesn't. It's a third-person shooter.
The Tenno have just awoken after centuries of sleeping in stasis. Warframe takes its name from the suits that the Tenno use to do battle with the game's other races. There's the Greiner, who are clones of humans. The Corpus belong to a technology company with lots of robotic innovation at their disposal. Sentients consist of an alien race that's back to do battle.
Warframe features both player-vs-player combat and a single player experience.


This article may contain affiliate links. Click here for more details.