How to Play FIFA 18 Today
The FIFA 18 release date is September 29th, and you can play three days early if you buy the special Ronaldo Edition of FIFA 18, but there's a way you can play FIFA 18 early without spending $20 more on FUT extras. This will allow you to play FIFA 18 today.
With EA Access and Origin Access you can play FIFA 18 starting today. This is in addition to the FIFA 18 demo, but it isn't a trial or limited version of the game — it's the full unlocked version of FIFA 18 and your progress carries over to the game if you buy a full version. This is the best way to play FIFA 18 early if you want to get an edge on opponents since you can start FIFA Ultimate Team and your progress will carry through. You can also test out the new features.
You need EA Access or Origin Access to play FIFA 18 early on Xbox One and PC. You cannot play FIFA 18 early on the PS4 as they don't support EA Access. You get the game five days early and can play for 10 total hours during this period. You can even play after the FIFA 18 Ronaldo Edition release date, and this will allow you to have the game pre-loaded even if you buy on a disk.
EA Access and Origin Access are $4.99 a month or $30 a year and include play first trials as well as full versions of older games like FIFA 17, Madden 17, Star Wars: Battlefront, Battlefield 1 and more. You also get 10% off digital purchases of games and game content. You break even if you buy FIFA 18 digitally and buy EA Access for a month, but there are enough FIFA 18 deals that you can still save while paying for EA Access.
Early FIFA 18 Release Date & Time
EA confirmed the early FIFA 18 release date is September 21st, which is five days before the Ronaldo Edition release date. We don't know the exact release time yet, but it is usually in the afternoon Eastern time.
There is a chance that this will start even earlier. The EA Access Madden 18 release date arrived one day early, giving users a six day head start. We'll be monitoring this situation.
How to Download the FIFA 18 Trial
You need to be signed up for EA Access or Origin Access. After you do this, you can download the EA Access app on your Xbox One or the Origin app on your PC. Open the app and go to the trials section. Here you should see the FIFA 18 trial. Once the release time arrives you will see an option to download the free trial from the Xbox Store or Origin Store.
Another option is to search Origin or the Xbox Store for FIFA 18, and when you see Free trial, click download to start it. Expect a large FIFA 18 download that may be over 30GB, so this will take some time.
No Early FIFA 18 Pre-Load
We don't see EA Access or Origin Access Play First games get any special pre-load options. Don't expect the ability to download the FIFA 18 trial ahead of September 21st as a pre-load. The only way you will be able to download earlier is if the trial starts one day earlier.
The upside is this will act as a pre-load for the full game when you buy it or when the FIFA 18 release date arrives.
10 Hour FIFA 18 Trial
This is a 10 hour FIFA 18 trial. You cannot extend it or get it back if you waste the time. You need to make sure that you quit the game completely so you don't accidentally leave it running when you are done. The best thing to do is quit it and then start another game on your Xbox One so that you know you've quit the game completely.
Full FIFA 18 Game Included
Unlike the FIFA 18 demo, you can play all of the modes of FIFA 18 and you can keep your progress through to full game. This lets you get started in a season or in FIFA Ultimate Team. We saw a restriction in Madden 18, which limited users to a small portion of Longshot, so it's not clear fi EA plans to restrict the FIFA 18 trial in the same way by limiting Journey Season 2.
FIFA 18 vs FIFA 17: What's New
My Journey Season 2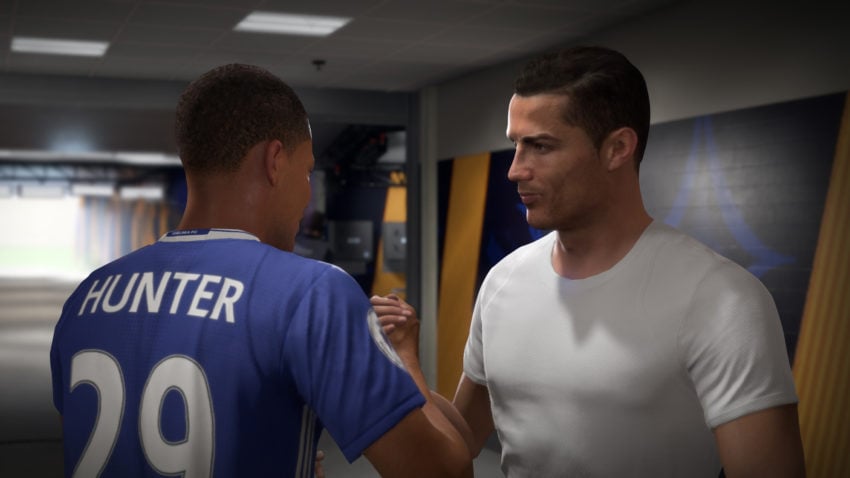 Did you enjoy playing as Alex Hunter in The Journey? If so, you are in for a treat. EA is bringing The Journey back in FIFA 18 with all new seasons and you'll likely see him switch clubs.
EA did not share many details about the new season of The Journey, titled Hunter Returns. We do know that Cristiano Ronaldo is one of the new cast members that you will see in The Journey as Alex Hunter learns from Ronaldo. You'll find yourself playing in Brazil on a summer break and then off to LA to start your pre-season tour.
Expect to learn more about this mode soon with a proper trailer for The Journey: Hunter Returns that can outline some of the major plot points.