FIFA 18: Which Edition to Buy?
There are more FIFA 18 editions than we've seen in a long time with three different options for the PS4, XBox One and PC and a special edition for the Xbox 360 and PS3. This will help you decide which FIFA 18 edition to buy this fall. All versions contain the new FIFA 18 features.
The good news is that the FIFA 18 deals are available on all versions of the game, even the special edition digital version that includes a bunch of added FUT loans and player packs.
Even though you may miss out on the early play if you buy the FIFA 18 Ronaldo Edition now, you can still cash in on a bunch of FIFA Ultimate Team items that will help you get ahead if you don't mind paying extra for better players in Ultimate Team.
There's also a special new FIFA 18 PS4 bundle that includes the game as well as a PS4 or PS4 Pro with a total of five different packages that include a console FIFA 18 and in some cases a second controller. This comes out on September 29th for the regular edition and includes 20 Jumbo Premium Gold FUT packs. If you buy the Ronaldo Edition bundles you can play on September 26th.
This year Ronaldo is on the cover and there is new branding for the higher end version of the game. Instead of the Deluxe edition, there is a Ronaldo edition for $79.99 and the higher end Icon Edition that is $99.99. FIFA 18 for the Nintendo Switch is only available in the standard version of the game.
The FIFA 18 release date is September 29th with the standard edition of the game. If you buy the Ronaldo or Icon edition, you can play on September 26th. For some hardcore fans, this is enough to seal the deal on which version to buy, but you can also play early with EA Access if you don't want the other extras.
FIFA 18 is available at Best Buy, GameStop, Amazon and also digitally from Microsoft, Origin, and Sony
FIFA 18 Standard Edition
The FIFA 18 standard edition is $59.99 and can be found for as low as $37.99 after all discounts are factored in if you buy it on disk. This version is also available digitally, but you won't see as many deals.
If you love playing FIFA, but you don't get invested in FIFA Ultimate Team, this is the version for you. You'll miss out on three days of early play, but if you have EA Access, you can play FIFA 18 early anyway. EA Access is only $5 for a one-month subscription, so it's a lot cheaper than spending another $20 just to play early.
FIFA 18 Ronaldo Edition
The FIFA 18 Ronaldo Edition is a nice middle ground that allows you to take advantage of several FIFA 18 deals, play early and get some bonus items as well. If you love playing FIFA Ultimate Team, but you like a physical disk, this is the option for you.
With the FIFA 18 Ronaldo Edition you get the standard game as well as early access and $60 worth of Jumbo Premium Gold FIFA Ultimate Team Packs. This version is $20 more and you get it for as little as $53.99 when you have Gamers Club Unlocked and factor in the $10 reward certificate bonus that comes later.
We found the special edition of Madden 18 that offered these bonuses super helpful in Ultimate Team and if you enjoy FUT, this is an upgraded edition well worth paying for.
FIFA 18 Icon Edition
For the ultimate FIFA 18 player who will plan to spend a lot of money on FUT packs anyway, the FIFA 18 Icon edition is where it is at. Most casual players should skip past this and even casual FUT players. If you are a hardcore FUT player though, there is a lot to get with this digital only version of the game.
You get the early access and $120 worth of Jumbo Premium Gold FIFA Ultimate Team Packs, TOTW Loan player packs and a special Ronaldo Nazário loan. All of these come together to help you get an edge on other players.
You can only buy the FIFA 18 Icon edition digitally, and you can only get a deal on it with EA Access, which offers 10% off FIFA 18 and off the in-game purchases you make.
FIFA 18 Legacy Edition
The FIFA 18 Legacy Edition is a version of FIFA 18 for the Xbox 360 and PS3. This is not the same game as you can play on newer consoles, but you will get some of the new features and improvements. You also get the latest gear and squads. The only reason to buy this is if you are gaming on an old system and have no plans to upgrade to the Xbox One S, Xbox One X or PS4 this fall.
FIFA 18 Disk or Digital?
For most users, there are bigger FIFA 18 deals when you buy the game on a disk. Best Buy offers a big discount when you buy the game on a disk and the only downside is that you can't pre-load. Amazon is still not listing the FIFA 18 disk versions for pre-order, which means the Amazon Prime Games discount is not helpful yet. We could see Amazon add the physical versions, but nothing is confirmed yet. You need to pay $30 for two years of Gamers Club Unlocked or $99 for a year of Amazon Prime to get that discount.
If you buy FIFA 18 digitally, you can pre-load the game and you don't need to switch disks when you play different games. You can still save with EA Access, but that's just a 10% discount. You cannot resell digital games, but that's not as big of a deal for sports games that don't hold their value for very long anyway. If you constnatly switch between games, buying digitally is a very good way to keep track of them and to easily jump from game to game.
FIFA 18 vs FIFA 17: What's New
My Journey Season 2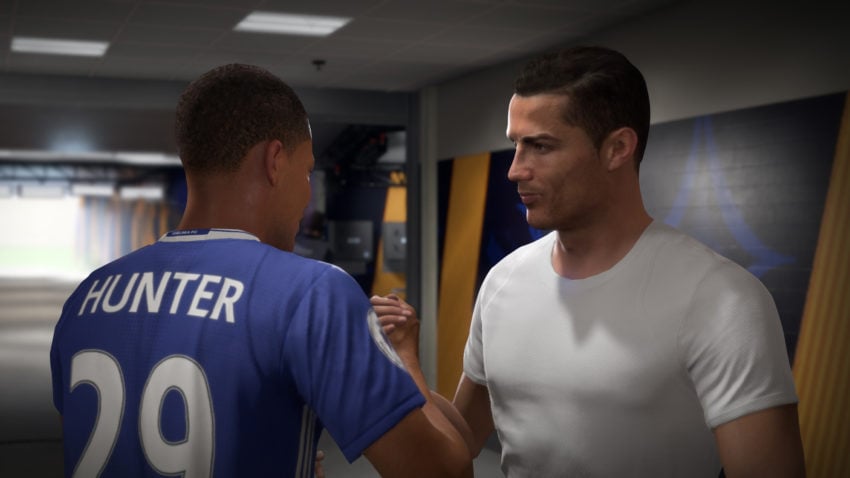 Did you enjoy playing as Alex Hunter in The Journey? If so, you are in for a treat. EA is bringing The Journey back in FIFA 18 with all new seasons and you'll likely see him switch clubs.
EA did not share many details about the new season of The Journey, titled Hunter Returns. We do know that Cristiano Ronaldo is one of the new cast members that you will see in The Journey as Alex Hunter learns from Ronaldo. You'll find yourself playing in Brazil on a summer break and then off to LA to start your pre-season tour.
Expect to learn more about this mode soon with a proper trailer for The Journey: Hunter Returns that can outline some of the major plot points.