The Real Reason There's No PS4 EA Access
The early Madden 18 release date is this week for the Xbox One, leaving many gamers asking where the PS4 EA Access support is so they can play Madden 18 five days early. We'll see the same set of questions with the early FIFA 18 trial, and the answer is the same. You're out of luck. This is because there is no PS4 EA Access subscription service available to gamers on Sony's platform.
EA Access is a subscription service that includes access to a vault of up to a dozen games including popular titles like Madden 17, FIFA 17, UFC, Titanfall 2, Battlefield 1, Star Wars: Battlefront and other titles.
This service also includes early access to almost every EA game of the year with five days of early play. This includes full access to the game for up to 10 hours of play for FIFA 18 and Madden 18. When subscribers buy a digital version of the game or any in-game purchases there is a 10% discount.
We've heard rumblings of a PS4 EA Access release for the past few years, but in an interview EA's COO Peter Moore pours cold water on the idea — at least from EA's standpoint.
The service is $5 a month or $29.99 a year and is only available on the Xbox One at this time. In an interview with GameSpot Moore responds to a question about PS4 EA Access bluntly saying, "Doesn't Matter."
Moore goes on to explain that customers are happy with the service explaining;
It's on Xbox One, and those customers love it. We have analytics on everything these days, and subscriber satisfaction rates are through the roof. EA Access customers get to play more, because of the Vault, they get to play early, ahead of general release date, and they get to pay less because of the discounts it offers.
When the interviewer pushes for an answer about exclusivity on the Xbox One keeping PS4 EA Access from coming to gamers, Moore suggests looking at Sony's earlier statement on the matter. In July 2014 a Sony representative told Game Informer,
"We evaluated the EA Access subscription offering and decided that it does not bring the kind of value PlayStation customers have come to expect," adding, "We don't think asking our fans to pay an additional $5 a month for this EA-specific program represents good value to the PlayStation gamer."
With this recent exchange and the focus on renting games through PS Now, it looks like Sony is the reason that PS4 gamers cannot play Madden 16 and FIFA 16 early or subscribe to a library of EA games for a small monthly fee.
On Twitter we still see gamers asking about EA Access on PS4, but Sony has yet to respond.
Why doesn't ea have ea Access on PS4? I'm just confused lol…that's a whole other console…with MILLIONS of users

— dominic (@YaBoySavage_) August 16, 2017
@PlayStation when will ea access come to ps4

— stephen giles (@gilesyV2) August 10, 2015
@EASPORTS_MUT when will PS4 users get EA Access??….or do they already and I just don't know it…

— BossyComet76 PS4 (@NorthBendBandit) August 10, 2015
https://twitter.com/SteveNavyChef/status/630686050273337344
@DaleBlacklock just swapped my ps4 for one. This ea access they do is class. Ufc Fifa madden all for 20 quid

— Andrew Bews (@AndrewBews) August 6, 2015
@AskPlayStation will EA access ever come to ps4?

— Ian Hall❌ (@IanHallRfc) August 6, 2015
With the current state of affairs between Sony and EA, it looks like PS4 owners will need to settle for early access to the Call of Duty: WW2 beta.
Madden 18 vs Madden 17: 11 Exciting New Madden 18 Features
Madden 18 Graphics Upgrades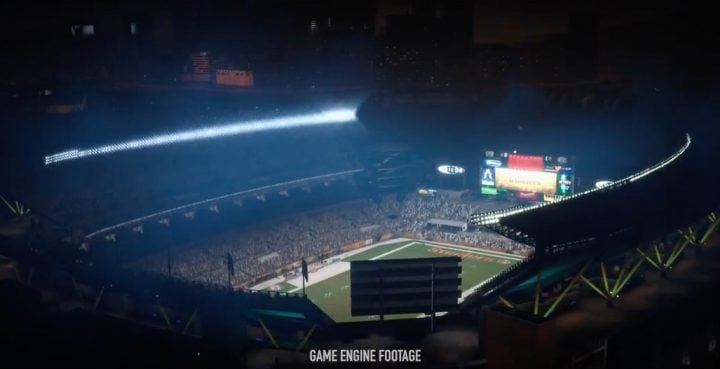 You can count on Madden 18 graphics upgrades thanks to the switch to the Frostbite engine. EA switched FIFA to Frostbite last year and this year it's time to upgrade Madden.
We get to see game engine footage in the Madden 18 teaser trailer below, but we don't see any head to head gameplay that reveal the changes you will see when you play.
The Madden 18 graphics upgrades we know about include better-looking stadiums inside and out. With Frostbite we will see city skylines and stadium exteriors. EA promises that you can, "watch the spectacle of NFL game day come to life in our most photorealistic game to date." Frostbite can deliver better-looking player faces as well. This is one of the places where FIFA upgrades were most noticeable.
EA promises more to come, but specifically, calls out the fireworks that you see in the video above, player runouts and "stunning" weather elements. Frostbite delivers impressive weather in Battlefield 1, and we hope that this means we will see more realistic weather elements in Madden 18.

As an Amazon Associate I earn from qualifying purchases.