FIFA 18 Demo Release Date & Details
A new leak from the Xbox Store confirms the FIFA 18 demo is coming and the exact FIFA 18 release date. This is what you need to know about the FIFA 18 demo, the current closed FIFA 18 beta and the other way you can expect to play FIFA 18 early.
EA confirmed a closed FIFA 18 beta that is in progress currently, but most of us cannot play this and are left waiting for the FIFA 18 demo that we expect in the beginning of September. We continue to hear gamers ask, "Will there be a FIFA 18 demo?" While we don't have official confirmation yet, it is a game that EA still delivers a demo for each year and there is a listing on the Xbox Store.
The FIFA 18 release date is September 29th, but if you get the Ronaldo Edition the FIFA 18 release date is September 26th. If you have EA Access or Origin Access the early FIFA 18 release date is September 21st. That's a lot of different dates to play FIFA 18 on, but there's even more.
There is a FIFA 18 beta lasted through August 20th, but you needed a special invite that you would have already received if you were going to be a part of this. Next up is the FIFA 18 demo.
FIFA 18 Demo Release Date
The FIFA 18 demo release date is September 15th. There is no confirmation yet directly from EA, but for the last several years we've seen a FIFA demo about two weeks before the release date and now it is showing up on the Xbox One store. Expect EA to confirm a FIFA 18 demo soon, but you can see the listing below showing September 15th as the release date.
The FIFA 18 demo release time may not be confirmed ahead of the release. Typically this arrives in a tweet just a day or so before the FIFA demo arrives. Expect a FIFA 18 demo on Xbox One, PS4 and PC .
FIFA 18 Game Modes
EA never includes the full version of the game in a FIFA 18 demo, that's what EA Access and Origin Access are for. Instead you can expect at least the following options to play;
Kick Off – Dive into a pre-set match between two teams in a highlight stadium
FIFA 18 Trainer – Test your skills in the Skills Trainer and learn new FIFA 18 features
FIFA 18 Journey – Last year we got to try the Journey, so we hope to see this one more time
No FIFA 18 demo progress will carry over, but it will give you an idea of how the new FIFA 18 features stack up and let you try out The Journey if you haven't already played it.
FIFA 18 Demo Teams
EA typically includes 12 teams for early access, so we expect to see the same number of FIFA 18 teams. The teams change from year to year. That said, we expect to see Real Madrid C.F. which is the team Ronaldo plays for. When EA announces the FIFA 18 demo, expect to see a at least 11 more teams confirmed for the demo.
FIFA 17 vs FIFA 16: 7 Reasons You Should Buy FIFA 17
FIFA 17 Journey Game Mode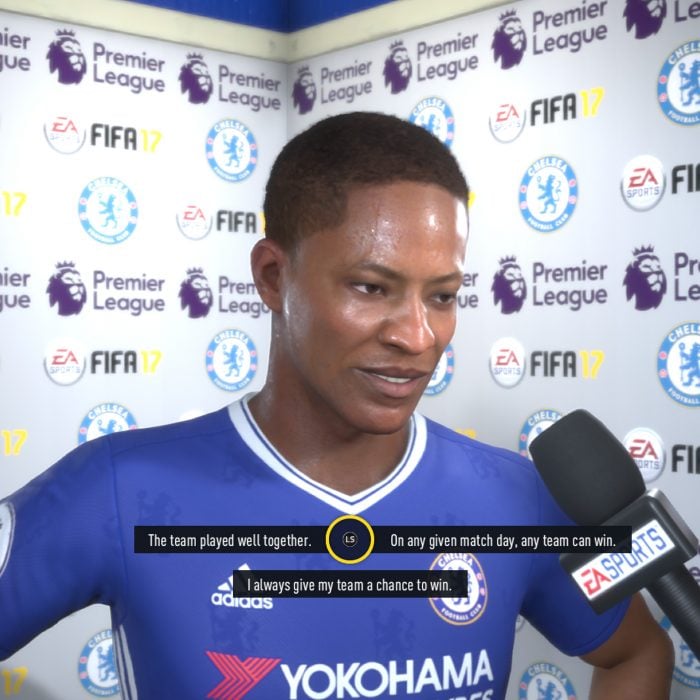 There is now a Story Mode in FIFA 17 called My Journey. You are in charge of a player who is trying to make it in the big leagues. You need to control him on and off the pitch.
Thanks to the Frostbite engine the game can render the field, the manager's office and your apartment as you try to navigate the complexities of playing on the field and making the right decisions off it.
You are Alex Hunter an up and coming player in the Premier League. You can play on any club in the league, but you cannot create your own player -- you need to control Alex.
The game will change based on your performance on the field and decisions you make off of it. This includes your career and it will influence how other characters react to you.
This mode is not in FIFA 16, and is completely new for 2016 and FIFA 17.